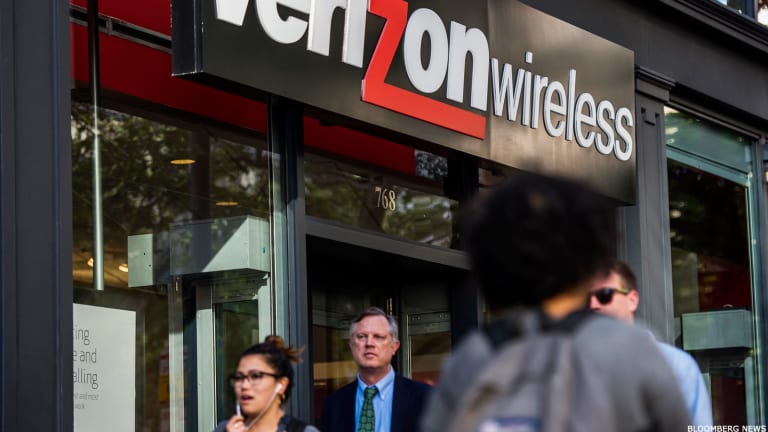 Publish date:
Wait for Verizon to Pull Back Before Buying
Verizon is overextended, and a healthy pullback will offer investors a better entry opportunity.
Verizon is overextended, and a healthy pullback will offer investors a better entry opportunity.
Verizon (VZ) - Get Report finished Wednesday's session at the top of the Dow Jones Industrials gainers list. The stock jumped another 1.6%, extending its rally off last week's low to just over 12%. Upside trade during this run has been running well above average, helping shares power through layers of resistance.
In the near term, though, Verizon has become a bit overextended. A healthy pullback may soon offer patient investors a more attractive entry opportunity.
Verizon's near-vertical ramp off its multi-week January lows is the stock's best short-term performance in years. What has made the current run even more impressive is the steady accumulation wave. Four of the last five trading days have attracted the highest bullish interest since early 2014. This powerful momentum drove Verizon past heavy resistance near its declining 200-day moving average as well as the July and August highs.
The stock is now well-positioned to make a run at its 2015 peak, but a pullback is needed soon. For patient VZ bulls, this process should be welcomed.
During the recent run, Verizon has left behind layers of support. The initial layer is the July/August highs near $48.20, but a lower fade is likely considering the sharpness of the rise. In the near term, Verizon bulls should eye the $47.30-to-$46.50 area. This key support zone includes the stock's December and November highs as well as the 200-day moving average. A fade back down to this area will give the stock a much-needed rest while setting shares up for a run back up to the 2015 peak near $51.
On the downside, a close back $46 would indicate that a more prolonged pullback will be needed before a new rally can begin.
Click here to see the below chart in a new window. 
Disclosure: This article is commentary by an independent contributor. At the time of publication, the author was long VZ.