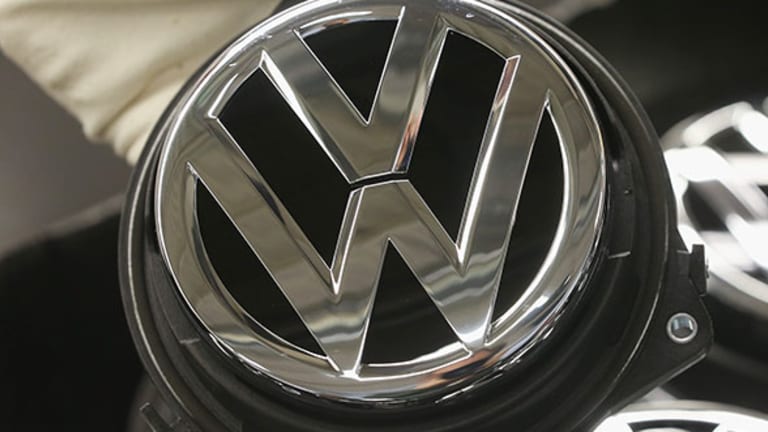 VW Discovers Being No. 1 Isn't Cause for a Celebration
Automakers find that attaining the No. 1 spot in worldwide automobile sales can be -- in Shakespeare's words -- a 'poisoned chalice.'
One after another, overachieving automakers find that attaining the No. 1 spot in worldwide automobile sales can be -- in Shakespeare's words -- a "poisoned chalice," a goal that's more likely to bring grief than glory. 
The latest to taste this bitter truth is Volkswagen (VLKAY) ,  whose global ambitions are in shambles following the admission on September that it cheated on emissions testing in order to qualify as many as 11 million diesel automobiles for sale. 
Martin Winterkorn, then VW's CEO, first boasted in 2007 that his company intended to pass Toyota (TM) - Get Free Report in global vehicle sales by 2018, which would cement the automaker's supremacy. VW achieved its goal three years early in the first half of this year, narrowly passing Toyota. 
The celebration didn't last long. By the end of the following quarter, Winterkorn had resigned in disgrace. Lawyers and accountants confessed they couldn't precisely quantify the cost to VW of the diesel scandal, though some estimated it could be counted in the tens of billions of dollars.
On Wednesday, the German automaker reported a net loss of €1.7 billion ($1.9 billion) for the quarter, down from a profit of nearly €3 billion a year ago. VW shares are off 26% in value since Sept. 18 and 31% since the beginning of the year, owing to weak demand in China, where VW sells about a third of its vehicles.
VW's new CEO, Matthias Muller, said on Wednesday that the automaker's new strategy, called Strategy 2025, will focus on making customers happy and on profitability, not selling as many vehicles as possible.
General Motors (GM) - Get Free Report , which proudly had been the top seller of vehicles worldwide for nearly 80 years, lost its title in 2008 to Toyota amid deepening financial troubles that culminated in GM's bankruptcy in 2009. Among GM's oversights was failing to see that making volume a priority invited pitfalls such as complexity, bureaucracy and insufficient attention to profit. No one in GM's top executive ranks talks about regaining No. 1. 
Akio Toyoda, who took over as president and CEO of Toyota in 2009 in the wake of an unintended acceleration crisis, addressed the question of attaining No. 1 this week at the Tokyo Motor Show. 
"I myself won't talk much about the volume and the size of our business. If I just talk about numeric targets, then everybody would be very sensitive," Toyoda, 59, told reporters at the show. "I want everybody in the world to see our company as the greatest car manufacturer, rather than the biggest." 
Toyota executives for several years have been frank in conceding that the Japanese automaker's drive to overtake GM in global sales prior to 2009 caused them to lose sight of other priorities, such as quality and customer satisfaction. Toyoda has publicly exhorted engineers and managers to avoid being too conservative and to concentrate on creating more exciting vehicles. 
Toyota shares have risen 161% in the past five years and are about flat so far this year.
Doron Levin is host of "In the Driver Seat," broadcast on SiriusXM Insight 121, Saturday at noon, encore on Sunday at 9 a.m.
The writer has no financial interest in the aforementioned companies.