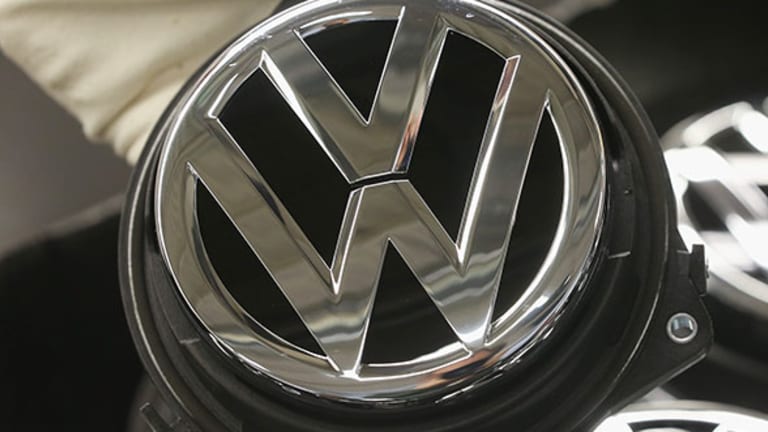 VW Digs Itself Into Deeper Hole Over Diesel Emissions
Plans to remediate affected cars rejected by U.S. regulators. Investors readying lawsuits, more sure to follow.
Plans to remediate affected cars rejected by U.S. regulators. Investors readying lawsuits, more sure to follow.
Editors' pick: Originally published Jan. 19.
Volkswagen AG (VLKAY) has struck out with U.S. regulators in attempts to remediate diesel emission deficiencies, leaving the German automaker in a precarious legal and financial position, not to mention its standing as an industry pariah.
The California Air Resources Board (CARB) last week rejected VW's proposal to fix nearly 500,000 diesel-powered VW and Audi automobiles that fall short of emissions standards. Matthias Mueller, VW chief executive officer, evidently fared no better in a meeting with Gina McCarthy, EPA administrator, in Washington.
VW and the EPA, following a one-hour meeting, issued terse statements saying they would continue to work towards a solution. The EPA in September charged -- and VW has conceded -- that the automaker improperly evaded emission standards by the use of doctored software.
"VW's submissions are incomplete, substantially deficient, and fall far short of meeting the legal requirements to return these vehicles to the claimed certified configuration," said Mary D. Nichols, CARB chairwoman, in a letter to VW executives published on the agency's website.
In an unusual and oblique dig at VW, Dieter Zetsche, chief executive of Daimler AG DAI, said a scandal like the one engulfing VW wouldn't be possible at his company, which makes Mercedes-Benz and Smart automobiles. Because VW is Germany's largest automaker in the nation's most important industry, the uproar over VW's actions has worried investors, economic forecasters and government officials.
VW shares continue to languish in a price range roughly half of what they were last spring, when the automaker's stock began to slide due to a crisis over management succession. Following the EPA announcement, VW stock has fallen about 30%; the company's market capitalization has fallen below that of Daimler AG, a smaller company.
Apart from stiff fines and lost business, VW is facing a protracted period of private litigation from irate investors, as well as dealers and owners of the affected models. The German lawfirm of Nieding + Barth said it will file a suit in court this week seeking hundreds of millions of euros in damages on behalf of 66 institutional investors in VW stock from the U.S. and Great Britain.
"On top of that, we collected several thousands of private investors. Therefore we think we are the biggest platform for suits against Volkswagen in Germany," said Klaus Nieding.
VW had been hoping that the beginning of 2016 might show some signs that the pressure from consumers, politicians, dealers, suppliers and others might be starting to ease. The automaker's presentations at the North American International Auto Show - fraught with apology and awkwardness - suggested that a path forward remains unclear.
U.S. dealers have complained that VW is slow to recognize and respond to market trends, leaving them short of models to sell. Until the regulatory issues are resolved, they've been ordered to stop selling diesel-powered models, which comprise about a quarter of VW's lineup.
The current environment of cheap gasoline spurring light-truck sales is "already the worst-case scenario" for VW, AutoPacific analyst Dave Sullivan told Automotive News, due to its limited truck lineup.
"It's going to be a difficult year to be a VW dealer or a supplier to their plant in Chattanooga," Sullivan said. "Even if all of this never happened, VW doesn't have the product breadth that lines up with what consumers are buying today."
Doron Levin is the host of "In the Driver Seat," broadcast on SiriusXM Insight 121, Saturday at noon, encore Sunday at 9 a.m.
This article is commentary by an independent contributor. At the time of publication, the author held no positions in the stocks mentioned.