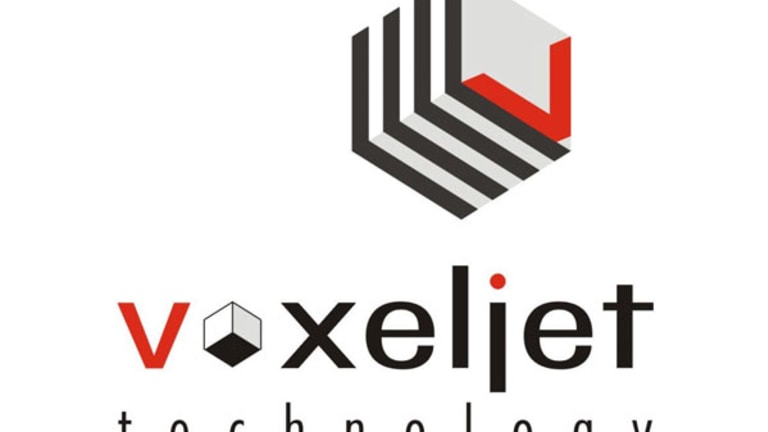 Voxeljet Revenue Looks Lean -- Shield Yourself With a Bloated-Pig Put Option
A prime opportunity to take a bearish position in a company that is ridiculously overvalued.
NEW YORK (TheStreet) -- To be successful in the market, you need to hold both bullish and bearish positions. While the market does trend upward in the long-term, it is riddled with valleys. Holding only bullish positions means that you will not profit during these valleys.
The market is reaching new yearly highs. The Dow Jones Industrial Average has broken 17,000; the S&P 500 is nearly at 2000; and the Nasdaq is toying with its all-time high of 4572 made during the Great Speculation of the dot-com boom.
GE Hopes Transformation Brings Energy Back to Its Shares
Lexus Launches SUV That Runs Exclusively on Gasoline!
The market is booming, so now is the time to buy stocks, right?
While the average investor is irrationally buying stocks to ridiculously high valuations, the insightful investor should be hedging his/her portfolio with bearish positions in overvalued companies to prepare for a market correction.
Today I am shining the spotlight on Voxeljet AG (VJET) - Get Free Report, a 3D printer manufacturer headquartered in Friedberg, Germany.
Three dimensional printing has been all over the news lately. People are dreaming of an utopian society where everything is made at home from 3D printers.
Technology is not quite there yet.
3D printing technology was first introduced in the 1980s and resembled more of an assembly line rather than the printing process of today. Since then, every few years a 3D printing news story goes viral and people begin speculating on the technological potential. This speculation drives 3D printing stocks to ridiculous market valuations.
After the hype dies down and people realize that 3D printing is not the revolution they had dreamed of, stock prices take a plunge. The profiteers are those who are able to see through the speculation and take bearish positions in these stocks.
Voxeljet saw its worse performance in 2013 when it lost 3.7 million dollars, primarily due to R&D and SG&A costs outpacing its revenue growth.
Voxeljet's best year in recent history was in 2012, when it booked a $280k net gain. This may work well for a recently bankrupt Crumbs Bake Shop (CRMB) ; however, it does not work so well for Voxeljet, which is valued at a whopping $320 million.
Yes, a $320 million company that can barely scrape together a nickel of profit; and a company that would have a P/E of 1,140 if it was able to meet its "stellar" 2012 earnings.
At first-glance of its balance sheet, Voxeljet appears healthy with $55 million of current assets and only $9 million of current liabilities. However, looking further at its cash flow statement, you can see that it received $64 million in 2013 from stock sales. How would Voxeljet have fared without the IPO? In my opinion, it would have a significant amount of debt, if not near insolvency. Since it cannot generate enough revenue to cover its expenses, the company will likely either need to take on additional debt or dilute its shareholders.
Hype of 3D printing appears to be winding down now, as the stock makes one last dead-cat bounce upward. This is a prime opportunity to take a bearish position in a company that is ridiculously overvalued, as I have already done and will continue to do via Put options.
Bloated pigs are great protection against market downturns. Use them wisely.
At the time of publication Fanara was short on VJET through the use of Put options in the stock.
This article represents the opinion of a contributor and not necessarily that of TheStreet or its editorial staff.