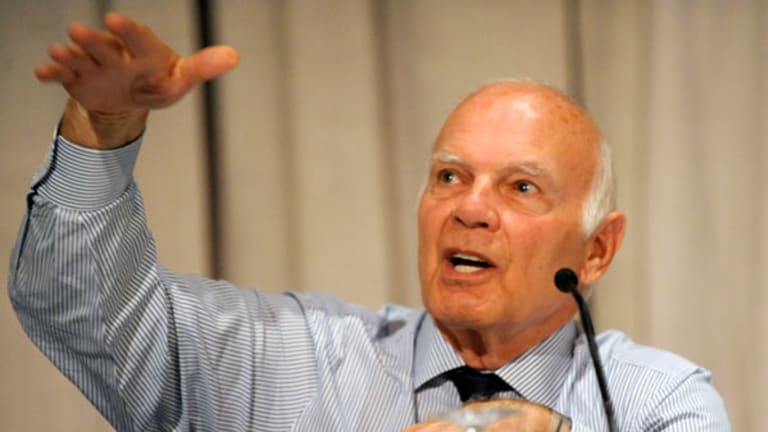 Vornado Needs a Spinoff Strategy That Makes Sense (and Money)
The venerable real estate investment trust has made some bad bets in the past. Getting out of suburban shopping centers might be a good plan, if it comes to pass.
The venerable real estate investment trust has made some bad bets in the past. Getting out of suburban shopping centers might be a good plan, if it comes to pass.
NEW YORK (TheStreet) -- After years of losing bets on investments outside its core real estate business, Vornado Realty Trust (VNO) - Get Report may finally catch a break if, as rumored, it spins off its suburban shopping centers into a separate company and then merges that company with San Diego-based Retail Opportunities Investment Corp. (ROIC) - Get Report.
If those rumors from earlier in March are true, it wouldn't be the first real estate investment trust to go down that road.
American Realty Capital Properties (ARCP) , Simon Property Group (SPG) - Get Report and Ashford Hospitality (AHT) - Get Report are among the REITS with similar strategies. Of these, the only one to actually close on a spinoff was Ashford Hospitality Trust, which initiated a spinoff of an eight-hotel portfolio late last year called Ashford Hospitality Prime (AHP) .
For Vornado, whose shares trade around $98 and are up over 10% for the year to date, a spinoff would continue be another part of the REIT's plan to simplify.
Vornado was founded in 1962 and became a REIT in 1993. It has a portfolio of over 73 million square feet, primarily located in the New York and Washington, D.C. areas, the source of about 80% of its earnings. The company also owns retail properties primarily in the Northeast, California, and Puerto Rico. The chairman and CEO is Steve Roth.
When Vornado has made investments outside its core business of high-quality office and retail properties, things haven't gone very well. It took an investment approach similar to that of a mutual fund strategy in an attempt to diversify revenue.
That strategy had Vornado making debt and/or equity investments in numerous companies in whichthe REIT didn't have control including investments in Roth's company Alexander's Inc. (ALX) - Get Report (32.4% owned by Vornado), Toys "R" Us and LNR Property.
The bets haven't paid off and the company has been working feverishly to shed the non-core assets ever since.
In September Vornado sold its remaining 13.4 million shares in J.C. Penney (JCP) - Get Report for $13 a share, ending a three-year investment in the struggling department store operator. Vornado owned 6.1% of shares, which it sold in a block trade to Citigroup (C) - Get Report.

That $250 million Penney's hit translated to a 40% loss in Vornado's original investment in the retailer. But in April 2013 Vornado reaped around $241 million in net proceeds from the sale of LNR Property, in which Vornado owned a 26.2% stake.
Other recent sales include the Green Acres Mall in Valley Stream, N.Y. ($500 million); The Plant in San Jose, Calif. ($203 million); 866 United Nations Plaza in Manhattan ($200 million) and 1800 Park Avenue in Manhattan ($66 million).
The Last Piece of the Puzzle
If the company goes through with the spinoff and liquidating its position in Toys "R" Us, Vornado will be a much more streamlined REIT. Vornado, with Bain Capital and KKR, had purchased Toys "R" Us back in 2005 for $6.6 billion.
By teaming up with an established retail REIT, I would not be surprised to see Vornado shares become more valuable and investors less confused. Also, I would not be surprised to see Kimco Realty (KIM) - Get Report, Brixmor (BRX) - Get Report or DDR Corporation (DDR) emerge as buyers/partners for the Vornado assets.
Kimco appears to be a logical buyer/partner given the company's more recent strategy of trimming non-core assets and creating a focused approach on retail centers. However, DDR has also made great strides in cleaning up its balance sheet and being prepared for a large portfolio transaction.
Vornado's dividend yield is 2.98%, and although that's weaker compared to other retail REITs, the majority of the company's assets are in New York and that's the cost of doing business in the Big Apple. Other New York-based office REITs, notably S.L. Green (SLG) - Get Report, at 2.01%, and Empire State Realty Trust (ESRT) - Get Report, at 2.26%, have lower yields.
I'm not a buyer at Vornado's current share price (the company's price to funds from operations multiple is 20.7x). However, I believe Vornado is making some good decisions to simplify its business plan.
I believe the spinoff strategy is a good idea. By sticking to its knitting, Vornado is likely to improve its balance sheet and take advantage of its deep-rooted experience in office investments.
At the time of publication the author is long ARCP.
Follow @swan_investor
This article represents the opinion of a contributor and not necessarily that of TheStreet or its editorial staff.
For more information on REIT investing, check out my newsletter
.