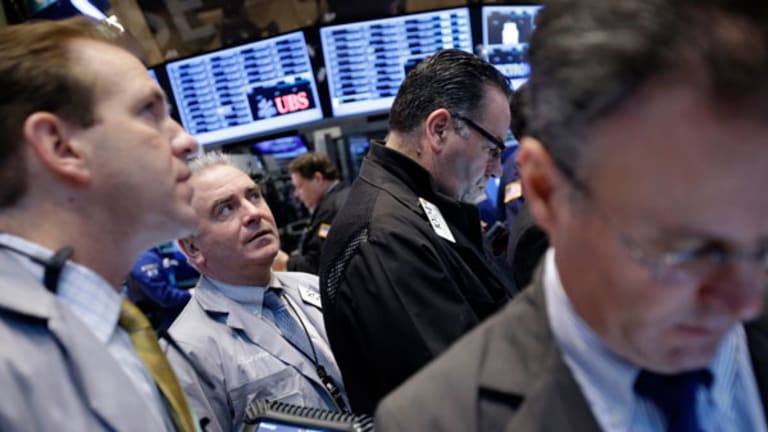 Volume Finally Shows Up and the Stock Market Finishes in the Red
A sense of panic is in the air.
NEW YORK (TheStreet) -- The stock market on Tuesday finally had a selloff that was more than a hiccup. All the negative divergences I have been mentioning in my articles finally showed their ugly head.
The DJIA lost 117.59 points to close at 16906.62 while the S&P 500 was lower by 13.94 at 1963.71. This was the 55th consecutive trading day the S&P has not had a 1% move in either direction. The Nasdaq was down 60.07, or 1.35%, and the Russell 2000 was down 14.59, or 1.23% for the day, to 1172.15.
The Russell 2000 is now down 2.97% in two trading days after failing to take out its March 2014 highs.
>>Stock Market Today: Dow Slips Below 17,000 Mark With Little to Reenergize Rally
This downside move comes on the heels of volume that was above recent trends. The S&P 500 Trust Series ETF (SPY) - Get SPDR S&P 500 ETF Trust Report volume closed at 107.6 million shares traded. That is the highest volume since 5/20/2014.
As I have mentioned on more than one occasion, the downside volume has been much higher on red days versus the green, up days. Take notice. It still matters.
The momentum technology stocks that propelled the indexes to new all-time highs just a few short days ago continued their move lower on above average volume. Facebook (FB) - Get Meta Platforms Inc. Class A Report, Netflix (NFLX) - Get Netflix, Inc. Report, Twitter (TWTR) - Get Twitter, Inc. Report and Yandex (YNDX) - Get Yandex NV Class A Report were all substantially lower in Tuesday trading.
It should be noted that FB, TWTR and YNDX never took out their 2014 highs during this euphoric march to new all-time highs over the past few months.
As mentioned Monday, Appleundefined saw continued upside follow through in early trading Tuesday as it broke above and closed outside its trading channel on Monday. AAPL could not hold the upside, however, as it also succumbed to the selling pressure of the market.
So my internal algorithm signals once again proved accurate. This stock market was due for a correction based on the negative divergent indicators and the oversold index algorithm numbers.
This past Thursday proved to be the "throw in the towel, cover at any cost, short hedge fund capitulation" day. Again, this was mentioned as a possibility Thursday. The short hedge funds short at the market lows and cover at the market highs.
Where we go from here remains to be seen. I can easily see more downside ahead but I am getting increasing more constructive on the number of large cap stocks that are now oversold according to my algorithm process. It has been a long time indeed since I have made that statement.
On Tuesday, I continued to hold my long position in S&P Goldman Sachs Crude Oil Trust Index ETN (OIL) - Get iPath Pure Beta Crude Oil ETN Report. I also started a new long position in MBIA  (MBI) - Get MBIA Inc. Report based on my extraordinarily oversold algorithm number. Again, this can all be found at www.strategicstocktrade.com
At the time of publication the author had positions in OIL and MBI.
This article represents the opinion of a contributor and not necessarily that of TheStreet or its editorial staff.