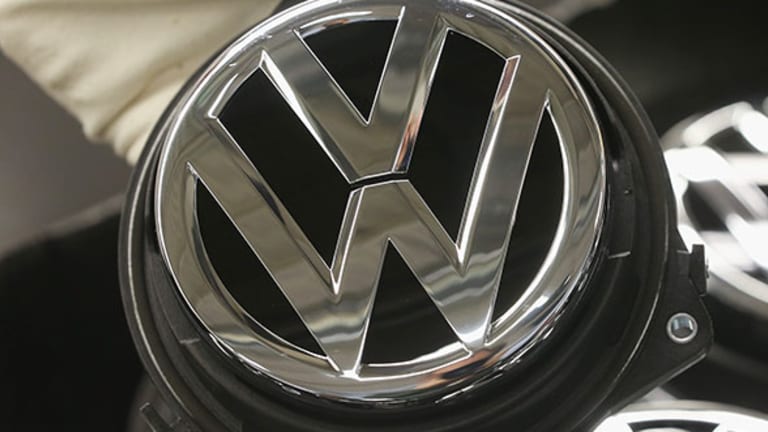 Volkswagen's Future Is Clouded as Emissions Scandal Goes Global
The German automaker says 11 million diesels sold worldwide contain software to mislead regulators.
NEW YORK (TheStreet) -- The stain on Volkswagen's (VLKAY) reputation and the cloud over its future spread wider Tuesday as the German automaker disclosed that 11 million of its cars with diesel engines equipped with software designed to falsify emissions are in operation worldwide. 
The German automaker said it was putting aside 6.5 billion euros ($7.3 billion) to cover costs associated with fines, recalls, litigation and penalties, which will be booked in the third quarter. But that may not be enough. The U.S. has said VW could be liable for up to $18 billion in fines for half a million diesel-powered cars sold domestically since 2009. 
VW shares plunged 20% following the apology of CEO Martin Winterkorn for what he referred to as a breach of trust. But his future and that of the automaker appear to hang in the balance. He survived a succession showdown with Ferdinand Piech in the spring; Piech resigned as chairman, though his power as owner of 10% of VW remains substantial. 
Officials of the German transport ministry were to meet Winterkorn on Monday to discuss the situations, sources told Reuters. South Korea said it will begin testing VW and Audi vehicles sold in that country that are equipped with the four-cylinder diesel engine. 
The German state of Lower Saxony, which owns 20% of VW, sought to widen the investigation into falsified emissions testing to other automakers. Shares of all European automakers, including, BMW, Daimler (DDAIY) , Renault (RNSDF) ,PSA Peugeot Citroen (PUGOY)  were hit hard following VW's disclosures. The shares of automotive suppliers were down as well. 
French Finance Minister Michael Sapin suggested a broad investigation of the industry by the European Union. "We need to do it at the European level," he said. 
VW denied a report in the German newspaper Tagesspiegel that Winterkorn, 68, was to be replaced as CEO by Matthias Mueller, 59, head of the automaker's Porsche sports car business. 
Herbert Diess, a senior automotive executive who recently left BMW to lead Volkswagen's VW-branded automobiles, canceled a scheduled appearance in the U.S. for the introduction of a new Passat. 
With pressure on Winterkorn immense, numerous analysts have opined that he's unlikely to stay in power. Of more immediate concern to top German political figures is what impact the scandal could have on what is arguably the nation's most important industry. Angela Merkel, German chancellor, called for "complete transparency" in the VW matter, telling journalists in Berlin that "I hope the facts will be put on the table as quickly as possible." 
Once VW's actions have become clearer, the attempts to evade emissions tests on diesel engines may spark a broader conversation among regulators about the future of diesel technology, which is opposed by some environmental groups due to health concerns.
Doron Levin is the host of "In the Driver's Seat" on SirusXM Insight 121 at noon on Saturday and 9 a.m. on Sunday.
The writer has no financial interest in the aforementioned companies.