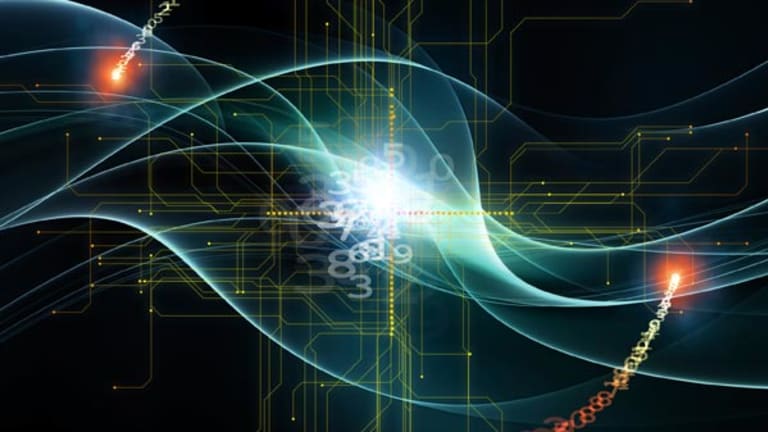 VMware Stock Takes Off on IBM Pivotal Cloud News
IBM's open-source cloud stack will feature software from the EMC-VMW joint venture.
IBM's open-source cloud stack will feature software from the EMC-VMW joint venture.
NEW YORK (
) --
IBM
(IBM) - Get Report
Cloud Foundry, an open-source product of
VMware's
(VMW) - Get Report
Pivotal Initiative, into its Open Cloud architecture and help govern the platform.
VMware's stock shot up overnight as the news filtered out to traders, but it's not clear how much of a boost to revenue this deal will actually provide. That's partly because Cloud Foundry is open source, and while VMware moved 500 of its people to the Pivotal development team at its launch, anyone can in theory download the software and use or enhance it.
Plus, VMware has only a 30% stake in Pivotal, and IBM will be selling its own commercial version of that kind of product in competition with VMware.
VMware launched the Platform as a Service (PaaS) in April 2011 under the Apache open-source license. It's a collection of programs meant to support quick deployment of applications to the cloud.
"A PaaS like CloudFoundry asks for the application, gives it a name and runs it," said James Watters, head of the Cloud Foundry product group at Pivotal. "PaaS lets you focus on business logic."
By contrast, a service like
Amazon
(AMZN) - Get Report
Web Services merely provides basic cloud infrastructure. It's called Infrastructure as a Service, or IaaS.
Users then have to choose an operating system, specify such things as security and storage options, and then write programs for it. The simplest way to visualize it is that a PaaS makes an IaaS easy to use.
With the latest release, Cloud Foundry Version 2.0, IBM is joining the project's community, aiding the project's governance, and announcing a Build Pack supporting a variety of languages, integrating it into a Websphere product line that supports OpenStack infrastructure and the Linux operating system.
OpenStack is also open source, and is now governed independently of its first corporate sponsor,
Rackspace
(RAX)
. The Linux IBM supports is Red Hat Enterprise Linux from
Red Hat
(RHT) - Get Report
, which is also a major contributor to OpenStack.
In theory, the IBM-Pivotal news should be a big blow to Red Hat, which has its own open-source PaaS, called OpenShift. But OpenShift is mainly aimed at getting Red Hat's Linux and JBoss middleware onto OpenStack clouds. Cloud Foundry's mission is much broader, offering a collection of Application Program Interfaces, or APIs, that can be extended in any software direction.
EMC
(EMC)
, the data-storage company that owns 80% of VMware, also holds a majority stake in the Pivotal Initiative, although VMware provided most of the programming staff. It took 69% at launch, and VMware took 31%.
General Electric
(GE) - Get Report
bought a 10% interest in Pivotal in April for help
adapting the software to industrial machinery.
In overnight trading, VMware rose 13.64% after announcing a two cent per share beat on earnings, EMC rose 5% after meeting estimates of 42 cents per share, and IBM was up 1%.
For the cloud, however, this is big news. Cloud players have been struggling to provide an alternative to Amazon's infrastructure. IBM's endorsement of a complete platform could make big customers give OpenStack a second look. The hope is that IBM and Pivotal can build Cloud Foundry tools, allowing a relatively painless move of enterprise applications to cloud infrastructure.
Chris Ferris, chief technology officer for cloud interoperability at IBM, said OpenStack and Cloud Foundry are complementary.
"We're putting our support behind Cloud Foundry and working to have it complement OpenStack," he said.
In its press release, IBM noted that the Cloud Foundry software is available
as the Github open-source repository
as well as at the Pivotal site.
Ferris added that the Cloud Foundry announcement is a natural follow-up to plans
to support open standards for its cloud software and services.
IBM and Pivotal will co-host a two-day event on Cloud Foundry
next month
and
will release a branded and supported version of the software during the fourth quarter.
At the time of publication, the author was long IBM and GE.
This article is commentary by an independent contributor, separate from TheStreet's regular news coverage.
Dana Blankenhorn has been a business journalist since 1978, and a tech reporter since 1982. His specialty has been getting to the future ahead of the crowd, then leaving before success arrived. That meant covering the Internet in 1985, e-commerce in 1994, the Internet of Things in 2005, open source in 2005 and, since 2010, renewable energy. He has written for every medium from newspapers and magazines to Web sites, from books to blogs. He still seeks tomorrow from his Craftsman home in Atlanta.