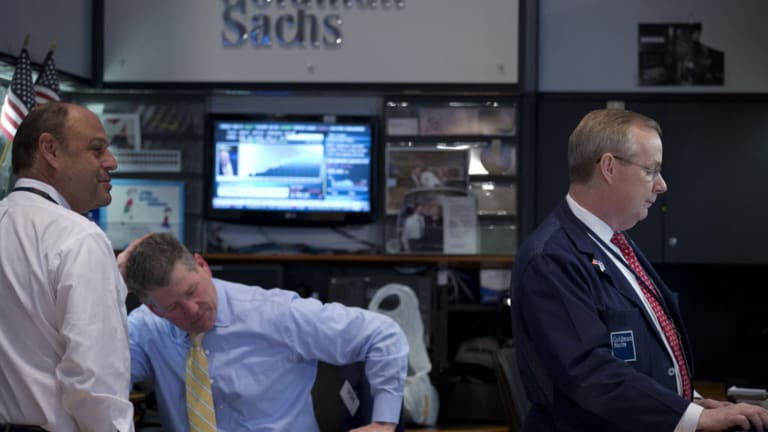 VIX Seen Settling; Goldman, ASML Continue Earnings Onslaught -- ICYMI
Here's what you need to know now for Wednesday, January 17.
We're handily above Dow 26,000 after a blip in the rally yesterday.
Rather than talk about the market today, I think it'd be good to start with the volatility of yesterday and something you may have missed, especially in the S&P 500.
As investors look ahead to strong earnings and past a potential government shutdown, volatility in the index is expected to be in flux over the next week, explains one trader over on our Premium site RealMoney, pointing to the VIX, a popular measure of the market's expectation of volatility implied by S&P 500 index options.
"We should see some fits and starts this week but the market still wants to go up," write Mark Sebastian, while offering a few scenarios at which to trade VIX-focused instruments.
OK, the wonky trading bit aside, I think Sebastian has a pretty good point here. The market has moved higher over the last few months based on tax reform and now we have yet another positive catalyst in earnings. It's hard to imagine that the markets don't continue their run higher unless there's a dud of a quarter out of a heavyweight like Apple (AAPL) - Get Report  or General Electric  (GE) - Get Report ... Wait. OK, maybe, that won't even dampen the markets' "rational exuberance" as Goldman puts it.
Speaking of Goldman Sachs (GS) - Get Report  , the trading-heavy bank was up to bat in the line-up of earnings this week as was ASML Holding NV ASML, one of the first semiconductor companies to report.
Shares of the semi held gains of nearly 6% and hit a new 52-week high after reporting better-than-expected earnings per share and revenue estimates. Revenue soared 34% year-over-year, while profit numbers came in far ahead of analysts' expectations.
ASML's success also lifted shares of Lam Research (LRCX) - Get Report  , Applied Materials (AMAT) - Get Report  and KLA-Tencor (KLAC) - Get Report  . Is the move premature or is ASML's beat a sign of things to come? Jim Cramer weighs in.
This is an excerpt from "In Case You Missed It," a daily newsletter brought to you by TheStreet. Sign up here.
Photo of the day: Imagining a driverless car
If you'd asked someone in the 1960s which company would be leading the charge in self-driving vehicles, they would have likely said Ford (F) - Get Report or General Motors' (GM) - Get Report Chevrolet. Well, fast forward 60 years and it's actually Nvidia NVDA and other chipmakers that are revolutionizing the way we drive. TheStreet got lucky at the 2018 Detroit Auto Show and had a sit down with Danny Shapiro, senior director of automotive at Nvidia. Shapiro was more than happy to fill us in on the inner workings of the self-driving car and the pivotal role that AI is playing in the revolution. You will actually be able to have a conversation with the car via its voice-recognition and life-preservation programming. But it went beyond self-driving capabilities and in fact, included a lot of in-cabin features, but no board games like the one featured above. Read More
Read more from "In Case You Missed It." Sign up here.
More of What's Trending on TheStreet: