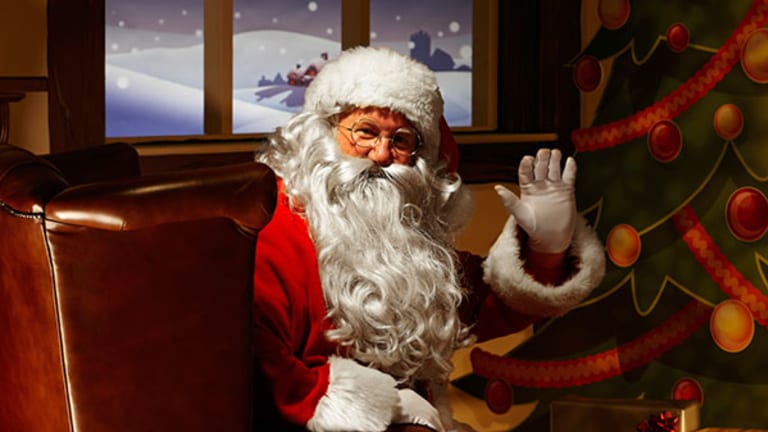 Publish date:
Visions of Ventas' Dividends Dancing in My Head
It's just two weeks from Christmas and Santa has already started delivering presents early to REIT-dom.
It's just two weeks from Christmas and Santa has already started delivering presents early to REIT-dom.
NEW YORK (TheStreet) -- It's just two weeks from Christmas and Santa has already started delivering presents early to REIT-dom, starting with Ventas (VTR) - Get Ventas, Inc. Report.
Thanks in large part to the naughty REIT exchange-traded funds, many of the blue Chip REITs have fallen out of favor leaving the smaller retail investors scrambling.
It's no secret that many of the REIT EITs have exposure to major REIT holdings including Simon Property Group (SPG) - Get Simon Property Group, Inc. Report, Public Storage (PSA) - Get Public Storage Report, American Tower (AMT) - Get American Tower Corporation Report and Ventas. However, value investors should not always follow "the crowd" especially when the strategy is less speculative than the facts indicate.
Sometimes Mr. Market can appear to be like the Grinch and cause fear in an effort to "sway what others think or how the world is feeling that day or anything of the sort." That's why it's critical to stay focused and remember that "you are neither right nor wrong because the crowd disagrees with you. You are right because the data and reasoning are right."
So as Mr. Market has moved many REIT investors to panic, savvy investors can still take advantage of the selling and look for some kind of buffer to protect against market fluctuations. That buffer -- the margin of safety -- is the difference between the real or intrinsic value of the business underlying the security and the price assigned to that security at the moment.
Ventas Is a Blue-Chip Bargain
I often write about the "sleep well at night" REITs and I even have a portfolio in my newsletter called the SWAN portfolio. The true meaning for "sleeping well at night" is also defined by Benjamin Graham as a "favorable difference between price on the one hand and indicated or appraised value on the other."
One of my favorite REITs today is Ventas, a diversified health care REIT with a market cap of nearly $17 billion. The advantages for owing shares in Ventas have become increasingly evident as the price has declined considerably over the last few weeks. Although the Grinch was hoping to steal Christmas for Ventas, investors have now less to fear and much more to gain.

With a share price around $58, Ventas has moved into an extremely attractive valuation of 13.9x price to funds from operations (or P/FFO). Driven by a well-balanced portfolio of over 1,400 assets, Ventas has built an enviable revenue model that generates over $1.1 in annual cash flow -- one of the company's most valuable attributes.
In addition, Ventas has built its competitive moat around its fortress balance sheet. These "best-in-class" credit metrics include 29% debt to enterprise value and investment grade financial strength (at Standard & Poor's, a BBB). A majority of the company's debt is fixed rate and long term, so it will not become more expensive in the near term and renewal is a distant concern.
In preparation and by awareness that the low-rate environment cannot last forever, Ventas took advantage of the situation by issuing over $5 billion in senior notes with a weighted average cost of only 3.5%. During the first quarter the company raised $758 million in debt capital (15-year fixed rate debt with a 3.6% blended interest rate) and paid down the revolver resulting in ample liquidity for investments. During the second quarter Ventas paid down $163 million of secured debt and the revolver balance at quarter end was $260 million -- current unrestricted cash of $56 million and almost $1.7 billion in borrowing capacity available.
The Big Dividend Differentiator
Recently, Ventas said its board of directors increased the fourth quarter 2013 dividend by 8% to $0.725 per share. The dividend is payable in cash on Dec. 31 to stockholders of record on Dec. 16. Including the fourth-quarter dividend, the company's 2013 per share dividend of $2.735 represents a 10.3% increase over its 2012 dividend. For the past 10 years, the compound annual growth rate in the company's dividend has been 10%.
As evidenced by its stalwart dividend policy Ventas has never cut its dividend, with the exception of 2009 (where the dividend remained flat). The company's current dividend yield is 4.68% and the latest dividend announcement will boost the payout to over 5%. Dividend yield is a pretty good proxy for investment risk and given Ventas' long history of dividend growth and its conservative payout ratio of only around 65%, I can continue to "sleep well at night" owning Ventas shares.
Debra Cafaro, Ventas' CEO explains: "The dividend increase reflects our expectations for outstanding growth of 11% in 2013 normalized FFO per share, excluding non-cash items, and continued confidence in our business and our team. We are pleased to share our reliable, growing cash flows with our investors while maintaining a strong dividend payout ratio and credit profile."
So while Mr. Market is out trying to steal my Christmas, I will simply seize the day and take advantage of the currently depressed market price of Ventas. At one time the blue-chip REIT was the darling of REIT-dom and now the Chicago-based REIT is one of the cheapest in the sector.
I consider the shares to be undervalued by some 20% and combined with the dividend; I'll sleep well at night with visions of dividends dancing in my head.
At the time of publication the author had a position in VTR.
Follow @swan_investor
This article was written by an independent contributor, separate from TheStreet's regular news coverage.
Brad Thomas has over 24 years of experience in commercial real estate brokerage, development and fixed income investments. He has provided nationwide real estate brokerage, construction, development and capital market solutions for build-to-suit, reverse build-to-suit, redevelopment, and sale/leaseback clients. He has worked directly with many nationwide retail and restaurant clients including many Fortune 500 companies in most retail categories such as automotive parts and service, office supply, drug store, dollar store, grocery store, and discount store.
Thomas researches and writes on a variety of real estate based fixed- income alternatives including both publicly-traded and non-traded REITs. Given his background in originating income producing assets, Thomas has extensive knowledge of capitalization and sustainable net lease investing. He is a disciple of Benjamin Graham and focuses his research on value investing with the primary goal of determining whether ¿an investment operation is one which, upon thorough analysis promises safety of principal and adequate return. Operations not meeting these requirements are speculative.¿ (Security Analysis - Ben Graham)
Thomas is an Advisor and Managing Director of Net Lease Investments with commercial brokerage firm Bull Realty, Inc. He was most recently Director of Strategic Markets for Embree Group and he was a Senior Vice President for Thompson National Properties, Phillips Edison, and Wilton Partners. Thomas was a partner in a regional development company and also a multi-unit franchisee for 2 International franchisors and has also consulted for several non-traded REITs. Thomas received a Bachelor of Science degree in Business/Economics from Presbyterian College and he has been a member of ICSC for over 23 years.