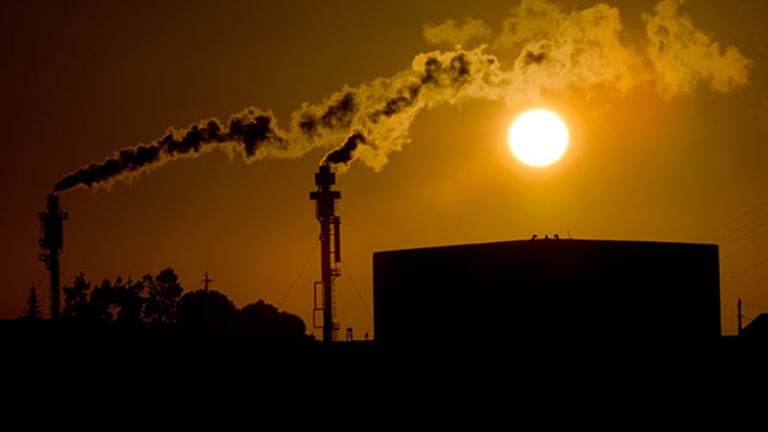 Viper Energy Can Make You Profits But Can Also Bite
The mineral rights vehicle offers a new business opportunity but is not without risks.
NEW YORK (TheStreet) -- You've heard of ranchers or land owners who receive royalty income by leasing their properties to oil and gas companies? So does Viper Energy (VNOM) - Get Viper Energy Partners LP Report .
Viper Energy owns mineral interest in shale oil and gas properties, mainly in the prolific Permian Basin in West Texas. The company, which is structured as a master limited partnership, or MLP, generates its revenue by leasing these properties to energy producers, who bear all the operation and development costs and make royalty payments to Viper Energy on shale oil and gas production.
Scott Moore, portfolio manager at Buffalo Funds, has said that Viper could post "strong growth" in the coming years on the back of double-digit production growth or an increase in oil prices, but it comes with some risks. 
Viper Energy is in the middle of a SEC quiet period and can't comment on anything, according to a company representative.
Viper debuted at the stock market in June in a strong initial public offering at $26 a share, ahead of the company's initial estimate of between $19 and $21 a share. Viper's shares are now trading at around $31, showing an increase of 22% from its initial price. Viper intends to give $1.10 per unit to investors over the twelve months ending June 2015. This would translate into yield of 3.5%. On the other hand, the Alerian MLP ETF (AMLP) - Get Alerian MLP ETF Report , which consists of 25 MLPs, yields 5.9%.
Viper is a spinoff of the Permian Basin-focused oil and gas producer Diamondback Energy (FANG) - Get Diamondback Energy, Inc. Report . Due to the successful IPO, other energy companies might also follow in Diamondback's footsteps. However, in an email to TheStreet, Moore has said that it is unlikely that we will see a large influx of mineral rights MLPs at the stock markets.
This is because unlike Diamondback, most of the exploration and production companies do not have a significant mineral rights portfolio. Companies like Anadarko Petroleum (APC) - Get Anadarko Petroleum Corporation Report and Chevron (CVX) - Get Chevron Corporation Report , that are rumored to hold large mineral rights positions might "not feel the need to create a separately traded MLP," Moore explained.
Viper owns mineral interest on more than 14,800 acres in the Permian Basin which entitle it to 21.4% of royalty income from all production from this asset.  Currently Diamondback and RSP Permian (RSPP) , another Permian Basin focused oil producer, are working on Viper's acreage. 
In its latest filing with the Securities and Exchange Commission, Viper reported 8.8% sequential increase in royalty income to $17.24 million for the three months ending June. Meanwhile, its profits increased by 6.6% in the same period to $4.1 million. Although these single-digit numbers appear modest, the company's growth story has just begun.

Since Viper's revenue are derived from production of Diamondback and RSP Permian, Viper's future growth is tied closely with production growth from the two shale oil and gas producers.
Moore has said Viper's assets consist of acreage which is extremely economical to drill. Moore has predicted that Diamondback and RSP Permian will post 30% per year increase in production for "at least the next three years."  Higher production should give a boost to Viper's cash flows, causing an increase in the MLP's distribution to unit-holders. Unless we witness a significant drop in oil prices, Viper should post "very strong growth even without acquisitions," Moore said.
Moreover, Viper also expects to grow by acquiring additional mineral rights from Diamondback as well as other companies. Viper has the first mover's advantage of being the only listed entity that is focused on acquisition of mineral rights. The company has the "competitive advantage of a public currency and a low cost of capital which should enable it to make accretive acquisitions," Moore predicted.
On the flip side, Moore has said that the revenue of most of the MLPs comes from fee-based energy infrastructure assets. Therefore, due to Viper's exposure to oil prices and production growth from its assets, the company is riskier than most of the other MLPs.
Moreover, Viper is also structured as a variable-rate MLP. This means that unlike a vast majority of other MLPs, Viper can cut its distribution down to zero. Although this sounds a bit extreme, some MLPs, like Alon USA Partners (ALDW) , have done this before. 
This article is commentary by an independent contributor, separate from TheStreet's regular news coverage. xx
This article represents the opinion of a contributor and not necessarily that of TheStreet or its editorial staff.