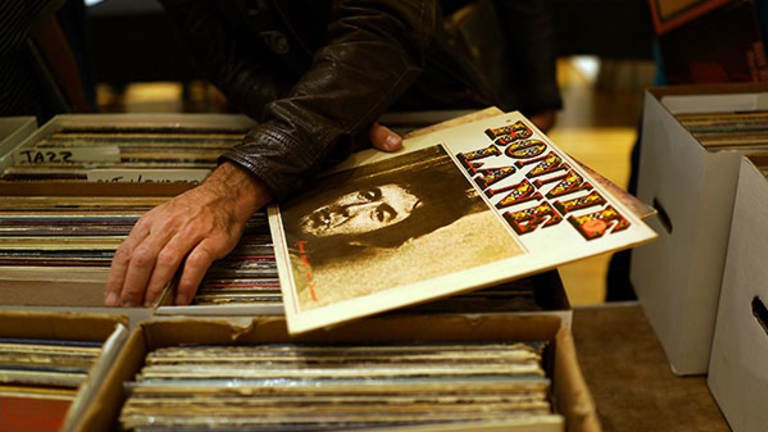 Vinyl Is Streaming Music's Flipside
Where Pandora and Spotify have streamlined music discovery, vinyl has made purchasing it a more personal, invested experience that commands a premium.
Where Pandora and Spotify have streamlined music discovery, vinyl has made purchasing it a more personal, invested experience that commands a premium.
PORTLAND, Ore. (TheStreet) -- There are exactly two bright spots in the music industry right now, and neither seems related to the other in any capacity.
As Nielsen SoundScan made clear earlier this month, the state of commercial music in 2013 was nothing short of awful. Album sales were down 8.4%. For the first time since Apple launched iTunes in 2003, digital downloads declined from the year before. It was by less than a percent, but it was less than a percent in the wrong direction.
If you were really buying into music in 2013, you were basically doing so in one of two ways: 1. Through streaming services like Pandora (P) , Rdio and Spotify, which saw streams jump 32% to 118 billion; or 2. By buying vinyl and increasing sales of that once irrelevant medium by 33%. If you go back to 1993, vinyl sales are up 250% in the last 20 years as overall music sales slid 50%.
Streaming's remaining novelty and vinyl's nostalgia have a small role in those upticks, but there's a bit more at play behind those numbers. They're saying something fundamental about how we're consuming our music and what the expectations are from this point on. They're talking about music's future, and the artists, labels and companies that care about that future need to start listening.
The gains both streaming and vinyl are seeing are a huge statement on the weaknesses of downloads and the flawed experience provided by the favored MP3 sound file. When terrestrial radio began to lose its luster and CD sales started their steep and continued slide, the belief was that music fans could finally become their own curators. By sifting and stockpiling tracks, compiling playlists and poring over music blogs and social media, fans were going to create a utopian environment that finally matched the soundtrack of their lives.
The problem is that unless you're T. Bone Burnett and have hundreds of hours to dedicate to sifting through sources and diving into archives, it just isn't going to work that way. Casual fans can keep up, download podcasts of DJs and shows they love, search out artists and make connections, but that process only convolutes the job radio did when it functioned at its best. The most broad-based modern equivalents such as Seattle-based KEXP or the New York area's WFMU make a point of opening their airwaves to all comers and continuing a listener's education by throwing as much at them as possible.
Even they and their satellite equivalents on Sirius-XM are limited by the hours in the day and what fits into their DJ or programmer's playlist. The listener, meanwhile, is stunted by just how much time they have to dedicate to shows and podcasts or to read up on countless blogs and pages. Streaming radio -- as our Rocco Pendola discovered in Parts 1, Part 2  and Part 3 of his series on Pandora, reiterated in Wednesday's followup -- streamlined this process by breaking down the traits of each song you're listening to and matching them with songs that have similar features. Listeners still get to be active participants in the process -- voting songs up or down to suit their tastes -- but don't have to play programmer, DJ and consumer all at the same time.
It's an idea that's gaining even more traction as Dr. Dre and his business partners launch their Beats Musicstreaming service this month. Their focus, like Pandora's, is on the human curation of songs in a largely automated system. 
As Pandora users have already discovered, that approach avoids some of the digital era's trickiest traps, like the latent pigeonholing that funnels listeners onto indie rock, hip-hop, EDM, punk, R&B, bluegrass, mainstream country or other sites, feeds and podcasts. Streaming allows them to address all facets of their fandom through select, customized stations. It's a pages-long iTunes list condensed into stations that play only the good stuff with few to no commercials, and it's what fans have been looking for for a good, long time.
But what about ownership, you ask? That's where the vinyl comes in. The commodification of the sound file in the early 2000s attached a value to that file where the previous answer was -- thanks to Napster -- free. As a result, listeners grew accustomed to spending a buck to try a song off an album or, more frugally, waiting for iTunes or Amazon to drop the price to 69 cents or less. That works out just fine if you're curious about Icona Pop's I Love It and don't want to invest in their whole album or just want to add Pitbull and Ke$ha's Timber to your gym mix, but it also assigns greater value to the music that buyers prize most.
That makes vinyl not only a music purchase, but perhaps the most emphatic one a buyer can make. Last year's top-selling vinyl album, Daft Punk's Random Access Memories, sells for $9 on Amazon when purchased in MP3 format, but jumps to $33 for a vinyl copy. That's a 366% premium being placed on the missing audio peaks and valleys that digital cuts off and for artistic, large-format packaging instead of a distinct lack of packaging.
It's a similar case with last year's No. 2 vinyl album, Vampire Weekend's Modern Vampires Of The City. That sells for $7 in MP3 format, but jumps to $18 for a vinyl version that's packaged with both MP3s and a CD copy. Value-adds aside, that still makes a vinyl copy a luxury purchase reserved for only the artists and albums collectors care about most. While there's still a healthy and thriving used vinyl industry that lets old favorites go for far less, reissues such as the 180-gram version of The Beatles' Abbey Road released in 2010 can turn an iffy $12 asking price of a CD into a perfectly reasonable $30 vinyl purchase.
Vinyl has become the album's last lucrative niche. Where digital downloads transformed albums from a valued commodity to a unit-price discount on the songs buyers actually want, vinyl restores them to the complete artistic, tactile works they once were. Just as small brewers charge a premium for beer with costlier ingredients and higher alcohol content and Mont Blanc revived fountain pens with help from those who'd pay for the privilege of owning one, vinyl sellers and the folks behind Record Store Day have made LPs the burgeoning music format of choice.
By filling out the high and low ends of music's ecosystem with the quality and features fans have been seeking, both streaming and vinyl have made music a pleasure to consume again. They've returned discovery and purchase to vital roles and have provided artists with a means of not only connecting with fans, but giving them an active stake in the process. By maintaining a core element that worked and innovating a fix for a few that didn't, a cooperative of artists, tech companies and independent labels is finally repairing the music industry's self-inflicted damage.
If the industry can view either as more than a threat or cash-grabbing ploy, it might stand a chance.
-- Written by Jason Notte in Portland, Ore.
>To contact the writer of this article, click here: Jason Notte.
>To follow the writer on Twitter, go to http://twitter.com/notteham.
>To submit a news tip, send an email to: tips@thestreet.com.
RELATED STORIES:
>>Pandora, Sirius and Spotify Should Check Into Hotels
>>It's More Than Music For Jay-Z and Cobain
>>Stop Calling Music Indie -- There's No Such Thing
Jason Notte is a reporter for TheStreet. His writing has appeared in The New York Times, The Huffington Post, Esquire.com, Time Out New York, the Boston Herald, the Boston Phoenix, the Metro newspaper and the Colorado Springs Independent. He previously served as the political and global affairs editor for Metro U.S., layout editor for Boston Now, assistant news editor for the Herald News of West Paterson, N.J., editor of Go Out! Magazine in Hoboken, N.J., and copy editor and lifestyle editor at the Jersey Journal in Jersey City, N.J.