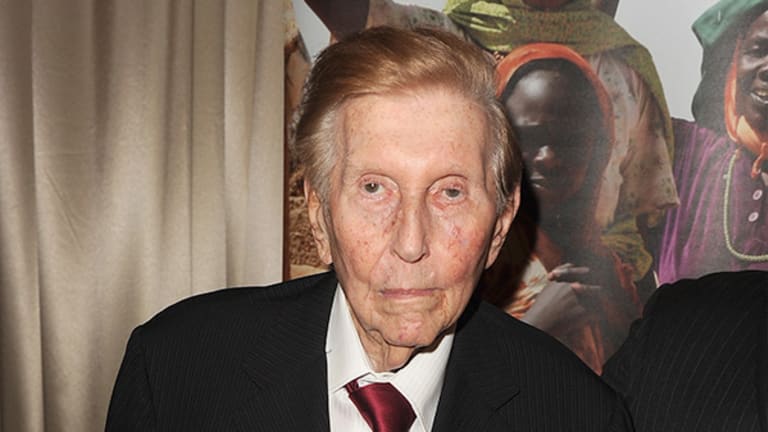 Viacom Shareholders Set to Send a Message to Board at Annual Meeting
Even if they won't be able to force immediate change at the beleaguered media giant, shareholders are hoping to make their disapproval heard at the company's annual meeting on Monday.
Viacom (VIAB) - Get Free Report  shareholders may send a message of no confidence over compensation issues when the company holds its annual meeting in Miami on Monday, even if they won't be able to force immediate change at the beleaguered media giant.
Two shareholder advisory groups recommended that investors withhold votes from the five members of Viacom's compensation committee for their role in increasing chief executive Philippe Dauman's 2015 salary by 22% in a year that the company's shares fell by 44%.
Dauman, a trustee of ailing 92-year-old chairman emeritus Sumner Redstone's trust, was installed as chairman over the objections of Redstone's daughter, who wanted a professional manager with no connections to the family to be named.
A Catholic missionary and a shareholder in Washington, D.C. submitted a proposal that shareholders vote to strike down the company's dual class voting share structure that gives Redstone unshakable control of the company.
Viacom's board opposed the missionary's proposal because it said it "believes that our dual-class capital structure has contributed, and continues to contribute, to our stability and long-term shareholder returns." Viacom's spokesman did not return an email seeking further comment. 
Redstone owns 79.8 percent of Viacom's voting "A" shares through Redstone's family-owned National Amusements theater chain. The company signaled it backs Viacom's board candidates and opposes the shareholder proposal, making it impossible for Viacom to lose. 
But a vote by a large percentage of shares not affiliated with Redstone would force its management to take action, say some governance experts.

"It's called 'sending a message to management' even if it can't succeed," says Charles Elson, director of the University of Delaware's John L Weinberg Center for Corporate Governance. "You just hope that management is listening."
In late February leading shareholder advisory groups Institutional Shareholder Services and Glass Lewis, were harshly critical of Viacom's board, advising its shareholders to withhold votes from the five members of the compensation committee.
In a Jan. 22 filing, Viacom said it paid Dauman $54.2 million in cash, stock and options for the company's fiscal year ending Sept. 30, up from $44.3 million the prior year.
ISS also urged votes be withheld from World Economic Forum adviser Christiana Falcone Sorrell, a member of the Audit Committee.
The advisory firm said it was concerned as well by a provision in Dauman's new contract, which took effect in January 2015, that allowed the CEO to resign for "good reason" -- and collect three years of salary and bonus -- in the event the board appointed someone other than him or Redstone as executive chairman.
On February 4, Redstone was named chairman emeritus and the board appointed Dauman to take his role as the company's chairman, despite reports that Redstone's daughter Sheri, the company's vice-chairman, opposed Dauman's elevation. 
Shareholders voting against the Viacom-backed position could be significant, if not enough to force changes. The California State Teachers' Retirement System, the nation's second largest public pension fund, told Reuters in December it supported doing away with Viacom's duel voting class stock. CalSTRs owns 1.1 million non-voting shares.
A senior officer at the Florida State Board of Administration, which controls $144 billion in pension assets and owns 763,303 non-voting Viacom shares, also told Reuters he supports adopting a one share, one vote stock structure.
Viacom, facing restive shareholders as performance from its cable channels like MTV and Comedy Central have suffered from ratings declines, has bowed before to investor pressure. On Feb 23, Dauman told an investor conference that the company was pursuing discussions with "a select group of potential investors" for Viacom's Paramount studio.
The announcement came just weeks after money manager Mario Gabelli, whose funds own a 10.2 percent Viacom stake, told Bloomberg that the company should sell a stake to Chinese internet company Alibaba (BABA) - Get Free Report .
This article is commentary by an independent contributor. At the time of publication, the author held a position in Viacom.