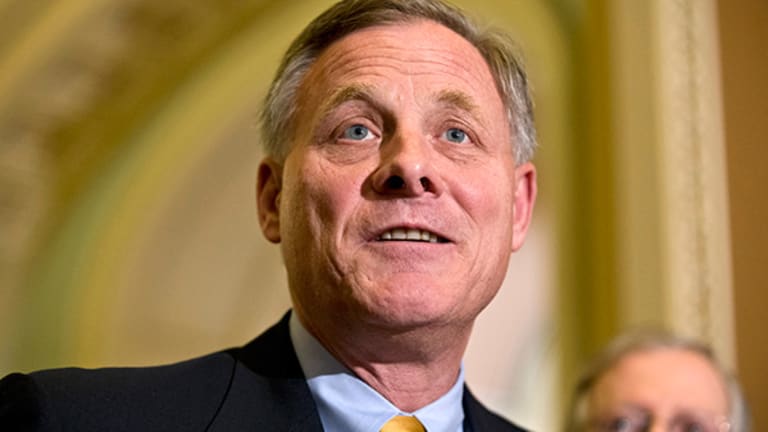 Veterans Know Shinseki Departure Is No Cure for VA Mess
The political grandstanding around the VA crisis only strengthens veterans' distrust of the politicians who oversee the care they were promised.
The political grandstanding around the VA crisis only strengthens veterans' distrust of the politicians who oversee the care they were promised.
PORTLAND, Ore. (TheStreet) -- The Department of Veterans Affairs and its facilities are a mess, but the argument that any one political party or person made them that way is not only false, but a continued insult to the veterans seeking the care they were promised on enlistment.
As an independent report from the Department of Veterans Affairs inspector general's office proved Thursday, VA health clinics used inappropriate scheduling practices that hid delays in treatment that averaged 115 days. At the heavily scrutinized Phoenix VA alone, 1,700 veterans were kept on unofficial wait lists and "were and continue to be at risk of being forgotten or lost in Phoenix HCS's convoluted scheduling process." Far from being an isolated slip by one facility, the report notes that such manipulation and underreporting -- which led to performance bonuses for VA staff -- are "systemic throughout" the VA.
Calls for VA Secretary Eric Shinseki to step down finally met with success on Friday when he announced his resignation. But not before Shinseki responded by writing an op-ed in USA Today in which he laid out a plan to fix flaws in VA. At one point, that may have earned him a reprieve from House Speaker John Boehner, but the American Legion and politicians from both sides of the aisle wanted Shinseki gone.
The Legion, however, doesn't speak for all veterans. The Veterans of Foreign Wars (VFW), Disabled American Veterans (DAV) and Paralyzed Veterans of America (PVA) have all voiced their desire to have Congress, President Obama and his cabinet stop the political posturing and start fixing VA. The department's 152 medical centers and 900 community care facility nationwide has been inundated with 1.5 million new patients in the last three years, 200,000 of them with post-traumatic stress disorder or traumatic brain injury.
As a result, the budget for Veterans Affairs has increased from $59.7 billion to more than $125 billion within the last decade. Earlier this month, the Department of Veterans Affairs and the president submitted a $163.9 billion budget for 2015. The VFW and other veterans service organizations (VSOs) were looking for Shinseki to take strong action to ensure that those funds actually help veterans and don't just get doled out as bonuses.
That request wasn't good enough for Sen. Richard M. Burr (R-N.C.), the ranking Republican on the Veterans Affairs Committee, who wrote an open letter to the VFW and other groups accusing them of being "more interested in defending the status quo within V.A., protecting their relationships within the agency, and securing their access to the secretary and his inner circle" than in helping other veterans.
Richard Burr
First off, with few exceptions, veterans really don't like it when they feel you're manipulating them for political advantage. Secondly, roughly 6,500 former military personnel killed themselves in 2012 -- the last year such statistics were made available -- which equates to one suicide every 80 minutes. The Department of Veterans Affairs estimates that roughly 13% of the overall U.S. homeless population are veterans, with 50% experiencing severe mental illness and 75% struggling with substance abuse. Younger vets from recent wars make up approximately 10% of that veteran homeless population and 31% of all veteran suicides.
As we mentioned three years ago while telling the story of 21-year-old Army Specialist Adam Kuligowski -- who took his rifle into a bathroom stall at Bagram Air Base in Afghanistan and shot himself on April 6, 2009 -- often the very drugs soldiers are using to combat depression, insomnia and post-traumatic stress disorder are the ones interacting with other drugs and pushing military personnel toward suicide.
For simply attempting to get the basic Veterans Affairs benefits promised to members of the Armed Forces, veterans service organizations were chastised by a senator who never had so much as a cup of coffee in the military, let alone served long enough to endure life-altering trauma from the experience. The veterans, for their part, didn't let his criticism stand unanswered. The VFW's response, which reminded Burr that all veterans associations have been trying to call attention to recent VA shortcomings since 2005, set the tone:
For years, the VFW has come to Congress with hat in hand and for years, we've heard the same old story. You can be assured Senator, that you've done a superb job in showing us the error in our ways. You can also be assured that in the future, we will spend a substantial percentage of our time seeking to inform our members and our constituents of the repeated failure to act by our elected officials.
The PAV was even less kind:
Given the opportunity to support legislation that would remove all of the Department of Veterans Affairs (VA) budget from the partisan bickering and political gridlock, of which you are an active participant, that has completely crippled the appropriations process, you opposed that legislation.  Given the opportunity to support legislation that would ensure all generations of veterans, not just Post-9/11 era veterans, have access to the Comprehensive Caregiver Assistance program administered by the VA, you chose to oppose that legislation. Given the opportunity to support legislation that would provide reproductive assistance to veterans whose catastrophic disabilities rendered them unable to have children, you chose to oppose that legislation. Given the opportunity to ensure that the VA has fully sufficient resources to establish adequate capacity and properly meet the health care demands of veterans, you have chosen to send them out into the private health care marketplace that cares more about the bottom dollar than the health and well-being of those men and women.
Burr, for his part, decided it was wholly appropriate to issue the following retort to the veterans groups on Memorial Day weekend: "Clearly I hit a nerve. I think they've shown more outrage toward my open letter than outrage toward the current crisis at the VA."

It's cute that Burr thinks this is a "current" issue. In February, Republicans blocked a vote on broad veterans legislation that would have increased health and dental care, authorized 27 new clinics and medical facilities, added to veterans education programs and dealt with veterans who suffered sexual trauma while in the military. But even that's a relatively new wrinkle in what's become an old, discouraging story.
This year marks the 10th anniversary of the first reports in The Washington Post and Salon detailing both the neglect and deteriorating conditions at Walter Reed Army Medical Center in Washington, D.C. It's been seven years since Congress ordered shakeups not only within the Army, but within the VA system that included a full review of 1,400 VA facilities.
But because it was seven years and a different administration ago, it's been all but forgotten. Political memory fades quickly, but veterans don't let things go so easily. Within the last decade, veterans service organizations have watched both former and active duty military personnel get shafted by two administrations and both major political parties. Perhaps they're not so convinced that Shinseki's forced ouster will do anyone any good because he's the fifth head of VA to come through in the last 10 years and just about nothing has changed in all those turnovers but the funding.
Perhaps it's because they realized that firing the VA secretary doesn't hold him accountable, but lets him off the hook while some other poor sap tries to clean up what's become a legacy of disorder. Or, just maybe, it's because they know that the call for heads and vows of sweeping reform make great political theater, but don't do much to improve care or save lives. Perhaps it's because they've been spending years bending the ear of anyone who'll listen to get their members help and improve VA service, but only receive hollow promises while veterans on edge turn elsewhere.
Maybe it's because, just once, they'd like to see some evidence that a veteran's life matters more than his or her vote.
-- Written by Jason Notte in Portland, Ore.
>To contact the writer of this article, click here: Jason Notte.
>To follow the writer on Twitter, go to http://twitter.com/notteham.
>To submit a news tip, send an email to: tips@thestreet.com.
RELATED STORIES:
>>Add The VA Fallen To Your Memorial Day Remembrances
>>We Keep Paying The Cost Of Our Wars
>>Toxic Cocktail: Army Struggles With Mental Health Care
Jason Notte is a reporter for TheStreet. His writing has appeared in The New York Times, The Huffington Post, Esquire.com, Time Out New York, the Boston Herald, the Boston Phoenix, the Metro newspaper and the Colorado Springs Independent. He previously served as the political and global affairs editor for Metro U.S., layout editor for Boston Now, assistant news editor for the Herald News of West Paterson, N.J., editor of Go Out! Magazine in Hoboken, N.J., and copy editor and lifestyle editor at the Jersey Journal in Jersey City, N.J.