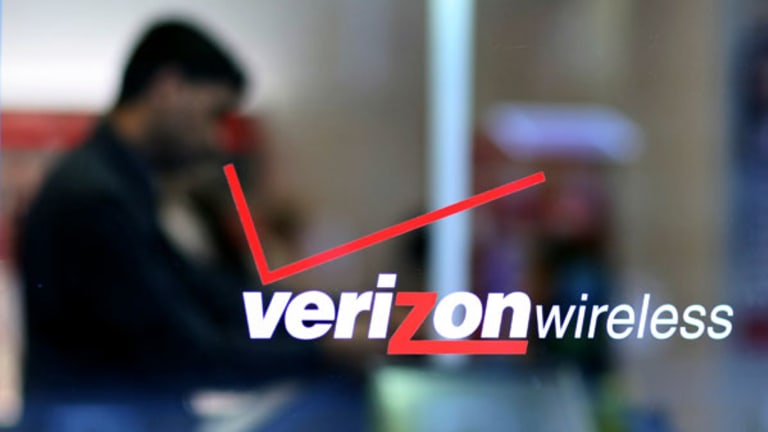 Verizon Survived Apple iPhone Subsidy Pain, But...
Verizon's earnings signal a change in its relationship with Apple.
Verizon's earnings signal a change in its relationship with Apple.
NEW YORK (
) -- After a big fourth-quarter
,
Verizon's
(VZ) - Get Report
far
first-quarter wireless unit profitability indicates the telecom has finally survived
Apple
(AAPL) - Get Report
iPhone subsidy pain.
Since fourth-quarter earnings, Verizon shares are up about 20% to $50.91,
a new 10-year high
, while Apple shares have fallen by an almost identical amount to multi-year lows not seen since late 2011.
Is the correlation between Verizon's stock gains and Apple's plummeting shares over the past three months a coincidence?
Likely not.
Thursday's report from Verizon confirms
iPhone subsidies are lessening as a drag on earnings, as fees collected from a growing network of smartphone users continue to rise.
For instance, Evercore Partners analyst Jonathan Schildkraut said prior to Verizon's fourth-quarter earnings in January, a miss would be a
buying opportunity
for investors.
Also see: Absolutely Terrifying News for Apple >>
Schildkraut forecast a surge in fourth-quarter subscriber additions and handset upgrades for Verizon that would hit wireless profit margins because of subsidy costs. In the wake of those earnings, however, Schildkraut expected subscriber growth and rising revenue per user to again be at the forefront of investor focus, instead of handset subsidy costs.
After predictably missing earnings on higher subsidy costs that pushed wireless unit margins down, Verizon chief executive Lowell McAdam indicated the company would hit a profit margin in excess of 50% by the end of 2013.
In first-quarter earnings, Verizon's wireless profit margins came in at 50.4%, surpassing just about every analyst forecast. Prior to earnings, analyst estimates polled by
Bloomberg
forecast margins of 48.92%, according to 10 estimates.
The wireless margin beat is explainable because, according to Verizon CFO Fran Shammo, only 50% of the 4 million iPhones Verizon sold in the quarter were
. The remainder, according to Shammo, were devices such as iPhone 4 and iPhone 4S phones.
Also see: Verizon iPhone Sales Rise 25% Though Apple Concerns Remain >>
Increasingly, it appears consumers are opting for cheaper iPhones over the flashiest and most expensive new Apple devices, in a consumer switch that bolsters the earnings of Verizon.
Consumers also upgraded just 10 million handsets in the first quarter, a sequential drop that put upgrade rates at just 6.7%, down from the 8.9% rate Verizon recorded in the fourth quarter.
For Apple, Verizon's earnings may highlight the company's lack of innovation in its iPhone 5 launch, which is failing to draw
paid out of the pocket of subscriber-hungry carriers such as Verizon, AT&T and even
Sprint
(S) - Get Report
.
Verizon's earnings appear to also
from UBS analyst Steven Milunovich, who forecast a drop in the average selling price in Apple handsets as customers flock to the cheaper offerings.
Also see: Apple: JPMorgan Sees Gross Margin Upside >>
"We have moderated our iPhone price estimates because the survey finds that demand for storage has declined from about 30GB with the 4S to 20GB for the iPhone 5 with fewer customers opting for the 64GB model . . .
Demand for older models has increased from 33% in the 4S cycle to 50% so far for the 5," wrote Milunovich, in mid-January.
Finally, subsidy free iPad tablets made up 44% of postpaid net additions, according to a Thursday analysis from Schildkraut.
While lower costs on handsets are denting expectations for Apple, they are driving growth at Verizon.
The company's 15% year-over-year earnings growth was driven by a 6.8% rise in wireless service revenue, as well as rising margins in the unit. Those figures offset a flat-to-declining performance from Verizon's wireline business, which accounts for about a third of overall revenue.
Verizon's wireless business posted better-than-expected revenue of $19.5 billion, 677,000 post-paid subscriber additions and average revenue per account (ARPA) of $150.27 a month.
Also see: If Apple Bought Twitter It Would Ruin It >>
Overall, Verizon said 7.2 million smartphone devices were activated in the quarter, including 5.9 million 4G LTE devices. Total smartphone activations represented a 28% increase from year-ago levels, while the company also said 54% of total data traffic was on its 4G LTE network.
"Net/net, Verizon's performance -- particularly on the wireless side -- was solid, with the strong increase in sequential margins confirming our view that the upgrade cycle is increasingly seasonal," Schildkraut of Evercore, wrote in reaction to Thursday's earnings.
Of course, given a slowing in
Google
(GOOG) - Get Report
-Android market share gains and mixed consumer reception to recent
Nokia
(NOK) - Get Report
and
BlackBerry
smartphone launches, there's always the risk Apple creates another blockbuster phone to drag down carrier margins.
Verizon, however, isn't out of the woods when it comes to concerns to margins.
The prospect of revived competitors could pressure the company's rising average revenue per user and account. Meanwhile, it's unclear whether current premium pricing can be sustained or rise further over the long-term.
Verizon's earnings come amid
in the telecom sector that raises the prospect cost-competitive industry laggards
Sprint
(S) - Get Report
,
T-Mobile
and
MetroPCS
(PCS)
could revive their competitiveness.
In 2012, the weakness of Sprint and T-Mobile helped both Verizon and
AT&T
(T) - Get Report
consistently pick up new subscribers and increase smartphone market share.
"Last year, postpaid subscriber losses at Sprint and T-Mobile equated to some 50% of postpaid net adds at Verizon and AT&T," Simon Flannery, a Morgan Stanley telecoms analyst, wrote in an April 17 note to clients.
"We believe that this trend may be peaking, and that consensus may be too optimistic on 2013 subscriber growth
which will also allow DISH to pursue a more aggressive broadband/video strategy."
Consolidation could shore up the finances and services of Verizon's low-price competition, stemming revenue per account gains.
Verizon and AT&T also face tough year-over-year earnings comparables given sharp 2012 share price gains.
"While we expect a solid report, we maintain our Hold rating in light of
Verizon's recent outperformance and given our views of limited upside potential to EPS estimates, overheated expectations for a near-term
Vodafone and Verizon Wireless deal and the stock's steep premium to the S&P 500," Brett Feldman, a Deutsche Bank analyst wrote in an April 15 note to clients.
-- Written by Antoine Gara in New York.