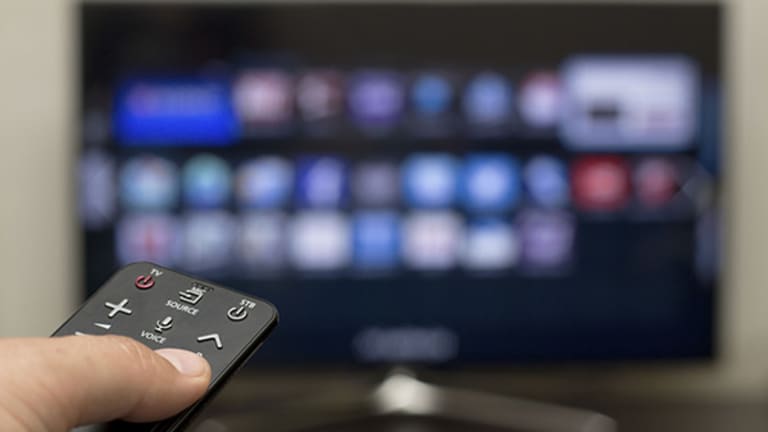 Publish date:
Verizon Said to Ready Online Television Push, but How Many Will Watch?
Online TV sounds good, and it's even gaining subscribers. But as young consumers embrace on-demand viewing, can it ever be anything more than a niche service?
Online TV sounds good, and it's even gaining subscribers. But as young consumers embrace on-demand viewing, can it ever be anything more than a niche service?
Trying to figure out the television preferences of young consumers is like try to fix the right dish for a finicky relative at a holiday dinner. You probably won't make the right selection.
The same goes for major media conglomerates in their pursuit of the under-40-year-old viewer. This is the crowd that's cutting the cord on cable and satellite TV or never even bothered to subscribe -- a group labeled the cord-nevers.
Keenly aware that the traditional cable and satellite TV bundle is fraying fast, distribution companies led by AT&T (T) - Get Report  and Dish Network (DISH) - Get Report have launched online TV packages that reproduce pay-TV for the internet. Dish's Sling TV starts as low as $20 for 30 channels, while one package of AT&T's DirecTV Now offers more than 60 channels for $35 per month.
But it isn't just traditional distributors competing in the new field. Sony (SNE) - Get Report has PlayStation Vue, and later this spring, Alphabet's (GOOGL) - Get Report Google plans to launch YouTube TV, while Hulu also is expected to launch its own online TV service. Hulu is a joint venture among Disney (DIS) - Get Report , 21st Century Fox (FOXA) - Get Report and Comcast (CMCSA) - Get Report , each of which holds a 30% stake in the subscription video service, and Time Warner (TWX) , which holds a 10% share.
Verizon (VZ) - Get Report is also planning to start such a service sometime this summer, according to a Bloomberg report. A Verizon representative did not immediately return a request for comment.
Comcast, which owns NBCUniversal in addition to being the country's largest internet service provider, also has been gathering streaming rights nationwide, Bloomberg reported last week, but it has chosen instead to focus on its current service territory rather than launch a national pay-TV service, a source close to those talks said. Nonetheless, Comcast has secured some rights to carry networks outside its cable TV area as part of larger carriage agreements, the source added.
But what do we make of all these new online TV services? Is this what people want, and can the content creators and the pay-TV distributors depend on online TV to reverse subscriber declines to traditional cable and satellite services?
In a survey of young consumers, Bernstein Research came to some sobering conclusions. The focus groups comprising people under 40 were asked to describe their interest in the new wave of so-called over-the-top online TV packages, known in industry jargon as OTT. Some of these services might be described as "skinny bundles," smaller collections of networks sold at a lower price than the traditional 100-plus-channel pay-TV bundle.
The results were jarring.
"Cord-nevers and cord-cutters had absolutely no interest in these products," said the report led by Bernstein media analyst Todd Juenger. "They preferred on demand, believed SVOD [subscription video-on-demand services] had the same (on delay) or similar content and considered the OTT services expensive." (The services vary in their on-demand and DVR capabilities.)
Some subscribers to traditional pay-TV, "a few" in Juenger's words, expressed interest in the new online TV services if they offered channels that matched with their family's viewing habits and saved them money. But what they really want, and what they really like, is the ability to watch what they want, when they want it. In other words, they're not interested in appointment TV.
They really like Netflix (NFLX) - Get Report .
"All but one of the participants had Netflix (either paying or sharing), and nearly all of them cited it as their favorite source of content with little churn," the Bernstein report said. "All expressed willingness to pay $15 with no hesitation whatsoever." While Hulu received less support than Netflix, participants said they liked the ability to access on-demand originals at both Hulu and Amazon (AMZN) - Get Report .
The key here is on-demand viewing.
The largest pay-TV providers, representing about 95% of the market, lost about 795,000 subscribers in 2016, according to industry consultancy Leichtman Research Group.
This year, the number of U.S. adults who don't subscriber to traditional pay-TV, i.e., cable and satellite, is expected to jump 20% to 51 million, according to a forecast by industry research group eMarketer. The total amount of time spent watching traditional TV will decline by 2.3% to 4 hours and 4 minutes per day, the research showed.
Those totals don't include the new online pay-TV services. But those platforms remain small. AT&T said last month that DirecTV Now had more than 200,000 subscribers, though reports have put the total as high as 400,000. Sling TV is said to be around 1 million. Netflix, meanwhile, reached 49 million U.S. subscribers at the end of 2016.
The trends are ominous for media companies that rely on advertising. Consumers appear to be voting with their fingers, moving to on-demand services that don't require them to watch commercials. And we haven't even mentioned video available via Facebook (FB) - Get Report Live, Snap (SNAP) - Get Report or through newfangled brands such as Vice Media.
"We believe the U.S. television industry is entering a period of prolonged structural decline, caused by a migration of viewers from ad-supported platforms to non-ad-supported, or less-ad-supported platforms," Juenger wrote. "We fear the entire sector will struggle to work until the content owners take concerted action to reclaim on-demand viewing from the [subscription video-on-demand] services." 
Alphabet, Comcast and Facebook are holdings in Jim Cramer'sAction Alerts PLUS Charitable Trust Portfolio. Want to be alerted before Cramer and the AAP team buy or sell GOOGL, CMCSA or FB? Learn more now.