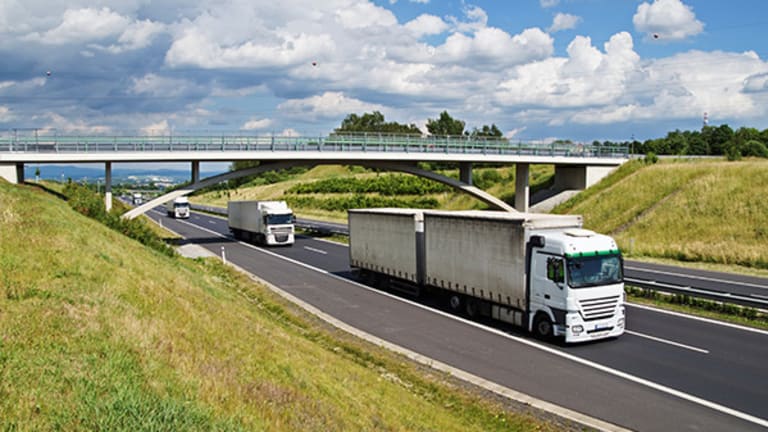 Verizon's Buyout of Telogis Reflects the Wireless Industry's Long Road in Telematics
Keeping tabs on trucks is one of the top markets in the burgeoning "Internet of Things."
Verizon's (VZ) purchase of vehicle tracking and monitoring company Telogis underscores the long history of wireless carriers and telematics providers.
Telematics is part of the buzz-laden field of "Internet of Things," or networked machines that include smart home appliances and high-tech medical implants. However, telematics is a mature business that combines telecom networks and the fields of computing and data management to track and improve the management of vehicles.
"The whole space is probably one of the juiciest markets for the Internet of Things for the next three to five years," Christian Renaud of 451 Research said.
Verizon has strengthened its presence in the market through acquisitions, such as the $612 million purchase of Hughes Telematics in 2012. Renaud said the field is central to the Internet of Things strategies for U.S. and international carriers such as AT&T (T) , Sprint (S) , Telefonica (TEF) , Orange (ORAN) , Deutsche Telekom and others.
"It's a market with a very direct line between investment and return on investment," he said.  "I can say I am going to save you this much because I'm going to route your vehicle smarter, I'm going to track downtime, I'm going to make sure your workers aren't working too many hours and keep you within union and regulatory guidelines."
Telematics providers can also monitor conditions such as temperature for perishable foods or other sensitive assets.
Aliso Viejo, Calif.-based Telogis is 15 years old. The company has raised capital from Kleiner Perkins Caufield & Byers and the venture capital arm of General Motors (GM) .
The field of telematics companies includes Kore Wireless Group, of Atlanta, has backing from Abry Partners.  The company provides a range of vehicles tracking and other offerings such as insurance services. 
"You provide the driver safety and routing data to your insurance and you get discounted insurance," Renaud said.
Another player is Teletrac, which Danaher (DHR) purchased from Vector Capital in 2013. Teletrac provides a cloud-based service to fleet managers, and has been in the business since 1988.
San Diego outfit Omnitracs provides a range of telematics services. Vista Equity Partners bought the company from Qualcomm (QCOM) in November 2013. Since the sale to Vista, Omnitracs acquired Roadnet Technologies, which develops apps for routing, dispatching, real-time tracking and other services, in December 2013, and bought fleet management and compliance software company XRS in October 2014.
Actsoft, a Tampa, Fla., company founded in 1996, is another private player.
Public companies compete in the telematics market, as well.
Trimble Navigation (TRMB) , with $6.1 billion market cap, has telematics deals with Kenworth and Peterbilt trucks, among others.
Calamp (CAMP) , which went public in 1983 and has a $525 million market cap, develops telematics hardware and software. The Irvine, Calif., company bought stolen vehicle recovery technology provider LoJack (LOJN) recently for $134 million, and said the deal would allow it to offer telematics subscription services with high margins.
The telecom and telematics providers have developed a symbiotic relationship. Telecoms are eager to find new markets as sales of smart phones plateau. The telematics companies have large sales forces that are marketing services provided via the wireless network, and give the carriers a means to boost the capacity of their networks.
The business is akin to the virtual mobile carriers like Virgin Mobile or Boost, which resell Sprint's services, or Tracfone, which is backed by America Movil (AMX) and resells various carriers.
"The only downside of the telecoms getting deeper into this space is that if that in anyway dissuades that partner ecosystem," Renaud said.
A company that competes directly with Telogis, for instance, might be reluctant to sign large contracts with Verizon.
"You don't want to fund your competitor," Renaud said.