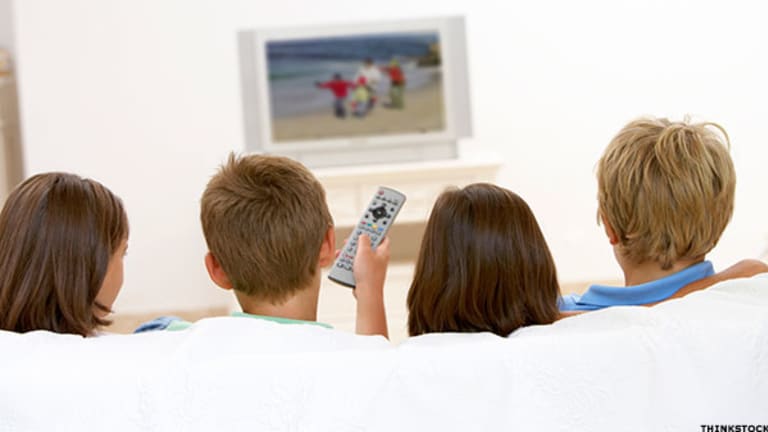 Verizon Gets Stronger TV Signal With Intel Assets
Verizon will use the cloud to compete against Netflix and Amazon.
NEW YORK (TheStreet) -- Intel (INTC) - Get Intel Corporation Report and Verizon (VZ) - Get Verizon Communications Inc. Report forged an imaginative transaction that turns out to be a win-win for both companies.
Last week's deal, plus Verizon's planned acquisition of the part of Verizon Wireless it doesn't already own, will put the company head to head against such competitors as Netflix (NFLX) - Get Netflix, Inc. Report.
Who would have thought the combined imagination and financial prowess of Verizon and Intel would complete a deal that gives Intel a much-needed cash infusion and Verizon some precious technology to be able to offer an online pay-TV service?
On Jan. 21, Verizon and Intel announced VZ will buy the intellectual property rights to Intel's TV technology. The purchase price was approximately $200 million, and with Intel's latest struggles to increase income and revenue that would turn out to be a hefty shot in the arm while calming the fears of some investors who wonder if Intel will be able to raise its dividend payout sometime soon.
The official INTC press release revealed just enough to confirm rumors that had been floating around. The deal, it says, will "accelerate the availability of next-generation video services, both integrated with Verizon FiOS fiber-optic networks and delivered 'over the top' to any device. Verizon will purchase intellectual property rights and other assets that enable Intel's OnCue Cloud TV platform."
The deal is expected to close early in the first quarter of 2014, which would imply well before March 31. Lowell McAdam, chairman and CEO of Verizon, said the deal "provides us with the capabilities to build a powerful, capitally efficient engine for future growth and innovation. We will have the opportunity to enhance, expand, accelerate and integrate our delivery of video products and services to better serve audiences on a wide array of devices."


Translated another way, this huge, imaginative leap empowers Verizon, with that Verizon Wireless buy from Vodafone (VOD) - Get Vodafone Group Plc Report, to eventually compete against Netflix as well as Amazon.com (AMZN) - Get Amazon.com, Inc. Report, which are busy trying to launch their own versions of this TV technology.

These competitors all want to sell to the world its unique version of a new online pay-TV service that would seduce subscribers away from traditional cable and pay-TV services like the one offered by media conglomerate Comcast (CMCSA) - Get Comcast Corporation Class A Report. VZ has been in competition with companies like Comcast for years, but now it's able to compete with another category of rivals that pose a more significant threat: NFLX and AMZN.
The Intel deal should pay off in spades in the near future. Not that VZ hasn't financially flourished in the past year. As CEO Lowell McAdam said on the same day as the Intel annoucement: "Verizon delivered a total return of 18.6% to our shareholders in 2013, while attracting more customers than our competitors and improving our financial performance."
For both Intel and Verizon shareholders, I conclude with this one-year chart comparing their stock prices. From my perspective VZ is looking relatively undervalued, especially when you consider its dividend yield is currently a delicious 4.45% and could go higher in the quarters to come.
At the time of publication the author had positions in INTC, VZ and VOD.

This article represents the opinion of a contributor and not necessarily that of TheStreet or its editorial staff.
Marc Courtenay is the founder and owner of Advanced Investor Technologies, LLC, as well as the publisher and editor of www.ChecktheMarkets.com.
Courtenay holds a Master's of Science degree in Psychology from California Polytechnic State University, and is a former senior vice-president of Investments for two major brokerage firms. He's been a fiercely independent investment "investigator" and a consulting contributor to the investment publishing world for over 30 years. In addition to his role as an investment publisher and analyst, he serves as a marketing consultant to the investment media industries.
In his role as a financial writer and editor, he specializes in unique investment strategies, growth with income stocks, overlooked investment themes, tax-advantaged themes, risk management, technologies to capture gains and reduce losses, real estate related opportunities,effective wealth preservation techniques, and the use of ETFs for diversification and asset allocation. He also follows and frequently writes about technology, health sciences, energy and resource companies. Because of his training and background in Clinical Counseling and Psychology, he enjoys writing about investor behavior, the herd mentality, how to turn investment mistakes into investment breakthroughs and the stock market's behavioral trends and patterns.