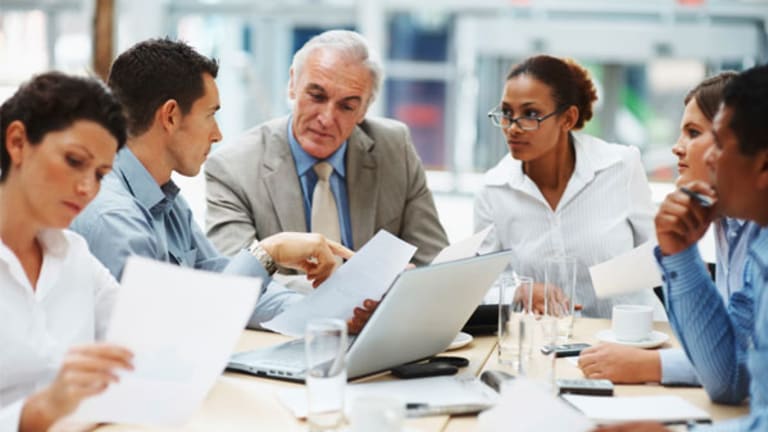 Vampire Squids on the Prowl: Today's Outrage
Banks are again paying dividends, luring the same investors they demolished three years ago.
(The following commentary comes from an independent investor or market observer as part of TheStreet's guest contributor program, which is separate from the company's news coverage.)
NEW YORK (
) -- I've been talking about banks for several years with a friend of mine over at
The Wall Street Journal
. Honestly, he knows more about how banks work than I do, or, for that matter, most analysts on Wall Street.
His idea is simple and accurate: Banks are just leveraged plays on the economy. So why would you want to have a bank increase dividends? You see, a dividend is just a way of telling a shareholder that cash is better than "spend," giving it back rather than reinvesting it.
A slew of banks in the past half-week announced they'd reinstate or raise their dividends, or return capital to shareholders, including
JPMorgan Chase
(JPM)
,
Wells Fargo
(WFC)
and
Citigroup
(C)
.
Put this into the context of the 2008 crisis. The U.S. had to spend a trillion dollars to bail out banks but, yet, the banks want to disgorge profits to shareholders? It does make sense. Outside of the vicious hedge-fund runners that try to game the banks -- essentially, the same type of magic-money machine, only with a government backstop -- you have a specific type of retail investor who buys banks. No, they aren't the big-swinging speculators running their IRAs on discount online brokerages. They are usually self-described "dividend investors" looking for a solid investment.
Wow, Wall Street -- if it has done nothing else, it has fooled millions of conservative investors. Well, up until about 2008, when they got a lesson in long-term delusions, mainly by thinking they had a solid winner. It's fine to be hoodwinked into opaque leveraged games the first time around, especially when the entire system to prevent this crap was destroyed by Congress with the repeal of the Glass-Steagall Act in 1999. However, you know what they say: Fool me twice. Or, as I say, just give me a reason. Give me a reason to alert the bold and foolish lambs of the con that is about to take another turn.
The bottom line: This new dividend policy is designed for one thing: Assure the public that the banks are fine. I agree! The problem? A new crop, including the original brood of conservative dividend-seeking public will once again engage the beast that wiped them out three years ago.
Do we need a sacrificial lamb? Perhaps, as I would prefer the veneer of strength when any trader knows the frail system we engage each day. Perception of the most dangerous device above all else.
Readers Also Like:
>>Cramer: Where to Make Money Now
>>10 Celebrities Who Lost Big Financially
Lee Munson, CFA, CFP, is chief investment officer of Portfolio Asset Management, a wealth-consultant firm based in the Southwest. He is a regular guest on CNBC's "The Kudlow Report" and has appeared in the Wall Street Journal, Smart Money and Kiplinger Personal Finance. Munson began his career in the 1990s as a trader on Wall Street. He runs a hedge fund and oversses his firm's capital.