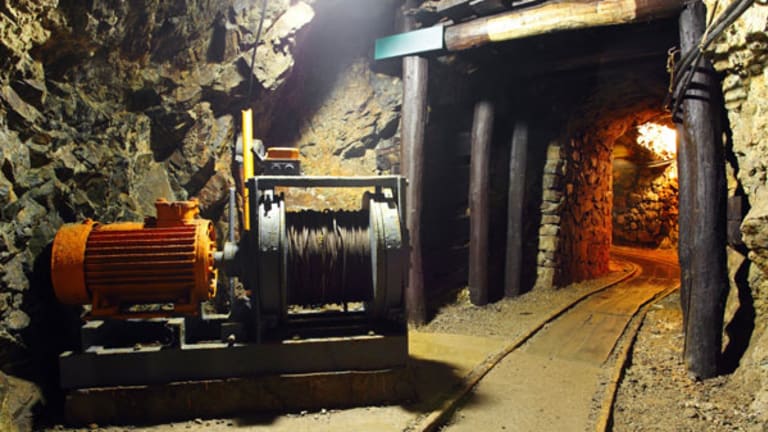 Value Investors Find Bargains in U.S. Steel and Gerdau
U.S. Steel, Gerdau SA, AK Steel and ArcelorMittal are still undervalued as the industry recovers from the Great Recession.
NEW YORK (TheStreet) -- When the economic environment turns hostile, steel companies such as U.S. Steel (X) - Get United States Steel Corporation Report, Gerdau SA (GGB) - Get Gerdau S.A. Sponsored ADR Pfd Report, AK Steel (AKS) - Get AK Steel Holding Corporation Report and ArcelorMittal (MT) - Get ArcelorMittal SA ADR Report are always early casualties. But that also means  these companies can become very attractive to value investors when bullish signs pop up again. The recent strong export reports for both the United States and China should have investors looking for bargains in the steel sector.
As detailed in a recent piece, China increased both exports and imports in November. Exports increased by 12.7%, according to the General Administration of Customs, topping estimates from analysts. The U.S. Department of Commerce reported that American exports were the highest ever recorded for October. Imports rose for the United States in October, too.
Both the world's largest and second largest economies are importing and exporting more -- unmistakable signs that conditions are improving in many sectors.
That is certainly the case in the steel industry. For the first three quarters of 2013, world steel production increased by 2.7% from 2012, which was a record year. Despite the improving outlook, the steel sector remains fragmented and undervalued. Utilization rates have declined to around 80%.
These conditions create opportunities for long-term value investors.
ArcelorMittal, the world's largest steel company, is trading at a price-to-book ratio of 0.63 and a price-to-sales ratio of 0.39. That means that ArcelorMittal's assets are valued at a more than a one-third discount to the stock price. Sales are going for almost a two-thirds discount on the same basis.
It is much the same story with Gerdau SA, AK Steel and U.S. Steel.
From its headquarters in Brazil, Gerdau SA has become the leading long steel maker in the world. Gerdau SA has a price-to-sales ratio of 0.83. The forward price-to-earnings ratio is under 11. At around eight times forward earnings, it is quite attractive to value hunters.
Although U.S. Steel's glory days are long gone, value investors should like the price-to-sales ratio of just 0.22. The company was downgraded twice in October. But the share price has increased more than 34% for the last quarter of trading. The analyst consensus is that earnings per share will increase by more than 184% over the next year.  Investors seem to be finding the analyst predictions more significant than the downgrades are.
Rival AK Steel operates seven steelmaking facilities in the United States. The largest market for steel products in the U.S. is the automotive industry, which has been improving. As the auto market represents about one-third of the business for AK Steel, the bullish outlook for American-built cars and trucks is certainly a positive. AK Steel also just raised prices for stainless steel, another favorable development.
World steel usage is expected to increase by 3.3% in 2014. Massive urbanization in the world's most populous nation, China, will increase demand there by 3%. India, the world's second most populous nation, will have 5.6% higher demand. This growth, combined with undervalued stock prices, means that investors will be looking at handsome profits.
The efficient market theory would predict that the share prices of Gerdau SA, U.S. Steel, AK Steel and ArcelorMittal would rise until all are fairly valued. This has happened with other cyclical industries time and time again.
This stock rise appears to be underway already as Gerdau SA (37.15%), U.S. Steel (57.21%), ArcelorMittal (40.69%) and AKS Steel (72.35&) are all up significantly for the last six months.
Big changes could be afoot.  With so much liquidity sloshing around, activist investors could take a position and force changes. Assets could easily be stripped. Managerial changes could be enforced. Low valuations and improving conditions make the industry ripe for that type of action.
Mergers and acquisitions are also a possibility.
Utilization rates and values are low -- ideal conditions for consolidation. The Chinese have been buying up natural resources around the world, so why not move up the food chain and buy a steel company or two? After all, that was the modus operandi of ArcelorMittal as it rose to become the biggest in the industry (only to be steamrolled by the Great Recession).
The outlook for the steel sector is unmistakably improving.
The stocks reflect that position. But the equity prices are still well below the levels from The Great Recession. The exchange traded fund for the industry, Market Vectors Steel (SLX) - Get VanEck Vectors Steel ETF Report, now around $48.50, was over $114 a share in May 2008. There is still much room for recovery in the steel sector, which should take the stock prices for Gerdau SA, U.S. Steel, AK Steel and ArcelorMittal higher.
At the time of publication the author held no positions in any of the stocks mentioned.
This article was written by an independent contributor, separate from TheStreet's regular news coverage.
Jonathan Yates is a financial writer who has had thousands of articles appear in periodicals and Web sites such as TheStreet, Newsweek, The Washington Post and many others. Much of his career was spent working on Capitol Hill for Members of Congress in both the House and Senate, on both committee and personal staff. He was also General Counsel for a publicly traded corporation. He has degrees from Harvard University, Georgetown University Law Center and the Johns Hopkins University.