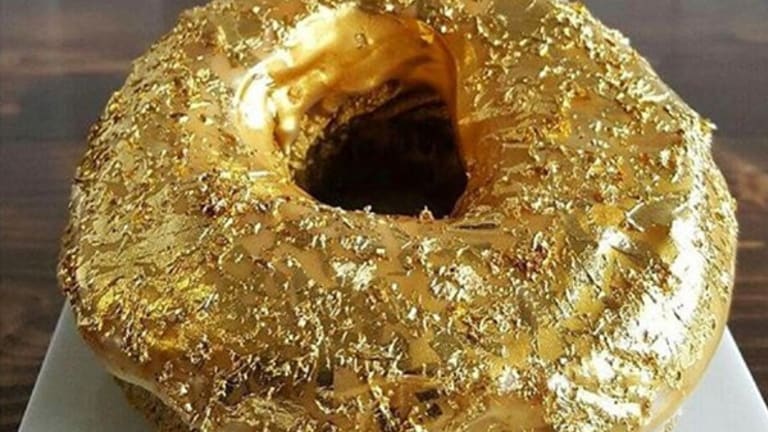 Publish date:
Valentine's Day Luxury Gift Guide: Some of the Planet's Most Exclusive Presents to Wow Your Love
The editors of two leading luxury lifestyle publications, Robb Report and Just Luxe, share their top gift recommendations for Valentine's Day 2016.
The editors of two leading luxury lifestyle publications, Robb Report and Just Luxe, share their top gift recommendations for Valentine's Day 2016.
Editors' pick: Originally published Jan. 27.
A doughnut may not be the first thing that comes to mind when shopping for Valentine's Day gifts, but perhaps that's because you haven't yet laid eyes on the Manila Social Club's 24-karat gold version of the breakfast pastry.
It must be seen, in all of its shimmering, golden fabulousness, to be believed. And then it must be tasted.
Handmade at the club's Brooklyn, N.Y. location by executive chef and co-owner Bjorn DelaCruz, the doughnut is filled with ube mousse and champagne jelly and then coated in a diva-worthy icing made from Cristal champagne. And of course the dusting of 24-karat gold.
Who would have thought so much luxury and decadence could be squeezed into a seemingly tired breakfast tradition? It's like Mariah Carey, Beyonce or J.Lo invented a doughnut worthy of their fabulousness. 
The cost for the Golden Cristal Ube Donut is $100. That may seem a tad pricey for something that is designed to be devoured and thereafter exist only in the selfies we hope you remember to take. But perhaps think of it as a Valentine's Day appetizer for a loved one, a missive setting the stage for a day, evening or weekend full of lavish gifting.
As for the remainder of the gifts, there is no shortage of over-the-top Valentine's Day specialties on the market this year.
We asked two of the leaders in all things luxury, the editors at Robb Report and Just Luxe, to share some of their favorite ideas and offerings. Their responses will leave you drooling, or perhaps revisiting your career choice, in search of a way to increase your buying power.

In light of the roller coaster ride the Dow has been on since the start of the year, Just Luxe's Lifesyle Editor Mila Pantovich begins by suggesting a gift that she says is a better investment then stocks are right now.
The gift in question? An Hermès Berkin bag.
It's hard to find the highly sought-after bags for less than $60,000. More importantly however, they have a staggering resale value. A fuchsia-colored crocodile-skin Hermès bag sold last year for $223,000 at a Christie's auction in Hong Kong, breaking the record for the most expensive handbag sold at an auction.
"They're still incredibly hard to find, but their value has skyrocketed," Pantovich said. "If you have connections and are able to get one, that'd be a really timely gift right now. The bag alone makes a great gift, but the fact that you're giving something that will increase in value makes it even better."
Finding something equally indulgent for the man in your life may be difficult, but Pantovich suggests Sublimotion. If you haven't heard of it, you're not alone.
Sublimotion is the world's most expensive restaurant. Located at the Hard Rock Hotel in Ibiza, it is about $2,000 per person to be part of this uber exclusive dining experience. What makes it special, however, is not the cost.

Chef Paco Roncero worked with designers, engineers, illusionists, architects and choreographers to create a space that merges haute cuisine with breakthrough technology, resulting in a fully immersive, sensory dining experience. It is described as the first gastronomic show in the world.
The restaurant only seats 12 people, and the meal takes about three hours, with the experience designed to stimulate the five senses.
"Men are more experience based," Pantovich sasys. "You can always go with a gift. But I would take them to this restaurant. It's an entire sensory experience. The walls are a light show, the table is a light show. What you're eating corresponds with what you are experiencing physically. It's a crazy experience."
Given that it is such an exclusive experience, the wait-list for a seat at Sublimation can be long. But one thing is for sure: a dining experience there would be the ultimate surprise.

To round out your Valentine's Day gift options, Robb Report has spent months scouring the globe and carefully curating the suggestions in its recently revealed Valentine's Day guide. The editors of the luxury lifestyle publication are on the hunt for items to include on their gift list all year long. The suggestions that ultimately make it into the annual guide are the finest, most well thought out or expertly-crafted offerings.
Among the selection this year are caviars fit for royalty, once-in-a-lifetime getaways, and of course a few must have sparkly baubles.
One of the most unique items in the guide this year is a Richard Mille 07-02 Pink Lady Sapphire Automatic Watch for women. The dazzling timepiece, crafted from a block of pink sapphire, will stop you in your tracks.
As if a hunk of pink sapphire isn't enough, the watch is also adorned with hand-decorated gold bridges, onyx, diamonds, skeletonized plates set with gold and in a final dash of dazzle - a white alligator-skin strap.
Now hold your breath because here's the price-tag - $980,000.
"There is so much technology and engineering that goes into these things," says Bailey Barnard, editor of RobbReport.com "They are also just beautiful. It's a site to behold, when you really look at it."
If you're now pondering where one wears a watch that is this opulent, or if women are avid collectors of watches, in the same way men are, Barnard will help walk you through it.
"These are the sorts of things are perfect for showing off," he explains. "It's like a great car collection; there is no fun in keeping in garage the whole time. They indicate that their wearer is someone who pays special attention to detail."

For those who like to bestow the gift of travel on a loved one for Valentine's Day, Robb Report has a variety of dazzling and awe inspiring suggestions. Two of the most noteworthy are a suite in Paris, France overlooking the Eiffel Tower and another in Florence, Italy that will make you feel like a member of the Medici family.
One of the best things about the over-the-top La Suite Shangri-La in Paris (price-tag - about $25,000 per night) is the floor-to-ceiling windows and sprawling 900-square-foot terrace, both of which provide an all encompassing, up-close view of the Eiffel Tower that mere commoners rarely have access to.
Meanwhile, with its wealth of murals, stuccos, ormolu and brocades, the Royal Suite della Gherardesca at Four Seasons Hotel Firenze is something akin to spending time living in a museum.
Set within Florence's 15th-century Palazzo della Gherardesca, a former private residence that over the course of history was owned by some of the city's most powerful families - the suite costs about $19,300 per night.
"These are quintessential romantic destinations, Paris and Florence," says Barnard. "They both ooze romance around every corner. And what we found here are among the two best suites in both cities."

Finally, yes, chocolates are a very much a cliché when it comes to Valentine's Day. But there's Hershey's and Russell Stover, and then there's the chocolates that appear in Robb Report.
The Robb Report editorial team has the incredibly trying task of sampling ...uh...curating....the chocolates that they recommend. One of the offerings that made final cut is a gift box from chef Nicolas Cloiseau's La Maison du Chocolat.
The ingredients in Cloiseau's decadent chocolates read like the introduction to a fabulous gourmet meal - refreshing lemongrass, red currant, passion fruit and slightly sweet Persian Blue Salt, to name a few.
"We sample them," says Barnard. "These chocolates aren't just ordinary little milk chocolates; these chocolates are crazy. They are anything but typical."
Translation - they're not available at your local pharmacy or 7-11. But then again, neither is that 24-karat gold doughnut. Which means you better get your orders in soon.