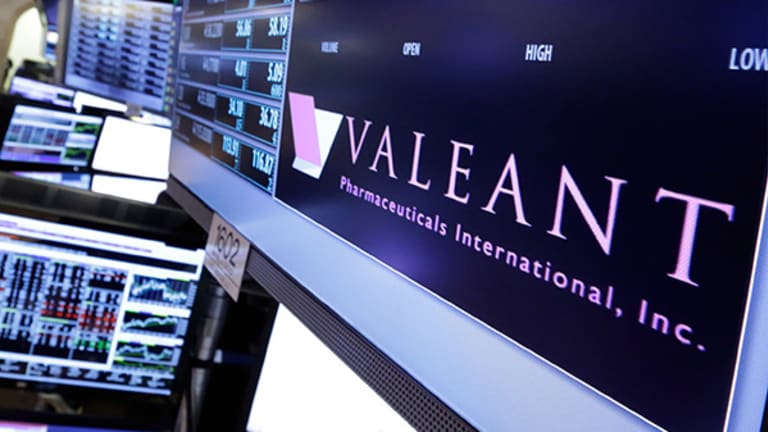 Valeant Pharmaceuticals' Growth and Debt Are Under the Microscope
Don't be fooled by this drug maker's seemingly high revenue and net income trajectory.
Valeant Pharmaceuticals International (VRX) has become one of the most scrutinized companies ever since last year.
Short-seller Andrew Left has compared the company to the infamous Enron, the Houston energy company that went under in 2001.
Democratic presidential candidate Hillary Clinton, effectively declared Valeant a public enemy by saying that she is "going after them for predatory pricing."
And billionaire investor Warren E. Buffett's business partner Charlie Munger called the company a "sewer" at Berkshire Hathaway's 2016 annual meeting last month.
Valeant's new Chief Executive Joseph Papa bravely sat down for an interview on Monday with TheStreet.com's Jim Cramer on CNBC.
Papa told Cramer that he likes to tune out the "noise," and he dismissed a question about whether he has taken the helm at the company for the estimated total potential compensation of more than $60 million.
The former Perrigo chief executive said that before joining Valeant he looked at the drug maker's growth and that it has "grown phenomenally in the eight years that Michael Pearson, the former CEO, was with the company."
It is true that Valeant grew massively under Pearson's leadership in an absolute sense. However, this is misleading because the company primarily grew through debt-fueled acquisitions.
Over the past 10 years, the company achieved an inorganic growth rate of more than 25% per year. However, the 10-year compound annualized growth rate of Valeant's debt has been more than 40% per year.
But by net backing out the effects of acquisitions on revenue growth and adjust for that, Valeant's "organic" growth rate actually turns negative.
Valeant also has a big cloud hanging over its future profitability. Due to public scrutiny, the company will likely be unable to hike prices on many of drugs as it has done significantly over the past five years.
This isn't to downplay some of the wonderful assets that the company has acquired over the years.
As an example, Papa mentioned Bausch & Lomb, which is a leading contact lens company that was founded in the 1850s. That being said, Valeant paid more than $8 billion for the brand in 2013 and more than $12 billion more recently for Salix Pharmaceuticals.
There isn't one method to calculate organic growth. Each merger and acquisition transaction is unique when it comes to the specific deal terms and the capital structure.
Often, when a company is acquired, there may be a restructuring or integration process. This can make it impossible to evaluate each operating business segment independently on a granular basis.
However, investors shouldn't be fooled by seemingly high revenue and net income growth numbers. Looking at how Valeant is growing organically shows the quality of that underlying growth.
If a company's growth is achieved only through acquisitions, it may not be very clear to the novice investor whether the it is actually doing well at selling products or services.
In addition to growth, investors need to consider how shareholder-friendly the company is and how dilutive a transaction will be.
They should also consider the trajectory of the company's debt load. That certainly would have kept investors from losing money betting on Valeant over the course of the past year.
This article is commentary by an independent contributor. At the time of publication, the author held no positions in the stocks mentioned.