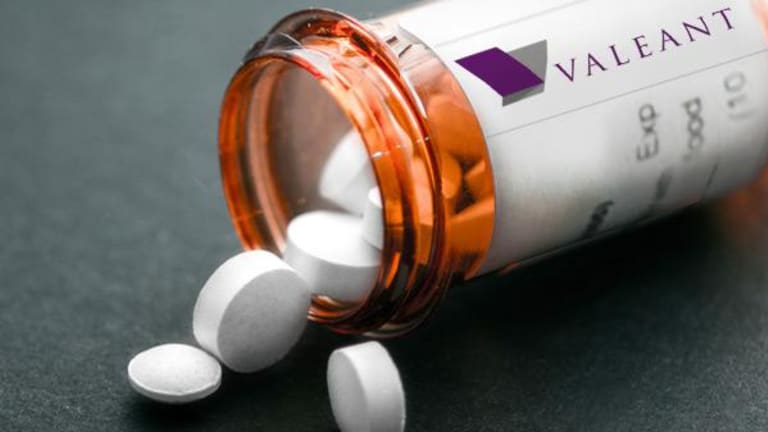 Valeant and Teva Share Similar Ambitions With Similar Pitfalls
Here's what you need to know now for Wed., Aug. 9.
You want scale, you either build it yourself or you go out and acquire. But be careful what you wish for, as some deals can come back to bite you no matter how accretive they look.
We saw this recently with Valeant Pharmaceuticals International Ltd.  (VRX)  and Teva Pharmaceutical Industries Ltd. (TEVA) - Get Report  two very different, but at the same time very similar pharmaceutical companies that have recently found themselves in hot water.
Teva is reportedly ramping up its asset sales in an effort to preserve its credit rating and cut its massive debt load tied to its $40 billion, 2016 acquisition of Actavis Generics from Allergan plc (AGN) - Get Report . Valeant meanwhile, recently said it would target more asset sales as it looks to cut $5 billion of its $27 billion in debt (debt that is tied to a host of acquisitions), a strategy that Wall Street firms are taking issue with.
Teva's Actavis buy occured when the generics industry was on a tear and Teva's stock was hovering around $60 per share. Generic prices have since fallen. Valeant, meanwhile, was trading well above $200 a share when it started on its debt-fueled acquisition binge only to see accounting issues snowball into a loss of investor confidence. Today, Teva and Valeant both closed in the teens.
Valeant Isn't Out of Trouble Yet, Debt Remains Difficult to Curb
The moral of this story is that things aren't always as good as they seem. Whether it's a blockbuster deal -- you Pfizer Inc.  (PFE) - Get Report -Allergan plc (AGN) - Get Report  and Kraft Heinz (KHC) - Get Report -Unilever NV (UL) - Get Report  hopefuls take note -- or the stock markets seemingly never-ending run higher, things can change on a dime.
So as Wall Street pundits remain split as to whether the bull markets run is over or not just be careful and remember to stay diversified and not put all your eggs in one basket. And as Teva and Valeant will likely tell you, make sure to always keep a little cash handy in case things get dicey. 
To learn about these stories and more check out the highlights from TheStreet and its sister publications, sign up for "In Case You Missed It" and other great free newsletters here.
Photo of the Day: Disney Fights Back
 Walt Disney Co. (DIS) - Get Report  was the talk of Wall Street on Wednesday after the company announced it would cancel its deal to license content to Netflix Inc.  (NFLX) - Get Report  and go over-the-top with its own streaming service. With the launch of its own streaming service, Disney will soon remove its content from Netflix, including among other things the Star Wars franchise, ESPN's 30-for-30 documentaries and Disney Channel original programming and movies such as "Hannah Montana" and "Moana." Disney will launch a new subscription-based ESPN digital service early next year followed by a souped-up Disney-branded TV/movie streaming service in 2019. The announcement highlights just how much content the House of Mouse produces even as parts of its business are on the decline. Since "Snow White and the Seven Dwarfs" debuted on Dec. 11, 1937, Walt Disney has turned our hit movie after hit movie and remains a staple in the American household. Read more
Not already In Case You Missed It receiving daily? Sign up here for this newsletter and other great free content from TheStreet
More of What's Trending on TheStreet: