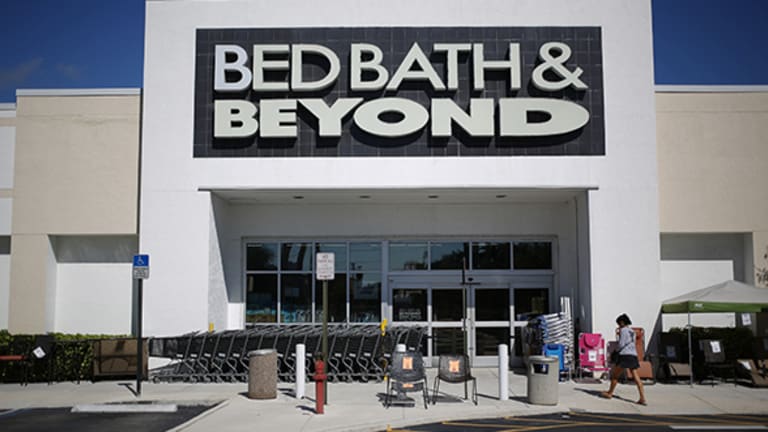 Using Options to Trade Bed Bath & Beyond Ahead of Earnings
The retailer, which reports Wednesday, has a decent if not strong balance sheet.
NEW YORK (TheStreet) -- Bed Bath and Beyond (BBBY) is a corporation consisting of more than 1,500 retail stores that sell home furnishings. BBBY will announce second-quarter earnings (fiscal year ending in February 2016) on Wednesday.
Those earnings are expected to be around the 95 cents a share. For BBBY's fiscal year, the analysts project $5.25 per share, which would equate to a relatively low price-to-earnings ratio of 14 (basis: the general market P/E of 16+).
BBBY has a decent if not strong balance sheet, especially for a company in the at-times chaotic sector of retail sales. Thus, management has proven it is up to the task of handling the changing mood of their customer base.
Last month, it was announced that Leonard Green & Partners had purchased almost one million shares of BBBY.
This was not the kind of news that BBBY short-sellers wanted to hear -- 9% of BBBY's floating stock total is held as short sales. Once again, we are reminded that he or she who shorts with no long call hedges in place as protection are prone to have bad trading days. So be it. As for BBBY longs, perhaps things are about to improve.
Or, maybe not improve. BBBY has a one-year stochastic pattern that I read as being iffy to toppy. That pattern would move into being bearish as I read the BBBY charts should the Relative Strength Index continue to move downward in number.
BBBY has a poor Institutional Shareholder Services Corporate Governance QuickScore of 10. And 10 is the highest (and worst) number the ISS provides after it analyzes a company's audit, board, shareholder rights and management compensation factors. (That score can be found on Yahoo! Finance. Click on the "Profile" link for any particular stock.) The ISS QuickScore is a guide, however, and not a trade-breaking factor. However, longer-term investors should heed ISS numbers of 10.
The trade I prefer now for BBBY is the out-of-the-money, bullishly biased vertical call spread that expires in November.
The trade is as follows: buy 1 BBBY November 75 call for $2.40 and sell 1 BBBY November 80 call at $1.15.
The total risk for the trade is 1.25 points. The suggested target to close for a gain is a bid of $1.65 and the suggested stop out level is a bid of 85 cents.
As always, this is a guideline, and you should always stick to your trading plan and what's best for your risk/reward tolerance.
OptionsProfits can be followed on Twitter at twitter.com/OptionsProfits
Skip Raschke writes regularly for Options Profits. You can get his trades first and interact with him there with a free trial.
This article is commentary by an independent contributor. At the time of publication, the author held no positions in the stocks mentioned.