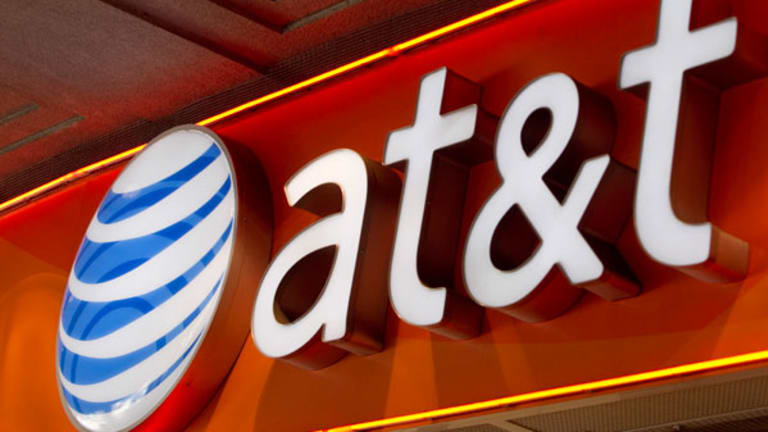 Using Options to Invest in AT&T as It Overcomes Market Chaos
Analysts see AT&T slowing improving its bottom line well into fiscal year 2016.
NEW YORK (TheStreet) -- Now we all know (or should know) that chaos is a double-edged sword. Should a company take advantage of any elongated period of chaos it will become stronger as other companies fail to adapt. That simple logic sums up the Social Darwinism of the business world.
Applying Friedrich Nietzsche's credo of: "That which does not kill us makes us stronger," AT&T (T)  continues to make its way through the chaos of our modern era of communications. T is getting stronger. Analysts have the company slowly improving its bottom line, doing so well into fiscal year 2016 ending in December.
T should soon close the deal in which DirecTV (DTV) will be acquired by T (June 30). This deal, which for some time was not a proverbial lock, will soon help T's long-term growth and presumably its stock price. Just two weeks ago, J.P. Morgan raised T's rating to overweight from neutral. The stock was trading over $35 at the time.
Technically, T has a bullishly rising one-year stochastic supported by a positively sloping RSI. Price resistance is around the $36 level. The trading range for the past 52 weeks is a mere $5.50 (rounded) minus almost $2.00 dividends.
T should trade ex-dividend in early August. Thus, that lofty $0.47 quarterly dividend is in play to possibly be captured. The trade tactic will be what is known as a synthetic call, which is a combination of being long the stock and long a put on a 1-to-1 basis.
Trades: Buy 100 shares of T for $34.70 each and buy to open 1 T Aug 34 put for $0.92.
The total risk if held into ex dividend day is $1.15. That calculation before commissions is: $34.70 + $0.92 (long put) - $0.47 (dividend) = $35.15 - $34.00 (strike of the long put) = $1.15 risk. The suggested target to close for a gain is a credit of $1.55 and the suggested target to stop out is a bid of $0.75.
As always, this is a guideline, and you should always stick to your trading plan and what's best for your risk/reward tolerance.
OptionsProfits can be followed on Twitter at twitter.com/OptionsProfits
Skip Raschke writes regularly for Options Profits. You can get his trades first and interact with him there with a free trial.
This article is commentary by an independent contributor. At the time of publication, the author held no positions in the stocks mentioned.