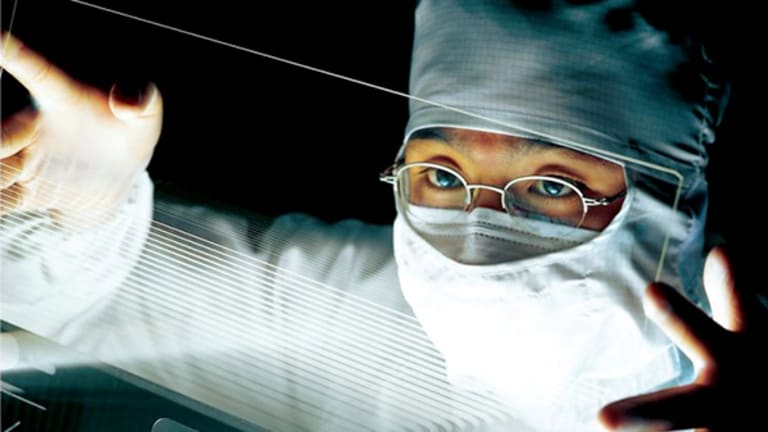 Using Options to Buy a Transformed Corning
Corning, founded in 1851 as a glass works, has shown a remarkable corporate ability to consistently be in the game by switching to diversified electronics and specialty glass.
NEW YORK (TheStreet) -- Corning (GLW)  was known as Corning Glass Works until it changed its name in 1989. Thus, the ticker symbol of GLW that represents the glass works-focused past.
Corning was once known as a maker of ceramic cooking dishes and plates known as "Corning Ware" and "Pyrex." Today, the company has transformed itself to serve the sector known as diversified electronics, manufacturing and producing specialty glass for our modern world of display technologies, optical communications and specialized materials used by the environmental and life sciences fields. In other words, GLW, since being founded in 1851, has shown a remarkable corporate ability to consistently be "in the game."
GLW has a market cap exceeding $26 billion and trades at a price to earnings ratio of 12 times. It should show little to no earnings growth in 2015, according to an analysit consensus. GLW has an excellent balance sheet that shows total cash exceeds total debt by almost $2 billion, so it is basically a debt-free corporation. As interest rates rise, debt-free companies find new buyers. (The reverse is true, too, because stocks with high debt to cash ratios tend to get stock price "haircuts" as rates rise.)
Just last week RBC Capital Markets upped GLW to an outperform, with a target price of $26.
Technically, GLW has a bearishly-biased, one-year stochastic pattern that gets some support by a slightly declining RSI. However, given the choppiness of the general market over this current quarter, that type of chart situation is sort of the norm. In other words, one should be careful leaning on GLW's technical pattern as things can change quickly and dramatically, leaving the chartists scratching heads and making up excuses for being wrong.
What is not in question is that the stock is forming into my coiling pattern, which implies that GLW option volatility is being offered by the market at relatively low vols. Costs to open a GLW options position are now of lower dollar risk than has been so for some time.
The trade tactic for GLW that I prefer now is the crisscross strangle, or XXS, expiring in August.
Trades: Buy to open GLW Aug 20 calls for $1.45 and buy to open GLW Aug 22 puts for $1.40.
The total capital required to open the trade is $2.85, but the total capital at risk is $0.85. Given that $0.85 risk, the suggested target to close for a gain is a bid $3.25 (netting a gain of $0.40). The suggested target to stop out the trade is a bid of $2.45 (netting a loss of $0.40).
As always, this is a guideline, and you should always stick to your trading plan and what's best for your risk/reward tolerance.
OptionsProfits can be followed on Twitter at twitter.com/OptionsProfits
Skip Raschke writes regularly for Options Profits. You can get his trades first and interact with him there with a free trial.