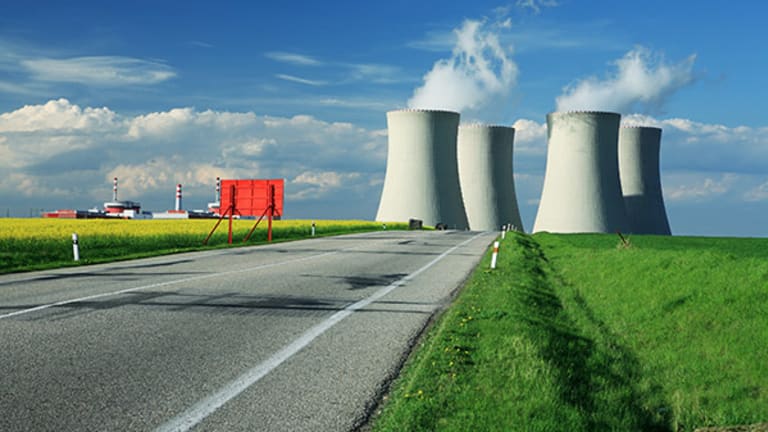 USEC Is on Fire
The stock of this troubled provider of uranium is on a tear. It's not your typical 10-bagger.
The stock of this troubled provider of uranium is on a tear. It's not your typical 10-bagger.
NEW YORK (TheStreet) -- Investors dream of owning the coveted the "10-bagger," a term often attributed to investing legend Peter Lynch that describes a 10-fold run-up in a stock. If investing were baseball, the "10-bagger" would be equivalent to the three-run homer, in my opinion.
While there are countless examples of stocks running up 10-fold and well beyond, they don't occur often for investors, because it's difficult to hold onto a stock long enough to reap that level of reward. Ten-baggers often take time, and in this era, buy-and-hold investing is frowned upon.
But not all 10-baggers are what they seem. One of July's huge winners is troubled uranium play
USEC
(USU)
, whose shares have risen from $2.96 on July 8 to $29.02 yesterday.
USEC provides low-grade uranium. The company -- which had operated the only U.S.-owned uranium enrichment facility in Paducah Kent. -- also provides transportation and storage for used nuclear fuel -- not without controversy-- and has done contract work for the Department of Energy. Until 1998, USEC was part of the U.S. government.
It's been a rough run for the company in recent years. USEC is shutting down its uranium-enrichment plant in Paducah, and its quest to develop and commercialize new technology at its American Centrifuge plant in Ohio has met one roadblock after another. Lower demand for uranium following Japan's nuclear disaster hasn't helped.
USEC hasn't turned a profit on an annual basis since 2010, and debt of $530 million weighs on the company. The stock slid from about $5 in early 2011 to less than 30 cents earlier this year. In order to stay listed, the USEC initiated a 1-for-25 reverse stock split earlier this month.
The stock closed at $6.65 the first day after the split, before falling more than 50% by the following week. Since then, it's been off to the races, but absent the reverse split, USEC would now be trading for just over $1.
Although it's been a nice run this month, if you've owned the stock for a while as I have, this burst of energy has represented a small recoup of some big losses.
USU
data by
So why the big recent run for USEC? Some cite a short-squeeze, as short-sellers attempt to cover their positions. I believe that the slightest bit of good news, either real or imagined, was bound to have an impact.
That news came yesterday when the company announced that the DOE made an additional financial commitment to the company's American Centrifuge plant. USEC has been trying for years to secure a $2 billion loan guarantee from the DOE for its work on that plant. So far the DOE has committed $227.7 million.
To fully realize the potential of American Centrifuge will require an estimated $4 billion in capital. To get further funding from the DOE will require USEC to meet several milestones.
The stock is certainly not your typical 10-bagger. It will be interesting to see what happens from here.
At the time of publication, Heller was long on USEC.
This article is commentary by an independent contributor, separate from TheStreet's regular news coverage.
Jonathan Heller, CFA, is president of KEJ Financial Advisors, his fee-only financial planning company. Jon spent 17 years at Bloomberg Financial Markets in various roles, from 1989 until 2005. He ran Bloomberg's Equity Fundamental Research Department from 1994 until 1998, when he assumed responsibility for Bloomberg's Equity Data Research Department. In 2001, he joined Bloomberg's Publishing group as senior markets editor and writer for Bloomberg Personal Finance Magazine, and an associate editor and contributor for Bloomberg Markets Magazine. In 2005, he joined SEI Investments as director of investment communications within SEI's Investment Management Unit.
Jon is also the founder of the
, a site dedicated to deep-value investing. He has an undergraduate degree from Grove City College and an MBA from Rider University, where he has also served on the adjunct faculty; he is also a CFA charter holder.