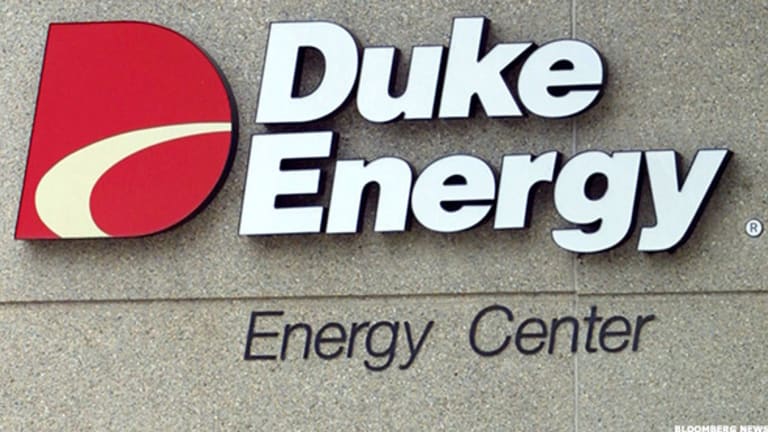 Use Duke Energy as a Hedge Against Market Headwinds
Utilities like Duke Energy are safe-haven stocks in a time of turmoil.
Stock investors have been turning to the safety of dividend-paying utilities in a time of market turmoil -- you can see this in the 5.3% rise in the Utilities Select Sector SPDR Fund (XLU) - Get Utilities Select Sector SPDR Fund Report , the exchange-traded fund that tracks utilities, so far this year.
Meanwhile, the ETF that tracks the S&P 500 (SPX) is down 8.4% for the same period.
That's why Duke Energy (DUK) - Get Duke Energy Corporation (DUK) Report  stock, at $76 and up nearly 7% for the year so far, looks like a terrific investment.
Utilities such as Duke pay regular dividends. In Duke's case that dividend is 83 cents a share. there is also a continuing and growing need for electric power by people and corporations. To that end Duke makes deals, including its recent $4.9 billion deal for North Carolina-based Piedmont Natural Gas (PNY) . A year ago Duke also bought Progress Energy.
Duke is set to report fourth-quarter earnings results before the opening bell Thursday. For the quarter that ended in December, analysts, on average, expect Duke to earn 90 cents a share on revenue of $6.29 billion, compared to the year-ago quarter when earnings were 86 cents a share on $5.56 billion in revenue. For the fullyear, earnings are projected to be $4.57 a share, up from $4.55 a year ago, while revenue of $24.68 billion is expected to rise 3.2% from the year-ago period.
Thanks to stricter regulation of utility companies, Duke -- as with its peers -- has had to sacrifice portions of its profits to invest in its facilities and power plants. Duke has had limited ways to pass on those costs to its customers. The effect has been felt in its earnings, which are projected to rise less than half of 1% for the fiscal year. This, among other things, caused the utilities sector to be the third worst-performing group to invest in last year, posting an average decline of 8%.
However, in volatile times investors aren't looking for that in a utility. In the case of Duke, although it missed its third-quarter earnings estimates, its regulated utilities segment reported an adjusted profit of $905 million, which climbed 5% when excluding a settlement charge and other special items. Why is this important?
Its regulated utilities segment, thanks to its recent acquisitions, now account for some 85% of its adjusted earnings. This means, even though revenue and profits have been pressured by stricter regulation, the fundamentals of the company are still strong and are moving in the right direction. Combined with a solid dividend and stable demand growth, Duke -- as with the rest of the sector -- now looks like a safe haven from market volatility.
This article is commentary by an independent contributor. At the time of publication, the author held no positions in the stocks mentioned.