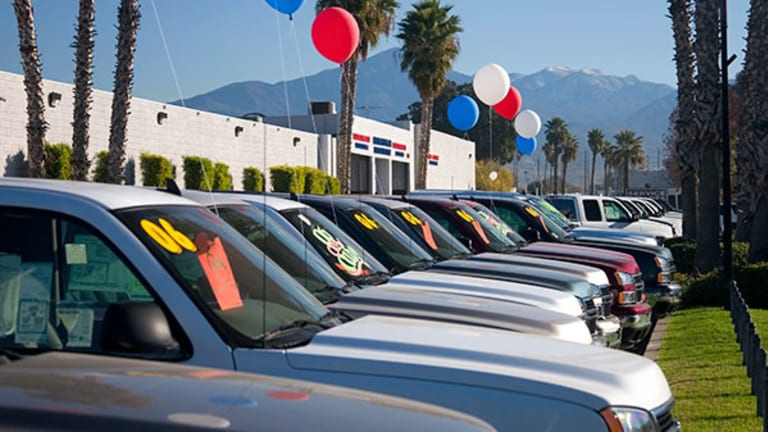 U.S. Vehicle Sales Smoking Hot in July, But Will the Trend Continue?
Analysts upbeat about the industry's performance, but some question whether the sales increases can be maintained.
DETROIT (TheStreet) -- Falling gasoline prices, low interest rates and an improving job picture helped drive U.S. sales of new cars and trucks sharply higher in July, surpassing analyst expectations. 
Shares of all three Detroit-based automakers rose during the day, in contrast to the Dow Jones Industrial Average, which was off nearly 1%. For the automotive industry, demand for new vehicles in the U.S. has been rising for a sixth straight year, in terms of unit sales, revenue and profit. 
Sales of vehicles by General Motors Co. ( (GM) - Get General Motors Company ReportFord Motor Co. ( (F) - Get Ford Motor Company Report) and Fiat Chrysler Automobiles N.V. ( (FCAU) - Get Stellantis N.V. Report), whose main headquarters is in Auburn Hills, Mich., account for slightly less than half the cars and trucks sold in the U.S. Sales of luxury vehicles were particularly strong, defying analysts' predictions, as manufacturers had to cut the prices of popular family sedans to keep them moving. 
The industry's upward run -- now a record, in terms of length -- raises the question of how much longer sales increases can be maintained in a business that has always been cyclical. But Michelle Krebs, an analyst for Autotrader.com, said she is expecting 2016 to be "another good year." 
"We'll pay attention to interest rates and factors such as the number of pre-owned cars coming back into the market because of the rising number of leases," Krebs said. When a customer leases a car, the monthly payment is based on the vehicle's price, a rate of interest and the estimated residual value of the vehicle when it's returned, usually after 36 months. That often makes the car seem more affordable than an outright purchase.
The proportion of new cars leased by customers is rising and has reached 27%, close to an all-time peak of about 30%, said Alec Gutierrez, an analyst for Kbb.com.
"If used-car prices take a hit and interest rates rise, new vehicle sales could get hurt," Gutierrez said. He said used-car prices remain "strong," although they're down from their peak. But analysts will be watching closely as the great number of leased vehicles re-enter the market, possibly attracting some shoppers who might have been looking at new cars. 
GM sales were up 6.4% in July over the same month last year; Fiat Chrysler's sales were up 5%. Two Japanese producers posted even larger gains: Nissan Motor Corp.'s ( (NSANF) ) sales were up 7.8% and Honda Motor Co.'s ( (HMC) - Get Honda Motor Co. Ltd. Report) sales rose 7.7%. 
Sales of full-size pickup trucks have been especially strong, as well as crossovers of all sizes. "Strong demand for crossovers such as Rogue and Murano drove Nissan's overall light truck sales up 22% and set a July record for the company," Fred Diaz, Nissan's senior vice president of U.S. sales and marketing, told the Detroit Free Press. 
Ford, which relies heavily on sales of its F Series pickup truck -- freshly redesigned with an aluminum body -- posted its first monthly sales increase in pickups since January. F Series inventory had been tight due to lost production from tooling and process changeovers in Ford truck factories. Sales of all Ford vehicles were up 5% for the month. 
Average transaction prices for the new Ford pickup reached about $44,000 in July, up $3,200 from the same month a year ago, a trend that was reflected in Ford's sharply higher second-quarter profit, announced last month.
This article is commentary by an independent contributor. At the time of publication, the author held no positions in the stocks mentioned.