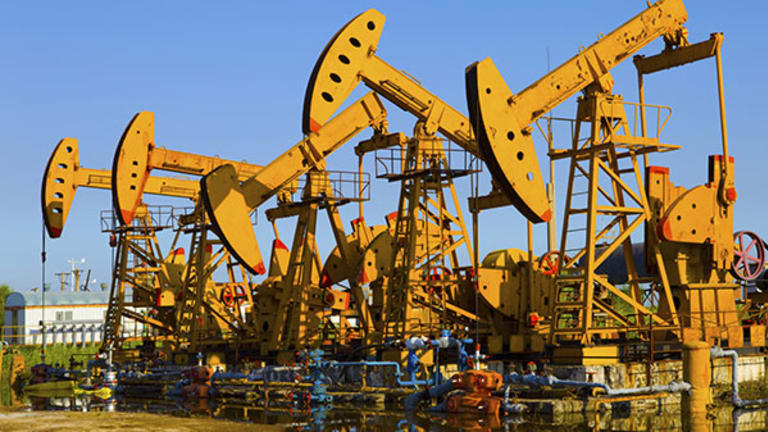 U.S. Shale Bust Leads to More Job Losses at Oil Services Companies
Dan Dicker, energy contributor at TheStreet, talks with Stephanie Link, co-portfolio director at Action Alerts PLUS, about how the loss of oil services jobs is the tip of the iceberg.
NEW YORK (TheStreet) -- The U.S. shale bust is only in the first phase -- one that will last for several more quarters at least. But we do have indications it is moving along because now all of the major oil services companies have announced some very substantial layoffs.
Schlumberger (SLB) - Get Report was first to cut jobs, a whopping 9,000 announced. In the last several days, both Halliburton (HAL) - Get Report and Weatherford (WFT) - Get Report have also announced that they are slashing jobs. Halliburton will cut 6,500 people and Weatherford another 5,000.
As oil continues to trade below $50 a barrel, there is less and less drilling business for these oil services company to take on. Fully one-third of the oil now being drilled costs more to get out of the ground than the price that oil is getting on the open market.
Services companies, the ones that make their money from drilling activity, are the first most likely to suffer from very low realization prices for crude oil. That's because oil companies will look to curtail all but their most efficient and cost-effective wells as oil prices remain low.
The Baker Hughes (BHI) rig count tracks the number of working oil rigs in the United States. That count has dropped by more than 450 rigs in the last eight weeks. For every rig, jobs for the companies that service them are drying up, too.
But oil services companies are only the first to feel the negative effects of low oil prices.
Oil exploration and production companies will have to cut jobs as this shale bust continues its course. Stephanie Link, the co-portfolio manager of Action Alerts PLUS, asked me whether the oil services companies or the E+P companies are doing better in planning for this long price winter. I pointed out that job cuts, as painful as they are, and the slashing of prices for services that are accompanying them makes the oil services companies much more clear-eyed about the extent of this shale bust than the oil companies themselves.
Then Stephanie asked me whether that made them better stock buys.
I had to agree that the rebound, when it comes, is likely to be more solid and sustained for the oil services companies than the shale producers because of the hard choices they are making today. But I still had to admit that rebound is many, many months away. More of my comments can be found in the video above.
This article is commentary by an independent contributor. At the time of publication, the author held no positions in the stocks mentioned.