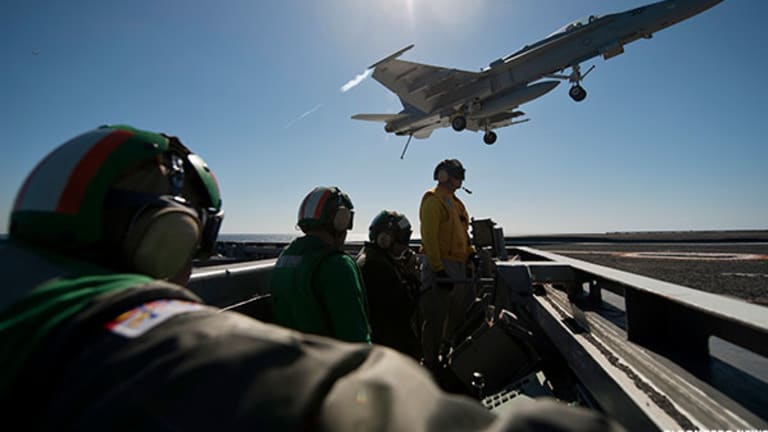 US Navy Celebrates 238 Years This Month in Rough Seas
Two Navy personnel were charged with conspiracy to commit bribery in one of the largest alleged fraud cases in years and a stain on Navy's history.
NEW YORK (TheStreet) -- Unfortunately for the U.S. Navy, an organization celebrating over 200 years of service this month, a small percentage of the over 400,000 active and reserve duty personnel abandoned honor, tradition, and country for personal gain.
Case in point: In September, the United States Attorney for the Southern District of California announced charges against two Navy personnel with conspiracy to commit bribery in one of the largest alleged fraud cases in years.
Named were Michael Vannak Khem Misiewicz, a commander assigned to U.S. Northern Command at Peterson Air Force Base, Colorado Springs, Col., and John Bertrand Beliveau II, a supervisory special agent for the Naval Criminal Investigation Service, or NCIS.
Also named was Glenn Francis, a Malaysian national and CEO of
Glenn Defense Marine Asia Ltd.
, a multi-national corporation headquartered in Singapore. Glenn Defense provides port services for the U.S. Navy in locations that include Japan, Singapore, Thailand, Malaysia, South Korea, India, Hong Kong, Indonesia, Australia, Philippines and the United States.
The amount of money is staggering. According to the complaint, Glenn Defense has received Navy contract awards reaching several hundred million dollars. Misiewicz and Beliveau allegedly received prostitution services, travel and first-class hotel stays from Francis in separate bribery conspiracies. As a high-level operations officer, Misiewicz was able to influence and modify the schedule of Navy vessel port visits.
Misiewicz allegedly leaked confidential Seventh Fleet ship movements to Francis months in advance and worked on behalf of Glenn Defense to increase revenue for port services from the Navy. Beliveau allegedly didn't behave any better.
The complaint alleges Beliveau provided Francis with confidential reports about NCIS fraud investigation against Glenn Defense, and advised Francis how he should respond to NCIS inquiries.
If found to be true, what's alleged in the complaint blemishes the Navy's long and distinguished history. As a former sailor, I know the Navy is almost exclusively made up of men and women who sacrifice daily to ensure our nation is prepared to meet the challenges we face.
As a rule, career commissioned and non-commissioned officers diligently avoid even the appearance of misconduct. Coveted top command placements are so competitive that the slightest misstep or oversight can stop future advancements dead in their tracks.
U.S. Attorneys have an incredibly high batting average, and charges almost always result in a conviction. In light of a high-ranking officer's career being on the line, I imagine an even greater amount of confidence was required by prosecutors before the decision to pull the trigger was made.
This month, the Navy celebrates 238 years since the original Continental Navy sailed and fired cannons at His Majesty's Ships. After the Revolutionary War ended, the U.S. decommissioned and sold the few Navy ships in service, and it took almost 10 years and losses from piracy to bring the Navy out of retirement.
The piracy response included three wooden-hulled frigates. Amazingly, one of original ships, the USS Constitution remains in active duty to this day. The movie
Captain Phillips
is a reminder the more things change, the more they stay the same. In 212 years since the U.S.-flagged ships sailed to halt piracy, the officers and sailors continue to protect our nation's interests.
Because of their dedication, we can focus on celebrating the Navy's birthday even with an occasional stormy sky. I'm sure it will be "haze gray and underway" for another 238 years.
This article was written by an independent contributor, separate from TheStreet's regular news coverage.
Robert Weinstein is an active trader focusing on the psychological importance of risk mitigation, emotion and financial behavior of market participants. Robert co-founded the investing blog
, where he writes a journal about his trading activity and experiences.
In addition to
TheStreet
, Robert also contributes to
Real Money Pro
, providing real-time trading ideas for stocks, options and futures.