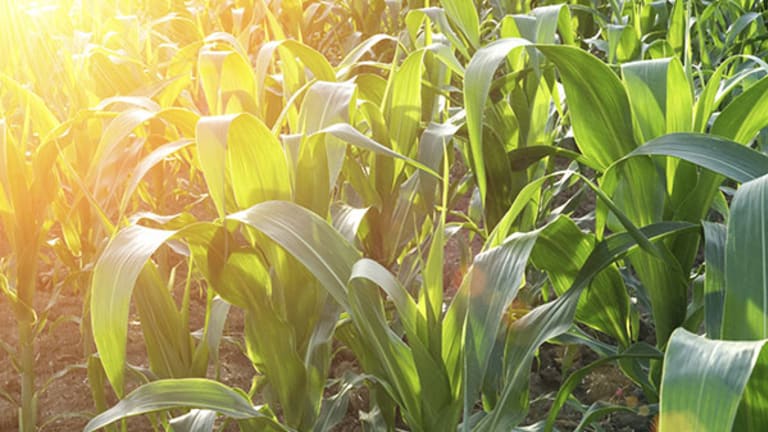 U.S. Grains Fall as Russia-Ukraine, Winter Weather Fears Subside
Rising commodity prices for corn, wheat and soybean are being hurt by good news as expected shortages and price spikes falter on lessened weather effect and temporary peace.
NEW YORK (TheStreet) -- U.S. grain commodities fall to yearly lows as favorable weather conditions and lessening conflict in Ukraine will likely lead to more supply in 2014.
As seen in the chart below, commodity exchange traded funds Teucrium Wheat Fund (WEAT) - Get Report, Teucrium Corn Fund (CORN) - Get Report, and Teucrium Soybean Fund (SOYB) - Get Report are currently trading near their lows on the year.
data by
Over the past month, up to six times the normal amount of precipitation fell in parts of Iowa and Illinois, where the largest U.S. growers of corn and soybeans reside.
Stock Market Today: Dow Slips Below 17,000 as Earnings Season Gets Under Way
Stock Market Today: Stocks' Record Run Ends on Eve of Earnings Season
European Stocks Fall on U.K. Manufacturing Slump
Close to three-fourths of the nation's corn and soybean crops were in good or excellent condition as of Sunday, according to the Department of Agriculture.
This is a drastic reversal from earlier in the year when winter storms in the first quarter were believed to have severely affected U.S. crop yields, crimping overall production.
If the warm, rainy weather continues, it is likely corn and soybean yields will reach record levels this year the USDA estimated.
Meanwhile, wheat prices have fallen as speculation mounts that larger global crops will increase world stockpiles, offsetting poor U.S. production.
There was a fear earlier in the year that civil conflict between Ukraine and Russia, two of the largest wheat exporters in the world, would lead to supply disruptions of world stockpiles, leading to a steep run-up in the price of wheat.
As peace talks ensued and conflict has calmed, however, the price of wheat has fallen as well.
Now that winter storms have passed and the conflict between Ukraine and Russia has somewhat diminished, prices for grain commodities should stay near their lows for the remainder of the year.
At the time of publication, the author had no position in any of the funds mentioned.
Follow @macroinsights
This article represents the opinion of a contributor and not necessarily that of TheStreet or its editorial staff.