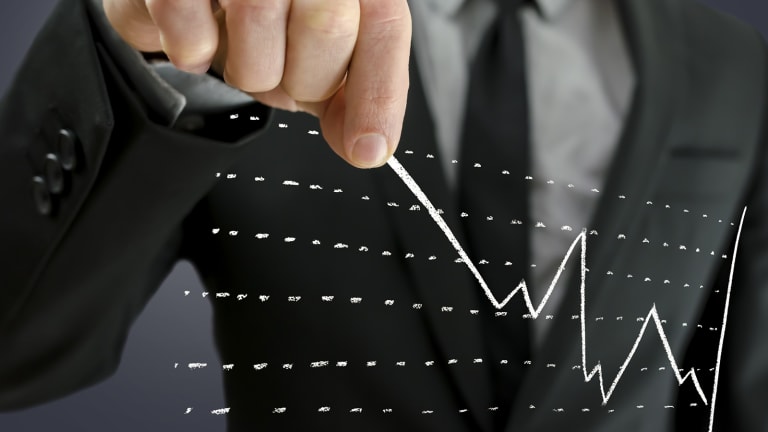 U.S. GDP Growth Forecast in Jeopardy as Economic Indicators Turn Bearish
Investors will increasingly move to Eurozone-centric ETFs as QE initiatives are felt amid a worldwide economic growth slowdown.
NEW YORK (TheStreet) -- The Conference Board's 2015 GDP forecast calling for 2.9% growth is looking a little aggressive these days. Even the ever-optimistic Federal Reserve commented in last week's FOMC press release "information received since the Federal Open Market Committee met in January suggests that economic growth has moderated." That ought to tell you something.
And this morning Markit Economics published its March data, on how the worldwide economy is doing. Later today, we'll get a look at the U.S. economy.
Flash March data shows that manufacturing activity in China not only continued to contract, but also hit an 11-month low. Looking past the index reading and into the data that comprises it, new orders decreased, new export orders fell and employment decreased at a faster rate. This doesn't point to a near-term rebound and likely means China will need to break out the defibrillator paddles and pull the trigger on more reforms or monetary easing, just like more than two dozen other countries have done in the last few months.
Turning to the Eurozone, even though the European Central Bank's own quantitative easing efforts have only just gotten underway, it's looking like the region is finally on firmer footing. The Flash March data hit a 46-month high as business activity, particularly for new order growth and employment, clocked in at some of its best levels in over twelve months. According to the March data, Germany remained the economic engine of the Eurozone as its new order growth hit a nine-month high. The drag that had been France over the last few months saw its PMI readings expand for the second consecutive month as new order growth continued to improve.
Later today, Markit will publish its early take or "Flash" reading on the U.S. economy in March. If the data follows the trend we've been getting, and its hard to see how it won't, it will reaffirm the view the current quarter will be far slower than December. There are a number of factors involved including the severe winter weather and port closures, but, even so, retail sales, personal spending and manufacturing data as well as other indicators have all been soft relative to expectations.
What will investors do? Layer in the lagged effect of the European Central Bank's QE efforts and investors are likely to continue shifting investing dollars into exchange traded funds that zero in on particular Eurozone country members, like the iShares MSCI Germany Index Fund (EWG) - Get Free Report, or in those that focus on the region, such as Vanguard FTSE Europe ETF (VGK) - Get Free Report. (When it comes to investing outside the U.S., I tend to favor either companies that have American Depository Receipts (ADRs) in part because of the financial statements they must file with the Securities Exchange Commission, or ETFs, which offer lower trading costs and diversification compared to buying individual foreign stocks directly.)
This article is commentary by an independent contributor. At the time of publication, the author held no positions in the stocks mentioned. Versace manages a portfolio that owns shares in FB.
Follow Chris Versace on Twitter and Facebook.