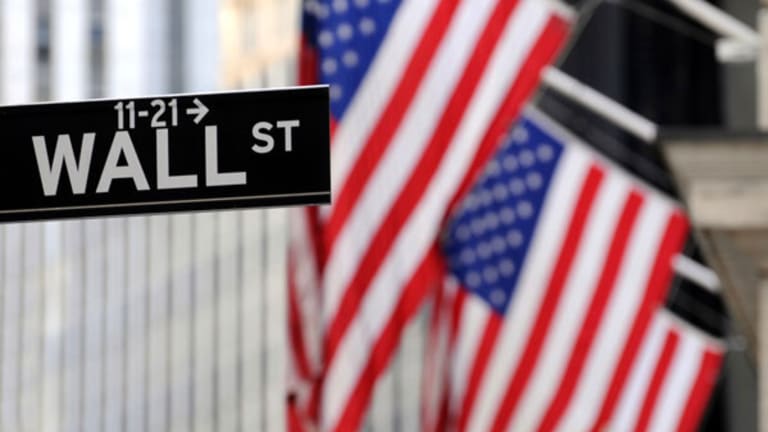 U.S. Demand Is Alive and Well
There's plenty of consumer demand out there. Now the economy needs the government and the Federal Reserve to step out of the way.
NEW YORK (
) -- To many observers, March's U.S. trade report was a smashing success: Compared to March 2012, the trade deficit fell 11%!
To us, though, that wasn't necessarily cause for celebration. In our view, the trade deficit is a misleading metric. It counts imports as a negative, but high and rising imports are a sign of healthy domestic demand -- a good thing.
We think total trade (imports plus exports) is a better gauge of U.S. economic health, and March's report showed a 2% month-over-month drop, with exports falling 0.9% and imports falling 2.8%. Year over year, imports were down 5.6%, and first-quarter imports were a hair behind the first quarter of 2012.
So we asked: Should we be concerned about falling U.S. demand?
Also see: Is Inflation a Psychological or Monetary Phenomenon? >>
Thankfully, a deeper dive into the data suggests we likely needn't fret. Total imports have weakened lately, but most of that weakness comes from declining petroleum imports. Excluding petroleum products and adjusted for inflation, first-quarter imports rose 1.3% ($5.63 billion) over the first quarter of 2012. Demand for capital and consumer goods appears plenty healthy. As does petroleum demand overall -- we just happen to be importing less of it thanks to the shale revolution.
This trend has been brewing for some time. As shown in Exhibit 1, which indexes total imports, petroleum imports and nonpetroleum imports to 100 in the second quarter of 2009 (total trade's cyclical low), total imports increased at a pretty healthy pace through 2011, then pulled back a bit in early 2012.
Also see: Berkshire Is an Insurance Company, Not a Nation-State: S&P >>
Nonpetroleum imports rose at a slightly slower pace but stayed positive through the second quarter of 2012, then plateaued. Petroleum imports jumped ahead at first, but they're down nearly 13% since the second quarter of 2011 -- and that's after a fourth-quarter 2012 rebound.
Exhibit 1
: Total, Petroleum and Nonpetroleum Imports Since Second Quarter 2012
Source: U.S. Bureau of Economic Analysis. U.S. Trade in goods, quarterly, seasonally adjusted, balance of payments basis. Second quarter of 2009 to fourth quarter of 2012. Data stop at fourth quarter of 2012 because first quarter of 2013's balance of payments data won't be released until June.
This is just one more reason we're skeptical of claims the U.S. economy has a demand problem. That total imports stayed pretty firm despite petroleum's pullback speaks to the underappreciated strength of overall domestic demand. And that's just one component. Consumer spending has grown for 13 straight quarters (and hasn't fallen since the second quarter of 2009) and is at all-time highs. Housing's risen for eight straight quarters, as has business investment, which logged its all-time high in the first quarter.
When households and businesses are spending more than they ever have and a healthy amount of goods is coming in from abroad, demand's alive and well. Yes, headline economic growth remains slower than many would like, and some folks might fancy a boost -- but most "boosting" methods involve giving demand a kick in the pants. When demand's already high and rising, trying to goose it further probably won't do much to goad overall growth. A better approach, in our view, is to get rid of the roadblocks preventing already high demand from having its fullest effect.
Regulatory red tape is one roadblock -- arbitrary restrictions, slow-as-molasses permitting processes and plain old bureaucracy stymie commerce.
Another is the
Fed
. By flattening the yield curve through quantitative easing, the Fed is shrinking banks' net interest margins and creating a disincentive to lend.
That means smaller businesses -- those not large enough to issue corporate debt or rank as supersafe bets for banks -- often are unable to get financing to purchase new equipment, software systems and facilities so that they can increase output to meet high and rising consumer demand.
Also see: Are No-Cost Mortgages Always a Good Deal? >>
Since they can't grow as much as they otherwise would, they hire at a somewhat slower pace. The Fed thinks it's stimulating the economy, but it's really holding growth back. Quantitative easing is contractionary.
If the Fed would just stop buying long-term debt and allow interest rates to normalize, we'd likely see capital start flowing more quickly to smaller firms -- and, potentially, a good-sized release of pent-up business investment. And then the money would recirculate, spent by consumers and other businesses alike. More economic activity, more growth. With nary an artificial demand boost.
This article is commentary by an independent contributor, separate from TheStreet's regular news coverage.
This article constitutes the views, opinions, analyses and commentary of Fisher Investments as of May 2013 and should not be regarded as personal investment advice. No assurances are made Fisher Investments will continue to hold these views, which may change at any time without notice. In addition, no assurances are made regarding the accuracy of any forecast made herein. Past performance is no guarantee of future results. A risk of loss is involved with investments in stock markets.