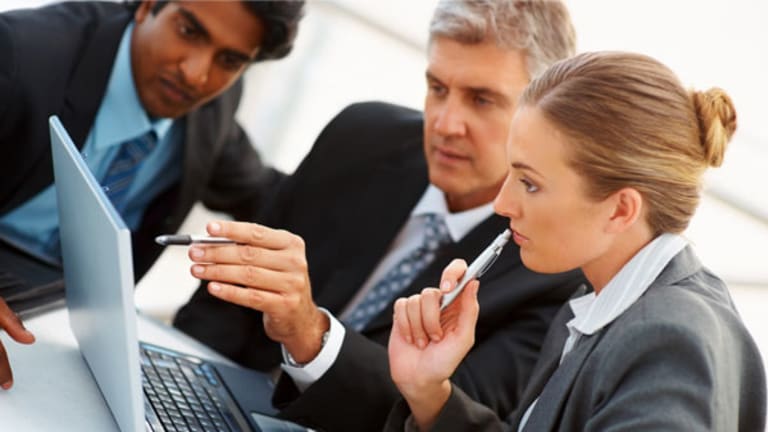 US Airways Pilots Bothered by List
A pilot seniority integration list created after the 2005 merger between US Airways and America West made just one side happy.
A pilot seniority integration list created after the 2005 merger between US Airways and America West made just one side happy.
Updated with closing stock price.
CHARLOTTE, N.C. (
) -- A pilot seniority integration list created after the 2005 merger between
US Airways
(LCC)
and America West made just one side happy.
The other side was so angry that pilots left the union that represented them for 57 years for a new one, the U.S. Airline Pilots Association.
As Mike Flores, president of the US Airways chapter of the Association of Flight Attendants, has said: "In a successful seniority integration, everybody is pissed off.
"That's what happened at PSA and Piedmont," Flores said, referring to two predecessor carriers acquired by US Airways in 1987. "But in the America West merger, you have one side that is ecstatic and one side that is pissed off. That's how you know the arbitrator screwed up."
For investors, the pilots' inability to agree on a seniority list has delayed contract talks that will result in higher costs and may continue to do so for the foreseeable future.
A solution seems to demand a seniority list that nobody likes. And so, a modest proposal follows, likely to anger pilots from both the former US Airways, known as the east, and from America West, known as the west.
First, under the list proposed by arbitrator George Nicolau, nothing changes for the top 500 east pilots, who were flying widebody jets. But why was it assumed that west pilots shouldn't fly widebodies? If west pilots have sufficient seniority, they logically should be on the widebody list.
For the remaining pilots, Nicolau sought to calculate career paths to captain and to equalize them. He ended up with a list where, in hundreds of cases, east pilots with 15 or more years at the carrier went behind west pilots with just a few years. In one case, a 56-year-old pilot with 17 years at the airline, never laid off, falls behind a 35-year-old America West pilot with a few months on the job.
This should change, so that east pilots employed at the time of the merger are on a date-of-hire seniority list, along with the west pilots. These east pilots, disadvantaged in the Nicolau list, become winners in this one.
Nicolau also put 1,700 east pilots who had been laid off when the merger occurred at the bottom, on the indisputable theory that their career prospects were limited. Protecting them seems unfair to west pilots who were employed when the merger occurred. Therefore, laid-off pilots stay at the bottom.
Why should west pilots accept a brief, simplistic seniority proposal after a federal judge has already ruled that the Nicolau list -- created in binding arbitration -- be included in the contract? West pilots believe, not illogically, that binding arbitration is just that.
However, the judge's ruling is being appealed, so this is a good time for everyone to negotiate. Secondly, implementing the award could result in difficult cockpit environments. Thirdly, the debate over the Nicolau ruling has been a burden on everyone involved, to such an extent that in two subsequent mergers, airlines took pains to avoid a similar outcome.
The
Delta
(DAL) - Get Report
merger with
Northwest
was preceded by a pilot agreement, while
Southwest
(LUV) - Get Report
dropped a potential deal with
Frontier
because pilots could not agree.
Most importantly, even if the appeal fails, the Nicolau list would be just an appendix to a contract with two to three dozen sections. If a majority of pilots oppose the appendix, negotiators would logically seek to overcome those objections in other sections, because no contract can be approved without a majority vote. It's hard to imagine that federal judges could be convinced to rule on every section.
So whatever amount of money the airline puts into the contract -- the current offer is $122 million -- could go to narrow the gap between captain and first officer pay. It could go to boost longevity pay, currently capped at 12 years. Fences, restricting movement between pilot bases, could be written into the contract. For west pilots, the concern is an ancient one: Be careful what you wish for.
A final point is that this entire controversy is largely unnecessary. While east pilots average 56 years of age, west pilots' average age is eight to 10 years younger. With mandatory retirement at 65, west pilots will inevitably inherit the airline, garnering far more international flying than American West could ever have hoped to provide on its own.
US Airways shares closed Tuesday at $5.23, down 20 cents or 3.7%.
-- Written by Ted Reed in Charlotte, N.C.
.
Ted Reed has more than 20 years' experience covering the airline industry for publications including The Charlotte Observer, Miami Herald and Sacramento Bee. He also worked for US Airways in 2005, writing internal publications and speeches for the company's executives. He is a graduate of Wesleyan University and holds a master's in journalism from Columbia University.