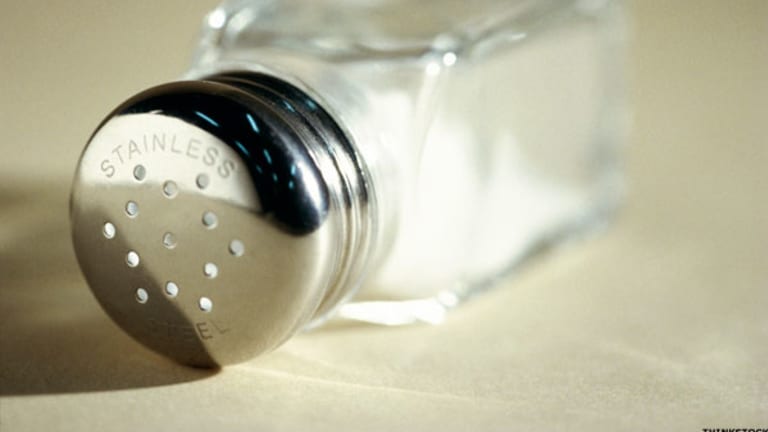 Upside Down News: Salt Good, Omega 3 Bad
The latest twist in dietary recommendations could provide some slogans for companies. More salt on your fries?
NEW YORK (TheStreet) -- There's never a dull moment when it comes to determining what's good for us from a dietary perspective, and what's bad.
Just yesterday came word from the Center for Disease Control that salt intake, at least in quantities consumed by most Americans, doesn't present the health risks we've all been warned about for years. In fact, the CDC suggested there may be a benefit to increasing our salt intake. So now, more salt is better?
If true, I feel vindicated from the thousands of times I've been accused of over-salting my food (with sea salt, that is). I and millions like me, will no longer feel like criminals for a few extra turns of the sea salt grinder, if indeed this is all true.
Of course, if I'm
PepsiCo
(PEP) - Get PepsiCo, Inc. Report
, tomorrow there will be new labels on Doritos, Tostitos, Cheetos, Fritos, Ruffles, Lays, and any other number of salty snack foods distributed by the company, touting the health benefits of the salt contained in these products.
If I'm
McDonald's
(MCD) - Get McDonald's Corporation Report
and
Wendy's
(WEN) - Get Wendy's Company Report
, I'd be doing the same with French fries, putting on each French-fry container, "Eat more salt."
If I'm
Diamond Foods
(DMND)
,I'd seize the opportunity with a new advertising campaign; something along the lines of "Our Accounting May Have Been Bad, but the Salt on Our Products Sure Is Good for You."
Yet, in the same week, we were also told that Omega-3 fatty acids -- which are derived from fish and which have been thought to promote healthy hearts and provide other health benefits -- may have some downsides. One study suggested that Omega-3 may increase the risk of childhood allergies. The other, which was bigger news, was that Omega-3 might increase the risk of prostate cancer, up to 71%. With a history of prostate cancer in our family, that one hit home.
That news also had me thinking of one of the more interesting little companies that I've ever owned,
Omega Protein
(OME)
, which harvests the oily fish (Menhaden) used to produce Omega-3 supplements.
The news had little, if any, effect on the stock yesterday; in fact it was up more than 3%. I was looking for the typical market reaction of shooting first and asking questions later, but that did not happen, not yet anyway.
Although demonization of Omega-3 could be bad for the company's fish-oil business, the company generates nearly 70% of revenue from the sale of fish meal, which is used for animal feed. Last year, just 8% of revenue came from dietary supplement ingredients. Still, it will be interesting to see if there is a delayed reaction to the new Omega-3 controversy.
OME
data by
What a week. Down is up, and up is down. Reminds me of the Seinfeld episode in which George Costanza did the opposite of what he'd normally do, with great success. I wonder what's next?
Fatty foods are actually good for you? Soda has health benefits not previously realized? If that were the case, would Mayor Bloomberg (for whom I had great respect for his incredible private sector vision during the 17 years I worked for Bloomberg Financial Markets) reverse course and mandate that soda be sold in no smaller than 16 ounce containers?
I just don't know what to believe anymore.
At the time of publication the author held no positions in any of the stocks mentioned.
This article is commentary by an independent contributor, separate from TheStreet's regular news coverage.
At the time of publication, Heller was long XXXX.
Jonathan Heller, CFA, is president of KEJ Financial Advisors, his fee-only financial planning company. Jon spent 17 years at Bloomberg Financial Markets in various roles, from 1989 until 2005. He ran Bloomberg's Equity Fundamental Research Department from 1994 until 1998, when he assumed responsibility for Bloomberg's Equity Data Research Department. In 2001, he joined Bloomberg's Publishing group as senior markets editor and writer for Bloomberg Personal Finance Magazine, and an associate editor and contributor for Bloomberg Markets Magazine. In 2005, he joined SEI Investments as director of investment communications within SEI's Investment Management Unit.
Jon is also the founder of the
, a site dedicated to deep-value investing. He has an undergraduate degree from Grove City College and an MBA from Rider University, where he has also served on the adjunct faculty; he is also a CFA charter holder.