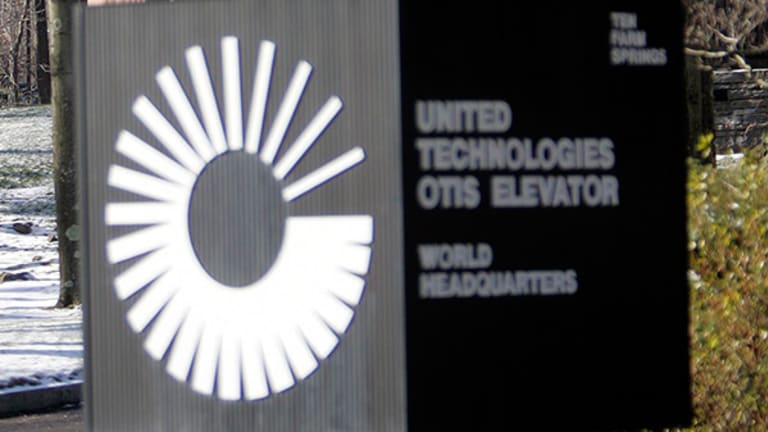 United Technologies Can Thank Honeywell for Stock Price Halo Effect
Even though Honeywell's bid for United Technologies has fallen through, the offer has created a stock price halo effect. Here's how it happened.
Honeywell International Inc.'s unsolicited $90 billion offer for United Technologies Corp. (UTX) - Get n.a. Report was a real boost for the would-be target, refocusing investors in the down-and-out industrial conglomerate away from short-term issues and toward the substantial long-term value contained within its portfolio.
Shares of United Technologies increased by 15% during the final weeks of February as Honeywell made its very public overture. And even though the deal has fallen through, United Technologies shareholders are still benefiting. 
The February bid came at a difficult time for United Technologies, which in late 2014 had sent CEO Louis Chenevert packing and kicked off a substantial restructuring under his replacement, Gregory Hayes.
In the year following the management shakeup, the company made some substantial moves, most notably selling its Sikorsky Aircraft Corp. unit to Lockheed Martin Corp. for a better-than-expected $9 billion, but its shares had lost about one-third of their value from February 2015 until Honeywell's surprise announcement.
And even though Honeywell has walked away from its pursuit of United Technologies, the shot-in-the-arm the bid provided has not worn off. At a current price north of $100 apiece the shares trade higher now than they did during Honeywell's courtship.
That sort of price action might typically suggest that the market thinks a new bid could be forthcoming, but in the case of United Technologies and Honeywell, that appears unlikely. Rather the bid seemingly has reminded the market of what it once saw in United Technologies, upending the focus on the company's near-term headwinds in favor of concentrating on its impressive collection of industrial assets.
United Technologies, which makes everything from Pratt & Whitney engines and Goodrich aerospace components to Otis elevators and Carrier HVAC systems, has been battered by strong dollar concerns, a slowdown in Chinese construction and issues with Pratt & Whitney's highly anticipated new engine design, which have only been partially offset by attempts by Hayes to eliminate higher-cost manufacturing. (The cost-cutting campaign, though a positive for financial results, brought in an unwanted additional spotlight on the company in early February after Republican presidential candidate Donald Trump went after Carrier for its decision to move a production line from Indiana to Mexico.)
United Technologies is also deploying its balance sheet, returning $22 billion to shareholders via dividends and repurchases over three years and seeking out M&A targets. Hayes at the company's recent investor meeting said "I wouldn't be afraid to do a big deal," with aerospace and security two areas believed to be of particular interest.
The company is now projecting 10% annual organic growth through 2020 at Pratt & Whitney and 5% growth in its building divisions. Management sees spare part and aftermarket demand on the rise at a number of its units. Management predicts that United Technologies as a whole should be able to grow revenue at a rate of 5%-to-8% annually in the next five years without any potential M&A boost.
A stronger-than-expected macro recovery or at least stabilization in Chinese demand would generate significant upside to that forecast, as would continued lower oil prices that would be expected to keep older commercial aircraft viable for longer and lead to increased demand for Goodrich replacement parts and spares.
While rival bidders for the massive company are probably few and far between, and while Honeywell seems unlikely to return in the near-term, the bid could have also attracted the attention of other deal provocateurs who could help unlock value and boost share price. United Technologies has been mentioned as a potential target for activists after its unwillingness to even engage in talks with Honeywell. An activist could push for significant divestitures or pursue a much-discussed split of the company's aerospace assets from its buildings division.
In the aftermath of the failed Honeywell bid, it seems one thing all sides can agree on is that United Technologies, at $85 per share, was undervalued. It is now up to Hayes and management to prove they can get the most out of that portfolio.