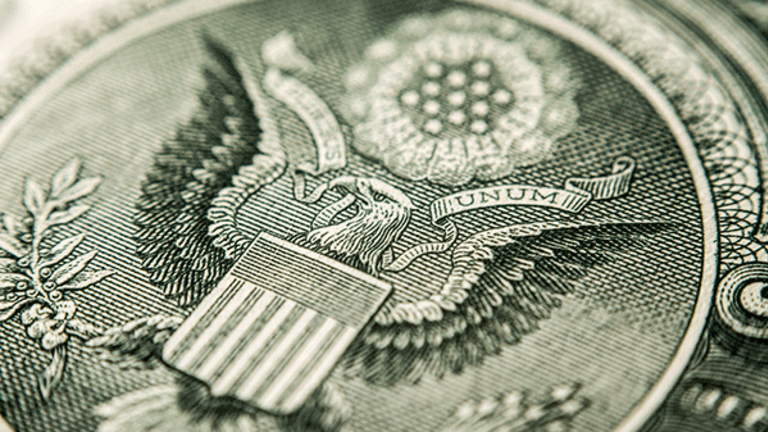 Crazy Weak U.S. Dollar Will Make These 10 Companies Huge Winners
U.S. companies that have significant sales in Europe are about to reap the benefits of a weak greenback. These big-names will especially be winners.
Since the start of the year, the dollar has been in a relentless downtrend. The U.S. Dollar Index ($DXY), which measures the greenback against a basket of currencies, recently reached its lowest point since early 2015.
For some U.S. companies, the dollar's descent is good news. To understand why, it's important to recognize the relationship between the dollar and the euro -- when one goes up, the other goes down. As the dollar hits multiyear lows, the euro touches multiyear highs.
This relationship is demonstrated on the following chart, using the PowerShares U.S. Dollar Bull ETF (UUP) (top) and the CurrencyShares Euro ETF (FXE) (bottom). Note how the two instruments have formed a virtual mirror image of one another over the past five years.
Source: TradeStation
For a U.S.-based company with no sales in Europe, the above chart is meaningless. However, U.S. companies that have significant sales in Europe are about to reap the benefits of a weak dollar. Without raising prices, they are about to increase profits because euros are worth more now than they have been in years.
Source: TradeStation
Which companies are best-positioned to benefit from weakness in the U.S. currency? Let's start with Johnson & Johnson (JNJ) . This consumer products giant generates over half of its sales from outside the U.S. With the dollar falling, look for J&J to continue to perform.
Procter & Gamble (PG) is another consumer products name that belongs on this list. Remember how this stock was battered by a strong dollar just a few years ago? Now that the buck is falling, that trend should reverse.
A weak dollar should provide a tailwind to Boeing's (BA) commercial aircraft division. That division competes chiefly with Europe's Airbus, a company which will be hurt by the stronger euro.
No matter where you travel in this world, there's a chance you'll spot the familiar golden arches of McDonald's (MCD) , or the iconic Coca-Cola (KO) logo.
Only 40% of 3M's (MMM) business is generated in the U.S., so that stock stands to benefit. All around the world, construction workers use equipment made by Caterpillar (CAT) .
How many companies can state that nearly one-quarter of the world's population buys its products? With sales in 175 countries, Kimberly-Clark (KMB) can, so they make the list.
Finally, in software, Microsoft (MSFT) and Oracle (ORCL) obtain more than half of their sales from overseas. Microsoft gets 54% of sales from outside the U.S., while Oracle's figure is 55%.
Keep in mind that currency exchange rates are just one factor that can affect a stock's performance. Companies still need to execute in order to be successful. Overall market conditions will also factor into individual stock performance, regardless of exchange rates.
Ed Ponsi is a regular contributor to Real Money Pro. Click here to learn about this dynamic market information service for active traders.
(This article originally appeared Sept. 7 on Real Money, our premium site for active traders. Click here to get great columns like this from Jim Cramer and other writers even earlier in the trading day.)
Watch: U.S Dollar Could Fall Another 20%
More of What's Trending on TheStreet:
This article is commentary by an independent contributor. At the time of publication, the author held TK positions in the stocks mentioned.