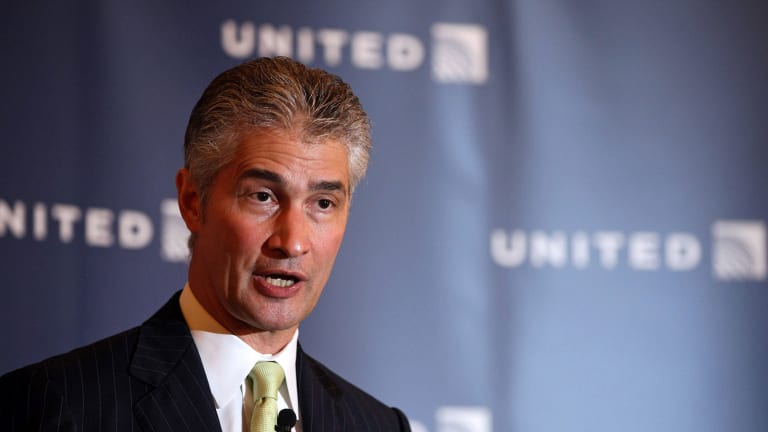 United Scandal Shows There's More to Firms Than Revenue
The resignation of United Airlines CEO Jeff Smisek is a reminder that investors should weigh more than a company's financial performance in evaluating its well-being.
NEW YORK (TheStreet) --  The old saying that "fish rots from the head" holds true about corporations. Tuesday's news that United Airlines (UAL) CEO Jeff Smisek resigned because of ongoing investigations is the latest piece of evidence.
Since creating the world's largest airline by merging United and Continental in 2010, Smisek led the company to considerable financial success. Despite bumps along the way, under Smisek's watch, United increased revenue and returns. The company posted a consistently rising stock price.
Most analysts have rated the company a "buy" in the five years since the merger. Many noted United's consistently full planes. 
But for anyone looking beyond the financials, there were signs that could have foretold some of the company's problems. In fact, while United was considered a winner with many investors, almost every other stakeholder group -- employees, vendors, community leaders and maybe most importantly, customers -- were a lot less enthusiastic about the company. Based on news media headlines like "Is United Airlines really that bad" to a drumbeat of negative feedback on numerous social media outlets, the airline's reputation has dropped considerably from that of its two pre-merger units.
There were some analysts and industry watchers who looked at factors other than financials, often because they were United customers with first-hand experience of the airline's deficiencies. Herb Greenberg, an analyst and blogger for TheStreet, even went so far as to name Smisek the worst CEO of 2013, noting many non-financial concerns about the company's performance and correlating them with a lack of leadership.
United critics say its financial performance has been due to lack of choice for customers. In surveys, many frequent United fliers cited feelings of being "held hostage" by the carrier. They don't feel they have choices. Meanwhile, long-term employees have felt that United no longer values their service.

Smisek's resignation is now causing most analysts to take a more thorough look at the company. A number of them may be willing to look past financial metrics, which can lag other indicators, including the quality of leadership and vision, morale and social media trends. These can provide a more useful picture of a company's well-being. However, not all analysts or investors pull all these indicators together effectively.
This is an oddity at a time when consumers can gather more information than ever before about firms. It is no less odd that companies, as well, are not availing themselves of everything they might learn to improve their performance. 
The best CEOs are able to look deeply at their organizations. They understand that financial success ultimately rests on how they treat customers and their employees. 
Unfortunately, United's CEO seems to have had other priorities. It's unfortunate that it took a scandal to make most analysts and investors look up from the stock ticker long enough to realize this.
This article is commentary by an independent contributor. At the time of publication, the author held no positions in the stocks mentioned.