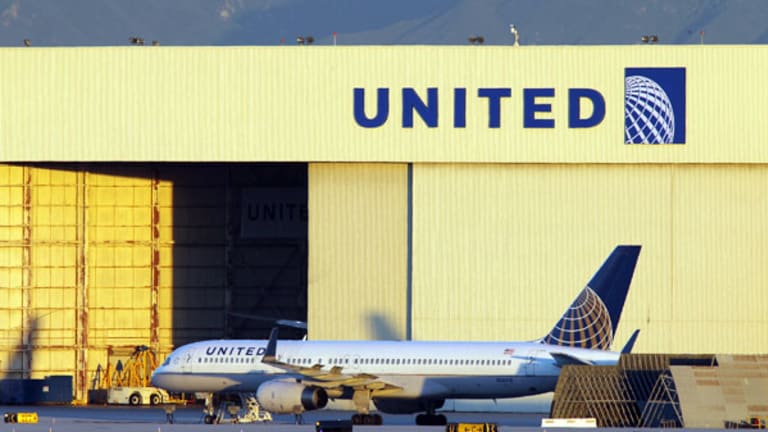 United Builds Its Credibility Account
United Airlines decided it was worth taking a loss in order to build its credibility with customers. We can all learn from that.
NEW YORK (
) - When I was in journalism school, 35 years ago, we talked a lot about credibility.
Credibility is something you build brick by brick, day by day. But it can all come tumbling down with a single mistake.
I've seen that throughout my career. An attention deficit can be a huge burden to a journalist, because although I may have written more interesting copy than my co-workers, I also made mistakes. I paid for them with my jobs, and lost my credibility.
Which I then proceeded to build back, brick by brick and day by day.
In the age of social media, we're all journalists. And we all have credibility accounts that can be quickly depleted, based not just on our actions but on how we react to things. When we screw up, it's better to take the hit than to deny the stupid things we do.
Read: 5 Stocks Ready for Breakouts
That's an important lesson for California schoolchildren, but also for the school district claiming that, in monitoring their social media use, it's "protecting them." It's an important lesson for countries like Turkey and China, too. Credibility doesn't mean control, it means honesty and respect for opponents.
This is an important lesson for any business, especially one marketing consultants like to describe as "customer-facing." An airline, for instance.
United Continental Holdings'
(UAL)
United Airlines
faced a test of credibility last week. For 15 minutes, it accidentally gave away some tickets booked at its Web site. Purchasers paid only the 9/11 security fee, totaling $5 or $10.
The airline decided, after some consideration, to honor the tickets.
The result was stories such as
near the company's Chicago headquarters. It was about a family getting a Disneyland vacation for just $60.
The goodwill from stories like that, United concluded, was worth the financial hit.
The Bureau of Transportation Statistics estimates
there are 643 million passengers booked each year on U.S. airlines. That's about 1.76 million per day. Given United's 15.8% market share, we can figure it got about 278,000 of them.
Read: Larry Summers: Social Media's Whipping Boy
But if the glitch lasted only 15 minutes, one-ninety sixth of a day, perhaps only 3,000 tickets were given away. At an average cost of $300, the loss may have come to $900,000. When you have sales of more than $37 billion in a year you can afford that, far more than you can afford rescinding the tickets in full view of everyone.
That's the business point here. We're all in full view of everyone, every day.
AMR's
(AMR)
American Airlines
and
US Airways
(LCC)
need to keep this point in mind as they try to merge through bankruptcy. Handing the CEO a $20 million severance package, when he's due $15.3 million if the merger goes through -- is the PR hit really worth the $4.7 million?
Read: Harshest Critics Don't Understand Apple
That's a point I was trying to make last week, in
about United rival
Delta Air Lines
(DAL)
. Focusing on credibility, linking the present with the past, helped Delta CEO Richard Anderson turn that company around.
Want to know why so many fliers love
Southwest Air
(LUV)
? Credibility. Relatively transparent pricing, a sense of humor about things -- let's get through these few uncomfortable hours together and everything will be all right. It works more often than it doesn't.
Companies, and countries, aren't accustomed to making these kinds of calculations. Obviously, neither are some politicians. Nor high school districts.
But it's just this kind of calculation you have to make in a socially connected age. What I was taught, back in the 1970s, was that I should live as though my every move was on TV, and this has been good advice. When I screw up I tend to admit it, and I take my medicine, no matter how bitter that might be.
We're all journalists now. Whether we're private citizens or public companies, we all have our credibility accounts, and we need to nurture those accounts by being as good as our word, confessing our errors, and making ourselves appear worthy of trust.
How are the credibility accounts of your investments?
At the time of publication, the author had no positions in stocks mentioned.
This article is commentary by an independent contributor, separate from TheStreet's regular news coverage.
Dana Blankenhorn has been a business journalist since 1978, and a tech reporter since 1982. His specialty has been getting to the future ahead of the crowd, then leaving before success arrived. That meant covering the Internet in 1985, e-commerce in 1994, the Internet of Things in 2005, open source in 2005 and, since 2010, renewable energy. He has written for every medium from newspapers and magazines to Web sites, from books to blogs. He still seeks tomorrow from his Craftsman home in Atlanta.