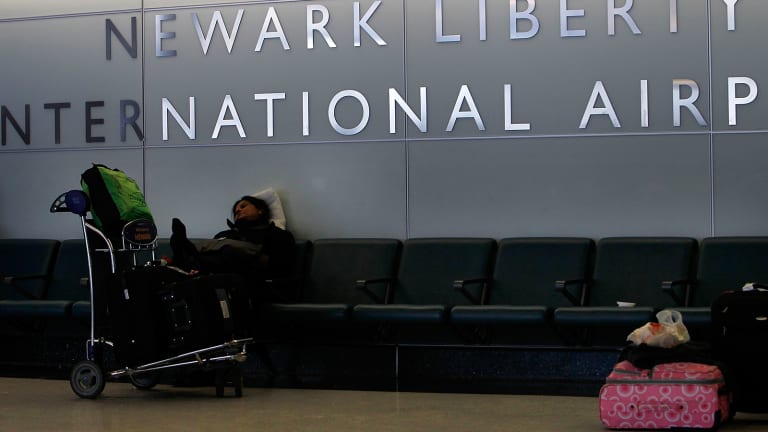 United Airlines: Goodbye JFK, Now Our Newark Hub Is Even Stronger
United Airlines said goodbye to Kennedy Airport on Saturday, moving all of its trans-con service to Newark.
United Airlines said goodbye to Kennedy Airport on Saturday, moving all of its trans-con service to Newark.
NEW YORK (TheStreet) -- United Airlines (UAL) - Get Report closed down its operations at John F. Kennedy International Airport on Saturday, ceding the airport primarily to Delta (DAL) - Get Report and JetBlue and American. But as far as the third-largest U.S. carrier is concerned the move is just another step in strengthening Newark, which remains the strongest single hub in the New York area.
On Sunday, the day airlines changed to winter schedules, United enhanced its Newark schedule by putting Boeing 757s with lie-flat seats on every one of its 28 daily peak flights to California, including 15 to San Francisco and 13 to Los Angeles International Airport. Previously, United flew a mix of 757s and 737s on both routes.
The last United last flight from JFK -- Flight 535 to LAX -- departed Saturday at 6:30 p.m. The Boeing 757 flight ended an airport stay that had lasted about 60 years, according to United's estimate.
The move, precipitated by continuing losses and a lease expiration, is one more sign of the major U.S. airlines' ever increasing preference to concentrate resources in their hubs.
The upgrade of trans-continental service at Newark adds to the options for premium travelers, those who are wealthy and those who are flying on business, and also underscores the dynamic in which every seat that comes into an airline hub creates better opportunities to connect passengers.
Brian Znotins, United vice president of network, won't deny that Delta's capacity buildup in New York has an impact on the Newark hub. Rather, he said: "There are always ebbs and flows. We are happy to stay competitive, and we will keep upping our game. We think that with what's going on in New York now, the customer wins.
"We have long been New York's leading airline and we continue to be," he said. "If you care about having destinations in your portfolio, that's us. And if you don't want to have to schlep all the way to JFK, it's us again."
"I am a schedule guy and United has the best schedule," Znotins said.
Under its November schedule, United at Newark will operate 419 peak day departures to 117 destinations including 58 international destinations. Delta at JFK will operate 188 peak-day departures to 69 destinations including 28 international destinations. Delta at LGA will operate 270 peak day departures to 55 destinations. Delta's total number of New York destinations, without overlap, is 97.
Gail Grimmett, Delta's New York-based senior vice president for New York, doesn't have much to say about United. Rather, she said, "Every airline wants to leverage their strengths" and talked about Delta's.
Both LaGuardia and JFK are Delta hubs, she said, "and we do a great job of maximizing both of our airports for the demand that exists." One benefit, she said, is that "We have more local demand than what we can serve at LaGuardia and JFK has picked that up." She noted that Delta has seen "incredibly few" passengers connect between the two airports.

Delta also benefits from nearly $2 billion worth of facilities improvements at the two airports and longterm, it should benefit from the planned renovation of LaGuardia, even if construction results in shortterm problems. "I'm incredibly excited about the opportunity," she said. "It's a great endeavor. Investing in infrastructure makes a big difference when it comes to traveler preference."
At LaGuardia, Delta had 11 million passengers 36% market traffic share in the 12 months ending Aug. 31, according to Port Authority of New York and New Jersey statistics. Second was American and US Airways combined, with 27%. At JFK, Delta had 14 million passengers and a 26% share: second was JetBlue, with 23%. At Newark, United had 25 million passengers and a 68% share: Delta was second with 5%.
Overall, Delta has more New York departures and more New York passengers, but because it can gather more passengers at Newark, United is able to offer a broader range of destinations.
For instance, United has 20 Trans-Atlantic destinations at Newark, while Delta has 18 at JFK. Both airlines serve the major airports in Amsterdam, Barcelona; Frankfurt, Madrid, Milan, Paris, Rome, London and Tel Aviv, but they differ in secondary cities. United serves three cities in Ireland; Edinburgh, Hamburg and Munich. Delta alone has Dakar, Nice and Venice.
United six Asia flights including two to China and two to India: Delta has only Tokyo. And both carriers have an array of Caribbean and Latin American service, although both primarily use other hubs for this.
Both Newark and JFK have service to "a lot of cities that wouldn't be served from either airport if we didn't have connecting passengers," Grimmett said. "But every airline has a limited number of airplanes and we make sure we are flying to where the most demand is."
This article is commentary by an independent contributor. At the time of publication, the author held no positions in the stocks mentioned.