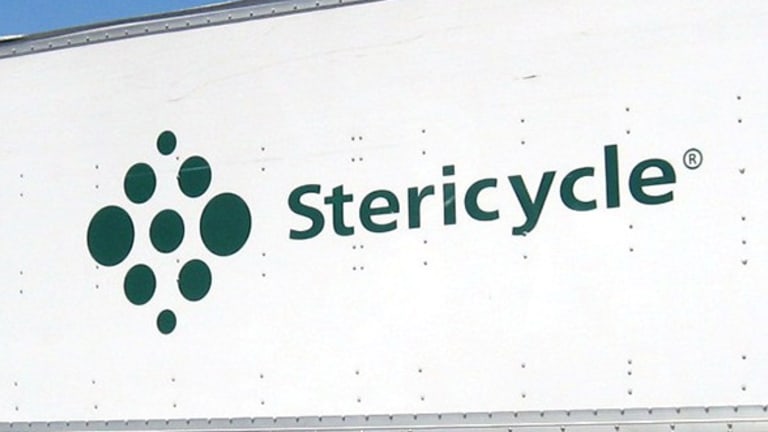 Underperforming Stericycle a Waste for Investors' Portfolios
This medical waste management company plunged after a disastrous earnings report. This stock is now cheap for a reason; consider stronger companies in its sector.
The recent disappointing earnings announcement by medical waste management company Stericycle  (SRCL) - Get Stericycle Inc. Report triggered a dizzying 20% drop in the company's share price, effectively undoing the gains it had recorded over the past year. The stock had risen more than 20% over the last 12 months, dwarfing the S&P 500 5% gains during the same period.
However, the earnings announcement after the bell on Oct. 22 shocked investors and analysts alike, and the stock lost a year's progress in an hour.
(Here's another group of stocks that you should quickly dump before they announce earnings and punish shareholders.)
The biggest Stericycle shock came in the form of earnings and revenues that were well below the company's guidance and analyst estimates.
From 96 cents a year ago, EPS more than halved to 47 cents in the third quarter this year, while analysts had expected earnings to easily break a dollar to move in the $1.19 a share mark.
While quarterly revenue climbed 7.6% year over year to settle at $719 million, it fell short of Wall Street's expectations of $735 million. Stericycle's history of reporting strong double-digit revenue growth annually is now seriously undermined.
The company has been on a spree of acquiring companies overseas. In the face of a strengthening U.S. dollar, it is facing headwinds in the form of currency fluctuations. These rapid changes are why its top line suffered. In the third quarter alone, currency fluctuations gobbled up $33 million of the company's revenues.
Management also attributed the weak financials to lower-than-expected hazardous-waste volume from industrial customers. What's more worrying is that it expects the slowdown of the third quarter to get worse in the fourth quarter before it levels off in 2016. So, there's still more pain left.
With such a forecast, investors are likely to move away from Stericycle -- still trading at 41 times P/E -- to Waste Management Inc. (WM) - Get Waste Management Inc. Report and Republic Services Inc. (RSG) - Get Republic Services Inc. Report , trading in the 25-26 times range. On Tuesday before the opening of the market, Waste Management reported a much better quarter compared to Stericycle and is optimistic about the future.
The fact that Stericycle endorses the approach of inorganic growth is a major turn-off. The last quarter's numbers are testament to this, whereby buyouts comprised $58.9 million of the company's revenue and represented 79% of its top line growth.
Apart from currency fluctuations, the other price of the acquisitions is the integration costs and risks the company has to bear. Add to this, unanticipated expenses like a $27 million lawsuit settlement this month, and you can see serious strain on the margins.
Investors will also keep an eye on these factors when the company releases an update on its recent acquisition, Shred-It. The $2.3  billion purchase has already raised eyebrows because Shred-It is an information destruction services provider, not an industrial or medical waste disposer.
Investors might be tempted to think of this price fall as an opportunity to buy. However, keeping these stress points aside, the company will also have to ward off external factors such as stiff competition, low barriers to market entry and strict regulations.
Stay away from Stericycle, as well as this group of "critical" stocks poised for a tumble.
This article is commentary by an independent contributor. At the time of publication, the author held no positions in the stocks mentioned.