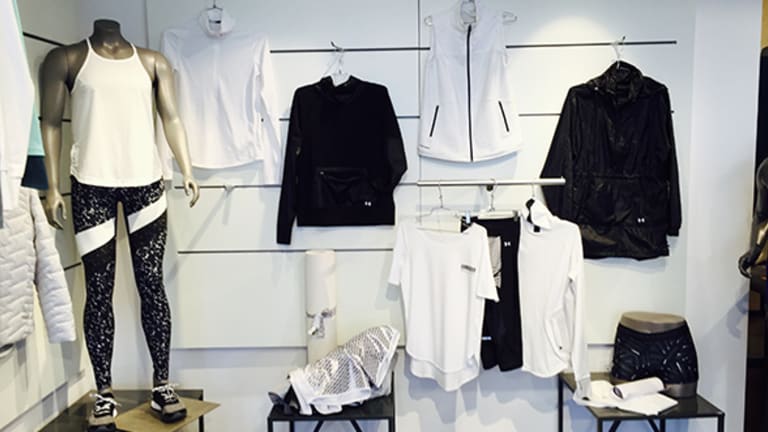 Under Armour Signals It's Looking for a Much Larger Female Audience
Welcome to the mid-tier department store, Under Armour.
Updated to include comments from Under Armour's earnings call and from Jim Cramer, plus details from a Kohl's spokeswoman.
Under Armour (UA) - Get Report  will finally take its premium brand down to the lower brow department store channel.
The red-hot athletic-wear confirmed on Tuesday that it will launch in about 600 of Kohl's (KSS) - Get Report  1,200 stores in the first quarter of 2017 in an effort to better reach female shoppers. "There is a customer walking into their stores [Kohl's] that just haven't been able to find our brand," said CEO Kevin Plank on a call with analysts after the company's second-quarter earnings release. Plank says the deal with Kohl's had been in the works for the "last several years."
According to a Kohl's spokeswoman, Under Armour products will also be available online, and span the women's, men's, kid's, accessories, footwear and home departments. 
Under Armour will launch more higher-end offerings -- including wear to work apparel -- in a limited number of partner stores under a new brand called Under Armour Sportswear. The clothes, says Under Armour, may not don the the company's logo on the outside but will have features the brand is known for such as stain resistance and stretch material. 
Under Armour shares were trading down 5.1% to $41.33 in early afternoon trading. 
Make no mistake, Under Armour launching at mid-tier department stores could prove the most lucrative opportunity.
Morgan Stanley analyst Jay Sole estimates Under Armour could ring up about $275 million in sales next year at J.C. Penney (JCP) - Get Report and Kohl's by selling its apparel and footwear. If Under Armour were to sell into Kohl's, notes Sole, the sales opportunity would be about $190 million. Over time, Sole believes J.C. Penney and Kohl's could help haul in roughly $550 million in sales for Under Armour. 
"While Under Armour hasn't announced it is starting to sell at J.C. Penney and/or Kohl's, we assume the company sees some initial sales from either or both of them later this year or early next year," Sole recently told TheStreet via email.  
"Basically the inventory is down from where it was; the company did have a Sports Authority problem [but] I think Under Armour is fine," said Jim Cramer, TheStreet's founder and manager of the Action Alerts PLUS portfolio,
Entering Middle America's favorite department stores is not without risk for Under Armour, however.
Distribution channels such as Kohl's and J.C. Penney may cause erosion of Under Armour's premium brand image among those consumers who can pay top dollar for a moisture-wicking shirt at Dick's Sporting Goods (DKS) - Get Report .
Why pay a premium at Dick's when J.C. Penney sells a similar product for less?
Additionally, Under Armour will be challenged to consistently develop products that are lower priced, lower quality and noticeably distinct from its offerings in higher-end channels. According to Sole, Under Armour is building skills in those areas and expects to show the results in 2017.
The company does have a guide to achieving success in those channels. "Nike (NKE) - Get Report sells there [in mid-tier department stores] and maintains a strong brand image as well as excellent relationships with its other retail partners," Sole commented.
In the end, going lowbrow may just be necessary for Under Armour.
"We think the reason Under Armour is preparing to enter Kohl's or J.C. Penney now is because it needs to find new avenues to maintain the sales growth rates the market expects -- otherwise, it probably wouldn't want to take the risk," Sole said. Under Armour's apparel business in the U.S. is maturing, he added.
That maturation for Under Armour was front and center during the second quarter as revenue growth in its apparel and footwear categories slowed compared to the first quarter.