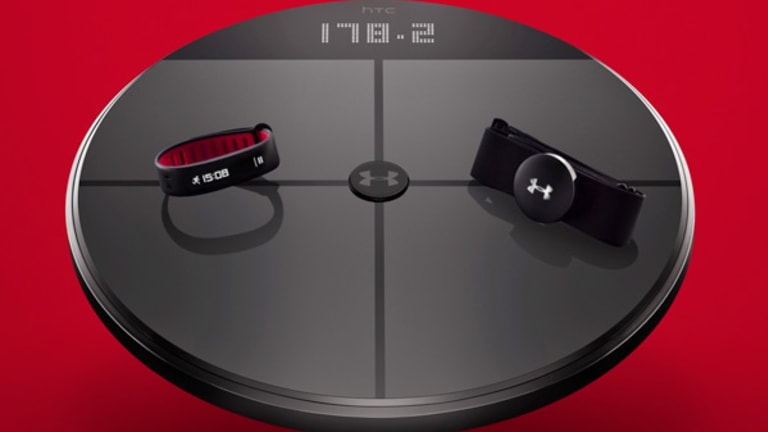 Publish date:
Under Armour's New Wearables Raise Key Strategy Question for Nike
Did Nike make a crucial mistake by exiting the wearables market and giving up on the FuelBand in 2014?
Did Nike make a crucial mistake by exiting the wearables market and giving up on the FuelBand in 2014?
Updated to include comments from Under Armour's Chief Technology Officer.
Under Armour's (UA) - Get Under Armour, Inc. Class C Report big push into the wearable device space this year may cause larger rival Nike (NKE) - Get NIKE, Inc. (NKE) Report to reconsider why it left the growing market altogether.
At the Consumer Electronics Show on Tuesday, Under Armour unveiled what it dubs the "Healthbox" in partnership with tech manufacturer HTC. The product is is a suite of devices that track things important to workout enthusiasts such as steps, body weight and sleep.
The box includes a black wrist band called the UA Band (which resembles Nike's discontinued FuelBand), a bluetooth and wi-fi enabled scale called the UA Scale, and the UA Heart Rate, which is a strap that gets fitted around a person's chest to measure heart rates.
The entire box retails for $400, and is available now for pre-order.
"There is still friction for the user, and reducing that friction and giving the person the capability to see their health all in one place by using these tools [hardware] was the driver behind working with a partner like HTC," said Under Armour chief digital officer Robin Thurston in an interview, explaining why the athletic wear maker is diving into the crowded wearables market.     

Under Armour's "Healthbox" contains a wrist band, a scale and a chest strap.
Thurston, an avid cylist who founded app MapMyFitness in 2007, which was later bought by Under Armour, added "if you think about setting up a Fitbit (FIT) - Get Fitbit, Inc. Class A Report , a Jawbone or a Garmin (GRMN) - Get Garmin Ltd. (GRMN) Report wearable today, first you have to download their app, then create an account, then go to our site to sync it with our apps -- there are all these steps. We wanted to showcase what it was like to have a seamless integration directly into our platform."
The gadgets, two of which are considered wearables, are the latest attempt by Under Armour to dominate the connected fitness world.
In total, Under Armour has shelled out about $710 million since 2013 to acquire three of the main health and fitness app developers: MapMyFitness, Endomondo and MyFitnessPal. The acquisitions have provided Under Armour with a community of roughly 150 million plus registered users, according to Under Armour, that log things into the apps such as what they eat and their running routes. According to research firm Strategy Analytics, Under Armour's digital team has grown from 60 employees in 2013 to about 400 at the end of 2015.
To Under Armour, obtaining data on consumers via apps and devices is critical in the business of trying to sell more sneakers and compression t-shirts. For example, Under Armour also unveiled a new smart sneaker at CES with a chip inside that collects data.  
The sneaker tells a customer when it may be necessary to buy a new pair of Under Armour sneakers. "Through our data, we know that after running 450 miles in a pair of shoes, most people get injured," Thurston said.
Thurston echoed points made recently by Under Armour's top dog.  "Our increased insight into the consumer will empower us with better information to make better business decisions, to build better products, while helping athletes make better choices in their own personal health and fitness, and ultimately enriching their lives," said Under Armour founder and CEO Kevin Plank to analysts on an Oct. 22 earnings call.
Plank added that "the type of insight we've come to rely on in other areas of our lives such as our personal finances or the performance of our car is now finally available for our own health."


Under Armour also unveiled a "smart sneaker" with a built-in chip that helps track activity.
Plank's comments on the concept of connected fitness being vital to designing better products raises a key question: Did Nike make a crucial mistake by exiting the wearables market?
In April 2014, Nike abruptly fired the majority of the development team responsible for its once-popular FuelBand wearable device, which was launched in 2012 to much hoopla. The FuelBand was subsequently discontinued that month, despite it holding a respectable 10% of the wearables market at the time, according to research firm Canalys.
Nike made the decision to instead leverage the wearable devices created by others such as Apple (AAPL) - Get Apple Inc. (AAPL) Report by updating various Nike apps.
In effect, Nike exited a still growing wearables market. 
According to the latest research from IDC, wearable device shipments were projected to reach 76.1 million units in 2015, up 163.6% from the 28.9 million units shipped in 2014. By 2019, worldwide shipments are estimated to reach 173.4 million units, resulting in a five-year compound annual growth rate (CAGR) of 22.9%.
"We didn't [create the FuelBand] because we thought we should be a consumer tech company -- we needed to understand the athlete, we needed the connection and the info -- and now there are sensors everywhere," explained Nike's consumer technology officer Chris Satchell at a tech conference in May last year.
According to Satchell, Nike's main focus now is on building a digital ecosystem that allows people to track their exercise and have a training companion.
Said Thurston, "Nike has some products, too, in the [digital] category and we understand that -- but we think the position we are taking around simplification of health, nutrition, etc. is a story they are not telling, and one we could tell very well."


Nike discontinued the FuelBand in 2014.
But Nike's efforts to foster a digital community seem lacking in comparison to Under Armour's.
For example, Nike's running app was updated 14 times in 2015, according to a review of the history on the App store. But most of the updates centered on fixing minor performance bugs. And even the bigger changes seemed fairly minor -- adding headphone controls to adjust volume while in the app, for example, and gaining the capability to stream music from Spotify.
The app itself only allows for tracking running times, heart rate, and distance covered, as well as searching for new running routes. As for Nike's Training Club app, itonly acts like a personal trainer by offering up workout suggestions. 
On the other hand, Under Armour's MyFitness pal app has a host of useful functions.  
First, it tracks your sleep activity, steps taken and calories burned. It serves up recipe suggestions, as well as blog posts detailing new workout programs and weight loss success stories. A user can also input what they are eating throughout the day to track caloric, carbohydrate and fat intake. There is even a community function that allows users to interact with one another via messages.  
In the end, Under Armour's assault of a growing market via tech devices and comprehensive apps may help it to sell more apparel as it scours data for key consumer trends.
While Nike is likely still mining user data from its various apps to understand key consumer trends, it doesn't appear to be moving as aggressively, or as comprehensively, as Under Armour. Hence, the possibility of losing out on business in the future to a data-driven Under Armour may mean that it's time for Nike to reconsider its exit from the wearables market and develop more in-depth app experiences.