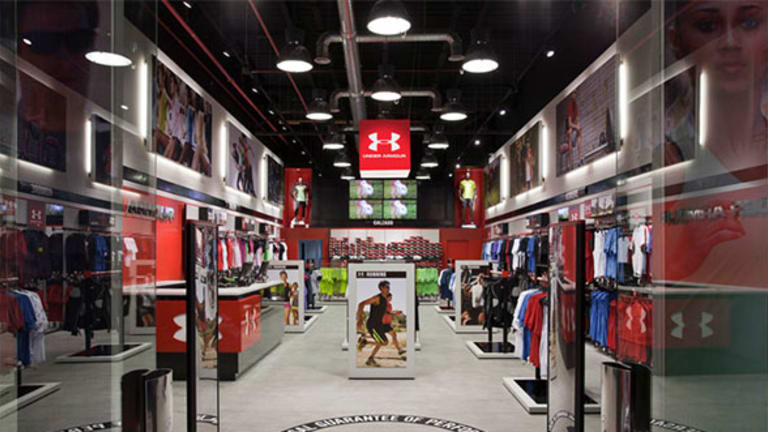 Publish date:
Under Armour Moves to Control Own Future by Opening 200 New Stores in 2016
The athletic wear giant is getting aggressive about operating its own network of retail stores.
The athletic wear giant is getting aggressive about operating its own network of retail stores.
With one of its biggest partners shrinking the number of stores it operates, Under Armour (UA) - Get Report is making an aggressive bid this year to control its own future.
The Baltimore, Maryland- based athletic wear brand will open a whopping 200 stores in 2016, said Under Armour founder and CEO Kevin Plank in a keynote speech at the annual National Retail Federation conference last week. Plank did not disclose what mix of formats those new 200 stores would comprise, and a spokeswoman for the company did not return a request for comment.
But the composition is likely to be a mix of several store types.
Globally, Under Armour currently operates 144 owned factory stores, which sell more affordable workout gear than is normally found at department stores, online and sporting goods retailers. The company also has 29 stores known as "brand houses", which tend to be large in size and feature the very best collections. And it sells a more limited line of offerings at about 127 owned shops found within the stores of key partners such as Dick's Sporting Goods (DKS) - Get Report .
In particular, Dick's is planning to introduce a new Under Armour shop design sometime in 2016, but the new format has not yet launched, according to Dick's.
Under Armour is also likely to focus on China with many of its new store openings in 2016.
"So we see great opportunity there [China] -- it's going to be our second-largest controlled market and is growing exponentially," said Plank on an Oct. 22 call with analysts. By "controlled," Plank was referring to retail stores directly operated by Under Armour. 
In September, Under Armour opened its largest international brand house store totaling 15,000 square feet on Weihai Lu Road in downtown Shanghai. Of the roughly 100 stores Under Armour planned to open in 2015, Plank noted that about three-quarters would be in China.
Regardless of the store formats and their locations, 200 new places to physically buy Under Armour gear is a significant step forward for the red-hot athleticwear maker.
Under Armour's retail store expansion should help it to alleviate the top line pressure stemming from lost sales at one of its biggest partners, which is continuing to close sites in the U.S. Department store retailer Macy's (M) - Get Report will close 36 locations by early spring. After those stores are shuttered, Macy's will operate 730 locations in the U.S, down from about 850 in 2009.
Under Armour does not sell its wares at Macy's rival J.C. Penney (JCP) - Get Report -- which is also closing stores -- and is unlikely to do so in the near-term. 
By expanding its retail store network, Under Armour will also get more control over how the clothing, sneakers and connected fitness devices increasingly being marketed by high-profile athletes are presented to consumers. In turn, Under Armour could showcase the brand to the best of its ability, increasing the chances of selling merchandise at full price.
Under Armour's new stores are likely to prominently display new merchandise featuring Dwayne "The Rock" Johnson. On Monday, Under Armour and the former WWE superstar and box office mogul inked a long-term marketing deal in which Under Armour will design product capsules including footwear, apparel and accessories inspired by the films Johnson is currently working on.
The first product capsule will feature a Rock-inspired backpack and duffle bag that will launch on Under Armour's website and be available in select brand house stores in the next few weeks.