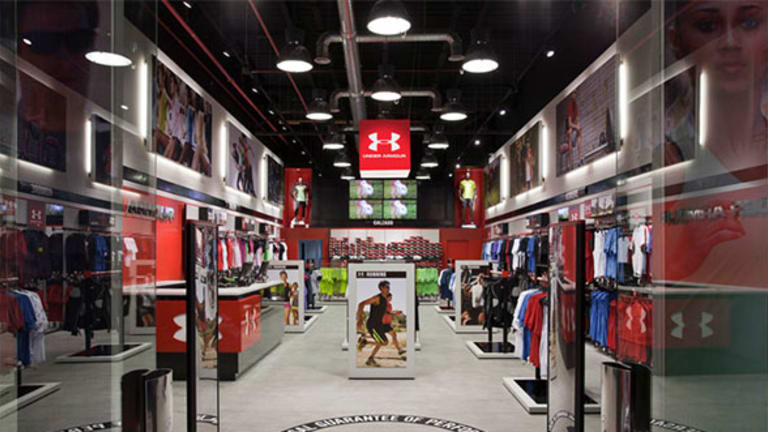 Publish date:
Under Armour Going for a Snug Fit with Foot Locker, Dick's Sporting Goods
The red-hot athletic apparel maker is deepening its relationship with Foot Locker and Dick's, seemingly leaving one big retailer out in the cold.
The red-hot athletic apparel maker is deepening its relationship with Foot Locker and Dick's, seemingly leaving one big retailer out in the cold.
Red-hot Under Armour (UA) - Get Report is cozying up with two big-name footwear retailers, seemingly leaving one big rival out in the cold.
According to Foot Locker (FL) - Get Report , which has over 1,000 stores in the U.S. under banners such as Footaction, Champs and its namesake, the company will open four more of its "The Armoury at Champs Sports" stores this year in partnership with Under Armour. The next crop of stores will swing open their doors in Texas, says Foot Locker.
An Under Armour spokeswoman confirmed the planned openings.
The first Armoury store opened last June in Columbia, Md. right in the backyard of Under Armour's Baltimore headquarters. The Armoury features Under Armour's most innovative footwear, apparel, and accessories, as well as exclusive products and occasional athlete appearances. 
"We're very bullish on the format, and working closely with Under Armour to make sure that the product engine is robust enough to support those great shop-in-shop spaces," said Foot Locker president and CEO Richard Johnson on a call with analysts Feb. 26. Johnson has been Foot Locker's CEO for a little over a year.


Foot Locker and Under Armour are cozying up to one another.
Meantime, Under Armour also continues to hitch its wagon to Dick's Sporting Goods (DKS) - Get Report . According to Dick's Sporting Goods, it had opened 50 Under Armour shops -- which tend to offer the best from Under Armour inside of slick-looking spaces on the sales floor -- by the end of the third quarter. In total, the company now boasts about 344 Under Armour shops, or one in roughly half its over 645 locations.
Dick's is planning to introduce a new Under Armour shop design sometime in 2016, but the new format has not yet launched, according to Dick's.
The odd retailer out in Under Armour's push to show off its coolest stuff inside of retail stores and shops with its own branding seems to be struggling sneaker retailer Finish Line (FINL) .
While Finish Line has sold the latest offerings from Under Armour's hot-selling Curry basketball sneaker line, it has not launched any concept shops such as the ones at Dick's and Foot Locker. Whether the snub is a function of Under Armour wanting to attach to retailers putting up strong financials, or Finish Line being known mostly for running sneakers rather than the other sports that are UA's trademark, is unclear.
But Under Armour's deepening ties with Foot Locker and Dick's will unlikely help Finish Line turn the corner after a challenging 2015.


Finish Line not feeling the love from Under Armour?
Finish Line's third quarter same-store sales plunged 5.8%, causing execs to slash earnings guidance for the full year back in January. The company sees full year 2015 earnings falling about 28% year over year, compared to a prior outlook for an increase of low to mid-single digits (percentage).
Shares of Finish Line have shed about 24% over the past year compared to an 8% decline for the S&P 500 and a 14% gain for Foot Locker.
The surprising sales drop during the quarter led to Finish line switching up its exec ranks. Sam Sato, former president of Finish Line, succeeded long-time CEO Glenn Lyon on Feb. 28.