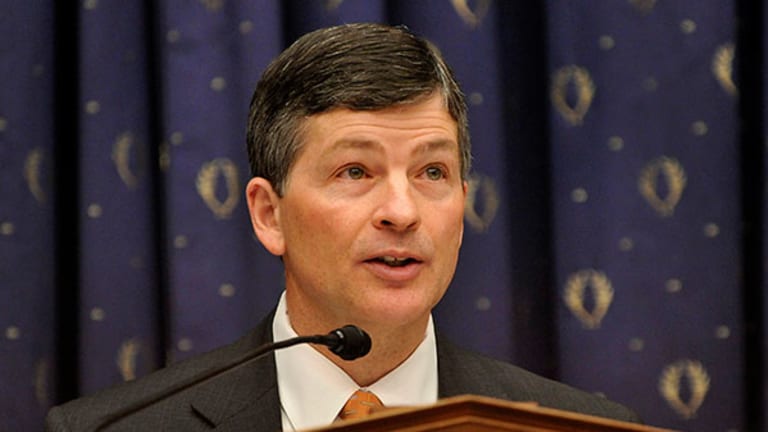 'Unaccountable Bureaucracy' Wins High Marks From Public
Writing for <I>TheStreet</I>, award-winning author Susan Antilla notes some Republicans, including Texas Rep. Jeb Hensarling, are intent on destroying one government bureau most seem to agree is working.
WASHINGTON, D.C. (TheStreet) -- Next time you're on a rant about official Washington's indifference to the interests of everyday citizens, take heart that some politicians are serious about going after the bad guys.
The House Committee on Financial Services took its investigation of "an unaccountable new government bureaucracy" straight to the people on Jan. 27, devoting a new section of its Web site to gathering dirt on a bogeyman that's menacing borrowers and homebuyers.
"Tell us your story," the committee asks once you click on the bright red banner "Protecting Consumers" on the home page. "How has the CFPB affected you, your business, or your customers?"
That's "CFPB" as in "Consumer Financial Protection Bureau," the two-year-old agency that was authorized in the 2010 Dodd-Frank Wall Street Reform and Consumer Protection Act. The agency has broken new ground reining in sleazy debt collectors, slipshod mortgage servicers and banks that never seem to have a customer service rep in the house when a customer is calling to complain about bogus fees.
In other words, the committee that operates under Texas Republican Jeb Hensarling is on a mission to protect you from an agency that's actually protecting you.
It is by no means a complete list, but critics say the agency is inadequately supervised, that a proposed revamp of its headquarters is pricier than New York's Trump World Tower, and that it is on a par with the National Security Agency because it collects volumes of consumer data that it uses to analyze consumer trends and problems.
"I don't know of anyone but the worst parts of the lending industry and Republicans in the House who see the agency through this lens," said Jim Lardner, spokesman for Americans for Financial Reform, a coalition of consumer, labor and civil rights groups.
A gaggle of chest-beating Republicans has been in attack mode against the CFPB since before it even opened its doors, trashing the agency's architect, Massachusetts senator Elizabeth Warren, and passing bills to try to weaken its authority. The latest effort, up for a vote in the House of Representatives in coming weeks: the Consumer Financial Protection and Soundness Improvement Act of 2013, which would reduce the agency's pay schedule and make it easier to overturn its rules, among other curtailments. 
Once the agency was in operation in summer of 2011, its foes went into overdrive. Hensarling even refused to allow CFPB director Richard Cordray to appear before the committee to discuss the agency's semi-annual report: President Barack Obama's recess appointment of Cordray was unconstitutional, Hensarling said in a letter to Cordray last April, so the testimony would have to wait until "an individual validly holds this position."
Against all odds, Cordray managed by July to get the Senate vote he needed to pass muster with Hensarling, but it made him no less scorned.
A favorite practice of Hensarling's is to introduce Cordray at official hearings with taunts about the agency being "accountable to no one," which is always kind of funny since the CFPB chief is sitting across from his cantankerous questioners precisely because he is being held accountable. Hensarling managed to squeeze references to Cordray as "credit czar" and "national nanny" and "benevolent financial product dictator" in a single sentence at a hearing in September.
The biggest sins of the agency in the view of critics are that it's run by a director, not a commission, and that it doesn't have to rely on Congress to authorize its budget as the Securities and Exchange Commission and Commodity Futures Trading Commission do. The CFPB gets its funding from the Federal Reserve, which doesn't rely on Congressional appropriations either.
Unaccountable or not, consumers so far have been getting a good deal. The agency has taken actions that will return $3 billion to consumers, Cordray testified last month. Separate from its enforcement actions, the public has filed more than 270,000 complaints with the CFPB since March 2013, posing such a threat to ne'er-do-wells that financial institutions have begun scrambling to address complaints before customers feel the need to ask for regulatory help.
Apart from the obvious fact that the regulated would rather make a customer happy than get entangled in an official complaint, there is also a public relations issue: The CFPB names names when a complaint is filed, and it takes only three clicks from the home page to see a spreadsheet of all 270,000 alleged offenders.
Americans for Financial Reform commissioned a poll last summer to see what the public's impression was of the agency. Forty-nine percent strongly favored the CFPB, 31% "somewhat favored" it and only 13% said they opposed having an agency for consumers.
"Eventually, the legislators who have acted this way are going to realize how wildly out of touch they are with their own constituents," said Lardner. "They're running the risk of being seen as pawns of Wall Street and slippery lenders."
They also run the risk of engaging in so much melodrama that even their good ideas are dismissed. The CFPB should indeed be held accountable for safeguarding all that consumer information. But who can hear the constructive criticism amid the hysterical cacophony of the agency's haters?
This article was written by an independent contributor, separate from TheStreet's regular news coverage.
Susan Antilla is an award-winning writer and author of Tales From the Boom-Boom Room: The Landmark Legal Battles that Exposed Wall Street's Shocking Culture of Sexual Harassment.