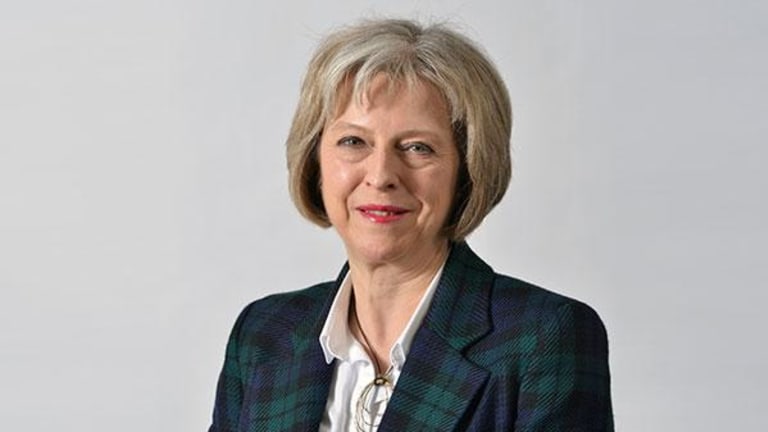 U.K. PM May's Post-Brexit Vision Clouded by Slumping Pound, City Of London Warnings
British Prime Minister's keynote speech sets out bold agenda as investors count the cost of Brexit vision
Britain's Prime Minister, Theresa May, set out her clearest post-Brexit vision to date Wednesday during an address to her Conservative Party faithful in Birmingham, vowing to deliver radical change and restore the country's fiscal and political sovereignty.
But the economic backdrop to her grand vision looks far less spectacular, as the country's currency slumps to multi-decade lows, experts count the potential costs of Britain's exit from the European Union and investors fret over the veiled challenge to the independent Bank of England.
"In June people voted for change and change is going to come," May told the party conference in Birmingham. "We are not leaving the European Union only to give up control of immigration again or to come under the jurisdiction of the European Court of Justice. We are leaving to once more become a fully sovereign and independent nation again. The deal is going to have to work for Britain."
But is it?
Consultancy Oliver Wyman and lobby group TheCityUK said Wednesday that loss of so-called financial services "passports" and tariffs between the U.K. and the EU could cost £40 billion ($50 billion) in industry revenues and 70,000 job losses. Wyman joined TheCityUK in repeating calls for a transition agreement that would give the financial sector time to organize itself and adapt to the new rules framework that will inevitably result from Brexit negotiations.
The consultancy's warning marks the latest in a string of salvos -  from both sides of the Brexit divide - over whether or not the U.K should remain a member of the EU's single market.
Currency markets, of course, have also been counting that cost since the historic referendum on June 23, with traders marking the pound near a 31-year low of 1.2739 against the U.S. dollar.
It must be noted, however, that while some market experts had correctly called the pound's sharp decline, few had predicted the economy's post-referendum resilience.
Wednesday offered further evidence of that unexpected strength, with the benchmark Markit/CPS U.K. Services PMI reading for September slipping only modestly to 52.6 but firmly ahead of the consensus forecast of 52.0 and well above the 50 mark that separates growth from contraction. When set against forecast-beating figures in manufacturing and construction, both published earlier this week, the PMI benchmarks have all but erased concerns of a second-half recession in the United Kingdom.
Britain's equity indices, as well, have largely shrugged off the Brexit concern, as both the benchmark FTSE 100 and the broader, mid-cap heavy FTSE 250 breach record highs Tuesday. And while the former's performance can be readily explained by the slumping pound (FTSE 100 firms generate around 75% of their revenues overseas) the latter's strength has to be seen as a reflection of solid, if no spectacular, economic fundamentals.
Political analysts will debate the (few) policy details in May speech in the weeks and months ahead, but the prime minister's odd reference to monetary affairs - which, since 1997, have been within the purview of the independent Bank of England - has left economic commentators with far more pertinent questions.
"Super-low interest rates and quantitative easing ... provided the necessary emergency medicine after the financial crash, (but) we have to acknowledge there have been some bad side effects," May said. "People with assets have got richer. People without them have suffered. People with mortgages have found their debts cheaper. People with savings have found themselves poorer."
"A change has got to come. And we are going to deliver it," she vowed. "Because that's what a Conservative Government can do."
But can it?
BoE Governor Mark Carney warned only last month that unless the long term outlook for the economy improves by the time it re-calibrates growth and inflation forecasts in a few week's time, the case for further rate cuts remains sound. And given the U.S. Federal Reserve's stated desire to normalize its own policy rates, more downward pressure on the pound is likely in the near term.
At present, Britain's service-led economy remains unfazed. But as the Wyman report notes, the fragilities of life outside of the single market, particularly for the country's biggest tax revenue contributor, are real.
"Do we have a plan for Brexit? We do. Are we ready for the effort it will take to see it through? We are," May triumphantly declared to thunderous applause from her party colleagues.
And while no one doubts her sincerity, there's little doubt that markets will continue to test her ability.