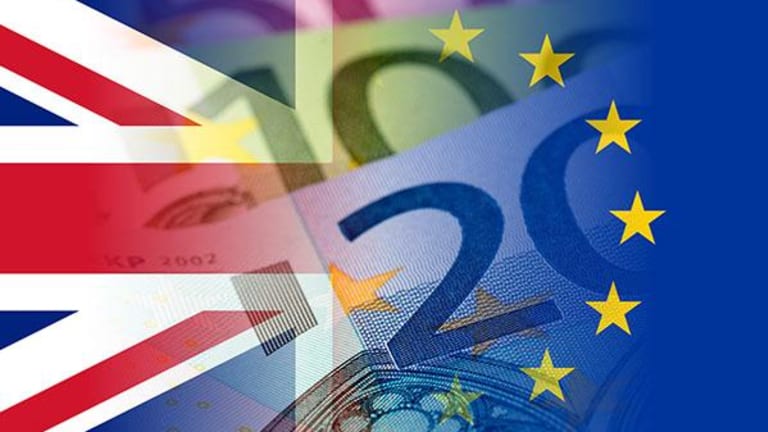 UK, European Bank Shares Battered as Brexit Storm Rages
Trading in Barclays and RBS is suspended after broker downgrades.
Trading in Barclays and RBS is suspended after broker downgrades.
Banks in the U.K. and Europe took another battering on Monday as investors continued to weigh the implications of last week's Brexit vote.
Shares of Barclays (BCS) - Get Report and Royal Bank of Scotland (RBS) - Get Report were suspended from trading by the London Stock Exchange just two hours into the day given a second session of heavy losses. Those of Lloyds Banking Group (LYG) - Get Report  fell nearly 10%, after racking up a 15% loss on Friday. 
Almost all large banking stocks in the U.K. and Europe have lost around 20% of their value since the U.K. voted to leave the European Union, although the decline has been led by the U.K. institutions. Credit Suisse says that some of these stocks could still have further to fall, given the rally that resulted from markets having begun to price in a British vote to remain ahead of the referendum.
Today's price action comes on a morning when analysts at Jefferies cut their recommendations and forecasts for Royal Bank of Scotland and Barclays, citing the impact of lower-for-longer interest rates upon profitability and the potential for a souring economy to drive up bad loans.
The Bank of England pledged on Friday to provide up to GBP250 billion ($329.5 billion) of short-term cash to London banks in order to prevent a liquidity crisis.
Analysts at Credit Suisse also expect that the Bank of England will make use of the permanent currency swap agreements it has in place with the Federal Reserve, the Bank of Japan, the Swiss National Bank and the European Central Bank in order to defend sterling should the currency fall to levels which are likely to endanger the economy or the financial system.
They suggested in a note to clients this morning that the liquidity provided by central banks, via currency swaps, should be sufficient to prevent a liquidity crisis from becoming a "solvency crisis" like in 2008. Earlier on Monday U.K. Chancellor of the Exchequer George Osborne said banks were in a far stronger capital position than during the credit crisis.
"Britain's financial sector will help Britain deal with any shocks, rather than make them worse," he said.
Shares of Lloyds Banking Group, Barclays and Royal Bank of Scotland fell by as much as 29% on Friday, before recovering slightly during the afternoon, only to resume their plunge on Monday.
The U.K. banks most exposed to risks emanating from an exit from the EU are Barclays and Lloyds Banking Group, while Deutsche Bank and Credit Suisse are among the most sensitive in Europe.
Barclays has a large corporate and investment banking franchise that spans the breadth of the continent. Should the U.K. and European Union breakup become messy, the risk increases that Barclays will lose its passport to operate throughout the European Union. The shares fell by as much as 29% on Friday and were down by 10%, to 137 pence, by mid-morning in London.
Lloyds, on the other hand, has the largest retail mortgage book in the U.K. and a considerable insurance business under its wing, leaving it very exposed to a  U.K. economic downturn.
The only banking organization to have been relatively unscathed by the fallout was HSBC, given its international diversification and the fact that only 15% of its earnings are derived from inside of Europe.
Despite the dire performance of the U.K.'s domestic-focused banks, analysts at Jefferies see weaker capital buffers as meaning that some mainland European banks will probably suffer more from Brexit than than those in the U.K.
Credit Suisse (CS) - Get Report and Deutsche Bank (DB) - Get Report   have both been a focal point of capital worries. Both banks saw their shares plummet many months before the referendum after the market began to bet that each would need to make new calls to shareholders for more capital.
Credit Suisse shares fell by 10% in early Monday trading, to touch lows of EUR10.37, bringing total losses since Friday to 25%. Deutsche Bank fell by 7% in early Monday trading, bringing total losses since the "leave" victory on Friday to almost 20%.
The ECB is widely expected to cut interest rates further from current record lows within the coming months. This will not help Credit Suisse, Deutsche Bank and peers boost their profitability, while the risk-off mood of the market could also mean that it becomes more tricky for these institutions to raise additional capital by offloading unwanted assets.