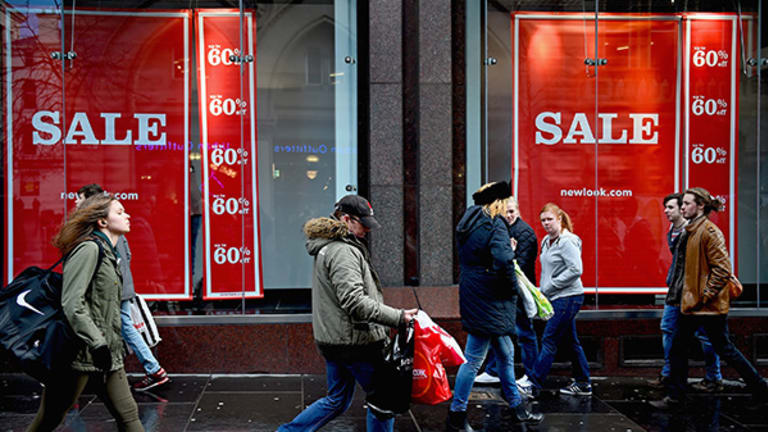 Ugly Retail Sales Report Confirms Yet Again -- Amazon Is Crushing Rivals
Retail sales ended the year on a weak note for most brick-and-mortar retailers, but not for the online juggernaut.
The holiday season didn't end dreadfully for all retailers.
On Friday, the government reported that sales at non-store retailers, a category primarily comprised of digital outfits such as Amazon (AMZN) - Get Amazon.com, Inc. Report that sell just about everything, rose 0.3% in December. The gain came on top of a 0.3% sales increase from November to October.
Overall retail sales, however, fell 0.1% in December compared to November and were up just 2.2% from December 2014. For the entire year, retail sales only increased 2.1% from 2014, the smallest annual increase since 2009.
On Friday, the National Retail Federation reported that holiday sales in 2015 increased 3% from the previous year to $626 billion, compared to its forecast for 3.7% growth. Non-store holiday sales, mostly comprising online sales, however, grew 9 percent to $105 billion.
The strength in buying items online from a desktop computer or smartphone during the holidays came into focus early on in the season, and continued right on through to the end.
Channel Advisor, which compiles retail data for some of the largest online shops, said its clients reported same-store online sales growth of more than 50% from midnight to noon on Thanksgiving. Sales on Amazon spiked 31% during that span.
Meanwhile, Amazon said it added 3 million new Amazon Prime subscribers in the third week of December alone. The company added that it set a new record by delivering over 200 million items for free with Prime this holiday season.
Amazon went onto grab 42.7% of all online sales in November and December, according to research firm Slice Intelligence. That compares with 24.8% share for the next 10 biggest retailers combined, including Walmart (WMT) - Get Walmart Inc. Report , Target (TGT) - Get Target Corporation ReportMacy's (M) - Get Macy's Inc Report , Nordstrom (JWN) - Get Nordstrom, Inc. (JWN) Report  and Best Buy (BBY) - Get Best Buy Co., Inc. Report . 
On the other hand, brick-and-mortar retailers weren't nearly as fortunate with how their holiday seasons ended.
Sales at general merchandise stores fell 0.9% in December, matching a 0.9% decline seen at clothing stores. Food and beverage stores delivered a 0.3% sales decline, worse than the 0.2% drop at electronics stores.
Retail sales excluding automobiles, gasoline, building materials and food services fell 0.3% after a downwardly revised 0.5% rise in the prior month. So called "core" retail sales previously were reported to have advanced 0.6% in November.
The news from the government comes in the wake of several post-holiday warnings from notable brick-and-mortar retailers.
Best Buy said on Thursday its same-store sales for the holiday season fell 1.2% in the U.S. A year ago, U.S. same-store sales rose 3.4%. The company warned that U.S. sales for the fourth quarter, which ends later this month, are expected to be down about 1.5%. Execs previously forecast unchanged sales in the U.S. for the holidays.
Macy's recently announced that same-store sales plunged 4.7% for the months of November and December combined. The company now expects same-store sales for its fourth quarter, which runs through January, to fall by about 4.7%, worse than previous guidance for a decline of 2% to 3%. As a result, Macy's will close 36 stores by the spring as part of a broader restructuring plan.
And struggling Sears Holding Corp. (SHLD) disclosed this week that it will shutter more Sears and Kmart stores early in the year, likely after notching another lackluster holiday season.